Published 12-26-17
Submitted by SiMPACT Strategy Group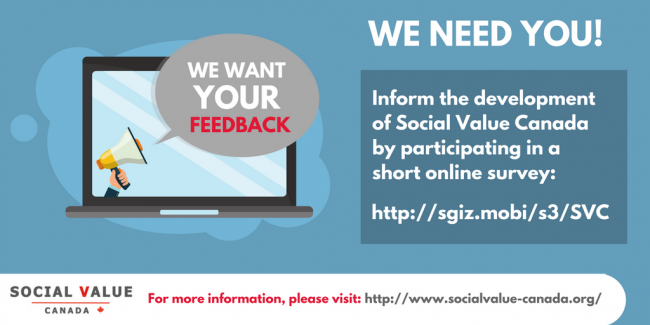 In late 2016, the SROI Canada network and the Social Impact Analysts Association merged to become Social Value Canada (SVC). SVC is positioning itself to be the national hub for Canadians to connect, learn and exchange ideas about social impact, social value creation and measurement methodologies. SVC is part of an international network of over 45 countries advancing social value measurement as a member of Social Value International.
Social Value Canada aspires to:
be the social value hub for Canada - a network that brings people together to share ideas, experiences and methodologies

be the place to access training to assess and value impact; and

share relevant resources on social impact measurement in Canada and around the world.
Social Value Canada wants to hear from you! Inform the development of Social Value Canada by participating in a short online survey. This is an opportunity to inform the SVC service offering and membership structure based off of your interests and feedback. 
To complete the survey, visit: http://sgiz.mobi/s3/SVC.
For more information on Social Value Canada or social impact, value creation or measurement, please visit the following websites:
http://www.socialvalue-canada.org/
We look forward to hearing from you and to working together to build Social Value Canada.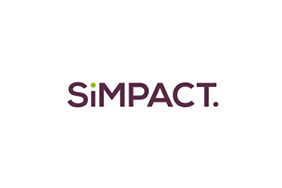 SiMPACT Strategy Group
SiMPACT Strategy Group
The SiMPACT Strategy Group is a specialist agency in social impact management, measurement and valuation. We seek to build capacity and to transfer knowledge in every aspect of our work. One of SiMPACT's core activities is facilitating LBG (London Benchmarking Group) Canada - a network of companies striving to maximize the value of corporate investment for their community partners and for their own businesses. The SiMPACT Strategy Group is an expert in social return on investment (SROI). We work to build capacity in the use of the SROI methodology as a planning, program management and evaluation framework. SiMPACT's work in SROI enables investors, organizational leadership and program management to structure planning and program investment such that achieving maximum value is the result.
More from SiMPACT Strategy Group