Published 12-12-17
Submitted by Emerald Brand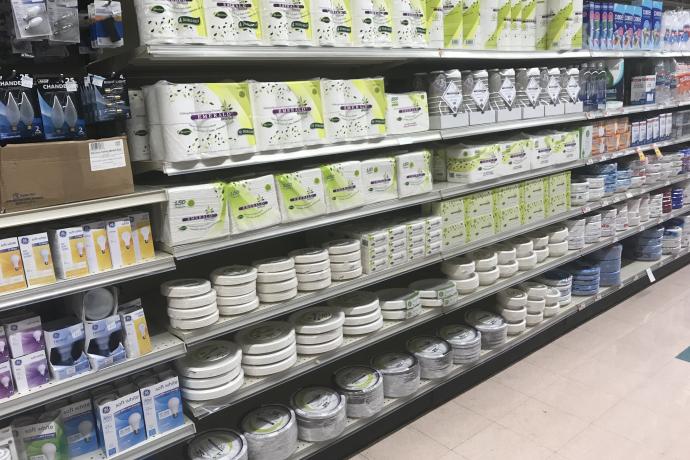 Founded in 1973, DeCicco Family Markets combines the best selection of food and products, with a lot of hard work, customer satisfaction, and superior service. DeCicco's has gained a reputation for being the food market of choice for those who have a serious love for food.
DeCicco has partnered with Emerald Brand to offer their customers at their New City, New York location, a line of eco-friendly products for their home or business. Emerald offers a unique line of sustainable disposable products created using Tree-Free™ and plastic-free technology. Products carried at this location include Tree-Free™ Bowls, Tree-Free™ 6" Plates, Tree-Free™ 9" Plates, Clay-Coated Select Design Plates, Tree-Free™ 3-Compartment Plates, FSC Certified® Select Hot Cups, Tree Free™ Luncheon Napkins, Tree-Free™ Dinner Napkins, Recycled Kitchen Roll Towels, Tree-Free™ Bath Tissue (12 Pack and 4 Pack), Pocket Pack Tree-Free™ Facial Tissues, and Flat Box Tree-Free™ Facial Tissues.
"We had been searching for a sustainable product line that encompasses what our company represents, as well as what our customers have been asking for. Emerald possesses all of that and more," said Christina DeCicco, Owner DeCicco Family Markets. "We are proud to sell our customers environmentally friendly products that also have health benefits for them."
Emerald paper products are made from Tree-Free™ rapidly renewable agricultural fibers like bagasse, bamboo, and wheat straw. In addition to protecting the environment and combating climate change, Emerald Brand is dedicated to the health and wellness of their customers, and the planet as a whole. All disposable products are made out of natural, chemical-free ingredients, ensuring a high quality product, with no health risks.
"We are always looking for new, environmentally conscious partners like DeCicco Family Markets, who share our values in health and wellness and are committed to sharing in our sustainable mission," states Ralph Bianculli Jr., Managing Director of Emerald Brand. "We are expanding our mission in 2018 to work with American Famers by transforming their traditionally wasted materials into our eco-friendly everyday disposables."
About Emerald Brand
Family owned and operated since 1997, Emerald Brand is committed to innovating through tree-free, sustainable and rapidly renewable solutions. From Tree-Free paper products to petroleum-free cutlery and a suite of over 250 sustainable corporate solutions, Emerald Brand is at the forefront of driving sustainability in homes and offices around the world.  Emerald Brand products are available for consumer purchase at www.emeraldbrand.com and for businesses at www.paradigm-grp.com.
Emerald Ecovations, a division of Emerald Brand, educates customers on the practice and implementation for consumable packaging and chemicals, and offers a suite of sustainable corporate solutions that help businesses adhere to new regulations and environmental mandates.
About DeCicco Family Markets
Started in 1973, in a tiny storefront in the Bronx, Frank DeCicco slowly but surely grew Decicco Family Market into the thriving business we know today with the help of the rest of the DeCicco family. Only the finest produce, the best quality meat, the freshest seafood, the most diverse grocery, and the best prepared deli selection suffice.  However, the premium quality doesn't stop there: We also feature some of the most vast beer and cheese selections in the Westchester and Rockland county areas, with varieties numbering in the hundreds and with places of origin that span every corner of the world.
###

Emerald Brand
Emerald Brand
Emerald Brand's mission is to combat climate change by providing cost-effective sustainable disposable products to businesses and homes. With a line of over 225 products, Emerald can convert entire business facilities such as corporate offices, hotels, universities, and more to a full measureable sustainability platform in the cafeteria, breakroom, facilities, packaging, and cleaning categories.
Emerald specializes in producing Tree-Free and Petroleum-Free products made with agricultural fibers. This process supports local farmers, prevents deforestation, and prevents the burning of this formerly-wasted agricultural material.
You can learn more about Emerald Brand and the sustainable solutions they offer at EmeraldBrand.com.
More from Emerald Brand