Published 11-27-17
Submitted by Indigenous Designs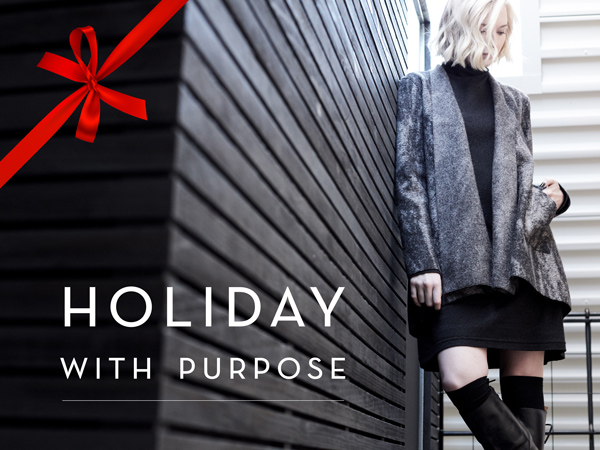 Holiday with Purpose | Sustainable Fashion Collection that Does Good in the Wrold
In this time of global crisis it's more important than ever to make our voices heard through direct action, and with every purchase. That's why INDIGENOUS has launched #HolidayWithPurpose, a campaign to help people and planet through sustainable fashion. Partnering with 5 Gyres Institute and Global Fund for Women, INDIGENOUS is giving customers the opportunity make a big impact with their holiday shopping.
INDIGENOUS has been at the forefront of ethical fashion since 1994, selling handcrafted clothing that is both environmentally friendly and fair trade. INDIGENOUS was founded on the belief that fashion can and must help the people and communities that produce it. Taking their ethics one step further, INDIGENOUS' Holiday with Purpose campaign raises money for non-profits doing incredible work.
Calling for #MoreOceanLessPlastic, INDIGENOUS has partnered with The 5 Gyres Institute. Through science, education, advocacy and adventure, 5 Gyres works to keep plastic out of our oceans and waterways.
Defenders of our oceans can support 5 Gyres by purchasing shirts that call for: "More Ocean. Less Plastic." All profits go directly to the 5 Gyres Institute. These modern black tee's by INDIGENOUS anchor an eco-friendly collection of both men's and women's styles, with all retail profits supporting the 5 Gyres mission to find global solutions to plastic pollution.
Simultaneously, INDIGENOUS has launched #FashionEmpowers, a campaign in support of Global Fund for Women and their initiative to end violence against women in fashion supply chains. 75% of garment workers are women, and violence in the apparel industry is a widespread epidemic. All retail proceeds generated from twelve curated styles will go directly to fund Global Fund for Women's new learning collaborative to eradicate rampant gender-based violence in traditional fashion supply chains.
Knowing their customers have a deep desire to impact the world for the better, INDIGENOUS is excited to offer these opportunities to make a big difference in the lives of women, and in the health of our oceans. This holiday season, shop with purpose; choose handcrafted clothing and gifts that make the world a better place.

ABOUT INDIGENOUS
INDIGENOUS is a leader in ethical fashion, creating modern clothing using natural, organic and sustainable fibers, colored with low-impact dyes or no dyes at all. Since their founding in 1994, INDIGENOUS has worked to forge a better way forward for the fashion industry. Through programs in Peru, INDIGENOUS helps provide housing to victims of domestic violence. Women in these programs receive free job skill training, empowering them with financial independence.
By producing their clothing line with ecologically mindful practices, each year Indigenous saves an estimated 48,450,000 liters of water; keeps 20,750 kg of carbon dioxide out of the atmosphere; and prevents 6528 oz of deadly toxic pesticides from entering our environment.
INDIGENOUS' sustainable fashion clothing line can be found in boutiques across the United States, as well as online at www.indigenous.com. 
ABOUT 5 GYRES INSTITUTE 
The 5 Gyres Institute first discovered plastic microbeads in 2012 and campaigned for a successful federal ban in 2015. The non-profit organization was first to research plastic in all five subtropical gyres, and published the first Global Estimate of Plastic Pollution in 2014, finding nearly 270,000 tons and 5.25 trillion pieces of plastic smog worldwide. 5 Gyres has been in special consultative status with the United Nations Economic and Social Council since 2017.  www.5gyres.org
ABOUT GLOBAL FUND FOR WOMEN
Global Fund for Women is one of the world's leading foundations for gender equality, standing up for the human rights of women and girls. It campaigns for zero violence, economic and political empowerment, and sexual and reproductive health and rights.
Global Fund for Women uses its powerful network to rally advocates, raise money, and get support to where it's most urgently needed. It funds and partners with women-led groups who are courageously fighting for justice in their own communities. This rights-based approach gets to the root of gender inequality and is the most effective way to create permanent social change.
Since 1987, Global Fund for Women has invested in nearly 5,000 grassroots groups in 175 countries, helping to win rights for millions of women and girls. 


Campaign Hashtags: #HolidayWithPurpose #FashionEmpowers #StyleHumanity #MoreOceanLessPlastic
Media Contacts:
Scott Leonard, INDIGENOUS CEO and Co-founder | scott@indigenous.com | 800-664-9410
Anna Tenuta, Senior Campaigns & Communications Manager at Global Fund for Women | atenuta@globalfundforwomen.org | 212-419-4467

Indigenous Designs
Indigenous Designs
Our garments are made by the hands and hearts of artisans in many types of communities throughout the globe. By working directly with these artisans and their knitting cooperatives, a strong partnership has evolved to support their visions in managing sustainable commerce. We assist the artisans with quality control measures, sound production and planning management, as well as research and design for the local and world markets.
More from Indigenous Designs