Published 11-17-17
Submitted by UNFCU Foundation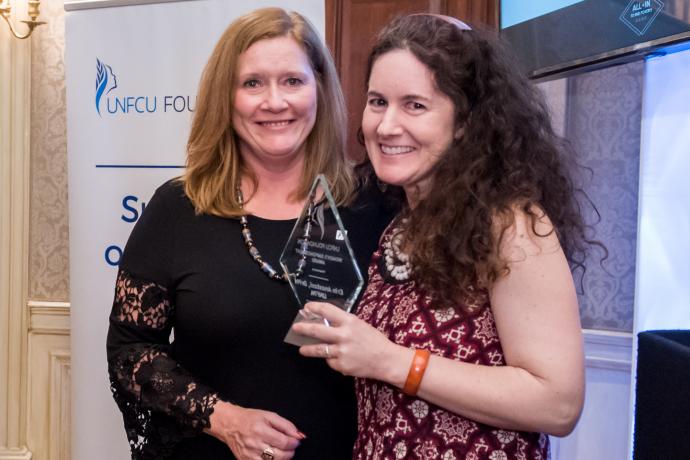 From right to left: Dr. Erin Anastasi, 2017 UNFCU Foundation Women™s Empowerment Award recipient, and Pamela Agnone, president and director of the UNFCU Foundation, at the UNFCU Foundation™s annual reception. Photo by Margaret Fox
The UNFCU Foundation awarded Dr. Erin Anastasi, coordinator of the Campaign to End Fistula being led by UNFPA, the United Nations Population Fund, with its 2017 Women's Empowerment Award. Dr. Anastasi was recently recognized at a reception hosted by the UNFCU Foundation at the Columbus Citizens Foundation in New York. The mission of the UNFCU Foundation is aligned with the UN Sustainable Development Goals to improve the human condition globally.
"Reaching the poorest women with life-changing health care and accelerating their transition to decent work are essential to eliminating poverty," said Pamela Agnone, president and director of the UNFCU Foundation. "Erin's achievements embody action for a new global agenda grounded in principles of rights, inclusiveness, and equality.  We recognize Erin for her leadership, enabling women to overcome a devastating condition known as obstetric fistula, and join in the effort to rebuild more lives."
Watch this video to see how UNFCU Foundation's support of the UNFPA-led campaign is transforming lives.
"To be honored for my efforts is to note the source of my inspiration -- the transformative work of surgeons, nurses, midwives, social reintegration experts, policy makers, fistula campaign partners, and advocates around the world - of course, in addition to the women and girls themselves," said Dr. Anastasi, who was instrumental in launching the United Nations goal to end fistula within a generation. "In the face of extreme poverty, it takes a visionary and collaborative approach to achieve our goal. In accepting this award on behalf of UNFPA and the Campaign to End Fistula, I celebrate the spirit of passion, perseverance, and partnership."
In receiving the UNFCU Foundation Women's Empowerment Award, Dr. Anastasi joins the First Lady of the United Nations Madame Ban Soon-taek for her lifetime of service; Pulitzer Prize-winning author and humanitarian Sheryl WuDunn; as well as Ritu Sharma, author and gender equality advocate.
Dr. Anastasi's extensive career in maternal/newborn health spans projects in Africa, Asia, Latin America, Europe, and the United States. She rose from Technical Specialist, Obstetric Fistula at UNFPA's Maternal Health Thematic Fund to her current role in headquarters in 2014. Dr. Anastasi previously served Doctors Without Borders as Principal Investigator in the urban slums of Lagos, Nigeria and in northern Uganda. Her other honors include a Fulbright Scholarship with the Grameen Bank in Bangladesh.
Dr. Anastasi holds a Doctor of Public Health degree in maternal and newborn heath from the London School of Hygiene & Tropical Medicine, as well as a Master of Health Sciences degree from the Johns Hopkins University School of Public Health in Baltimore, Maryland. She is a native of Rockville, Maryland.
#  #  #
About UNFCU Foundation
UNFCU Foundation is a New York-based, non-profit corporation established by the United Nations Federal Credit Union (UNFCU) with a mission to sustain the path out of poverty through healthcare and education for women and children. Since its launch in 2015, the UNFCU Foundation has benefitted more than 15,000 women and youth across nine countries through the provision of access to critical healthcare, basic education, and livelihoods training. To learn more, visit www.unfcufoundation.org and follow UNFCU Foundation's progress on Twitter at @UNFCUFoundation and on Facebook at facebook.com/unfcufoundation.
Press Contacts: Elisabeth Philippe, UNFCU Foundation, ephilippe@unfcufoundation.org, Tel. +1 347"'686"'6776; Mobile +1 347"'510"'4036
Lothar Mikulla, UNFPA, mikulla@unfpa.org, Tel. +1 212-297-2629

UNFCU Foundation
UNFCU Foundation
United Nations Federal Credit Union (UNFCU) launched the UNFCU Foundation in February 2015, with the purpose of funding projects that reduce poverty through education and healthcare, especially among women and children in developing countries and New York City.
The UNFCU Foundation, a New York based 501(c)(3) organization, supports initiatives that:
Work to eradicate poverty and hunger
Empower women and youth by offering them opportunities for self-development and economic advancement
Promote well-being and provide access to healthcare for women and their families
Provide disaster relief
More from UNFCU Foundation