Published 11-08-17
Submitted by Consumers Energy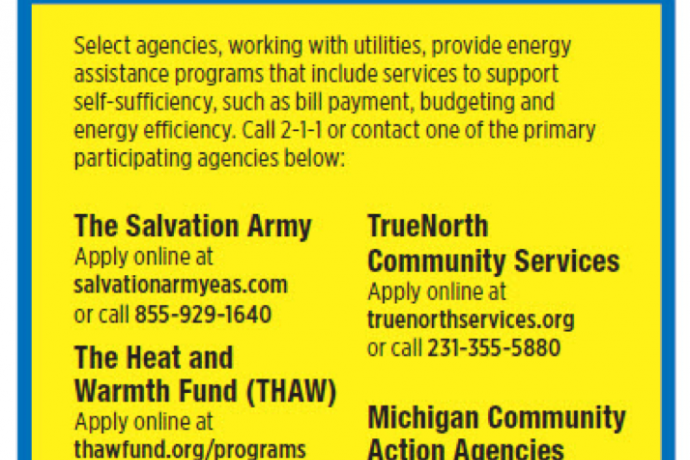 Consumers Energy keeps prices low by buying gas when it costs less in the summer and storing it the company™s underground storage system, the largest of its type in the nation. Click here to Learn more about ways to reduce your energy use.
As freezing temperatures start to settle in across Michigan, Consumers Energy is reminding Michigan families, seniors and those in need that now is the time to reach out for help with winter heating costs.
"Help is available today. We encourage anyone facing hardship to take action immediately and not fall behind on their bills," said Brian Rich, Consumers Energy's senior vice president for customer experience. "Our goal is to help people stay safe and warm this winter."
Consumers Energy is working to connect eligible customers with nonprofit organizations in communities across Michigan that will provide over $45 million in state dollars to help with heating costs.
Consumers Energy encourages anyone who is looking for available assistance in their community to start by calling 2-1-1, a free service that can refer people to local assistance programs, or by visiting www.ConsumersEnergy.com/assistance.
"Thanks to warmer than usual weather this fall, early demand for help with utility bills is lower than the same time last year – so if you think you might have trouble staying warm this winter, now is the time to act," said Tom Page, executive director of Michigan's 2-1-1 system. "Call 2-1-1, visit www.mi211.org or contact your energy provider to find help before the really cold weather hits."
In November, Consumers Energy customers are also receiving information regarding assistance programs along with their bills. The information describes company payment plan options, as well as outside help such as the nonprofit agencies, the Department of Health and Human Services State Emergency Relief program, the Michigan Home Heating Credit and more.
Consumers Energy, Michigan's largest energy provider, is the principal subsidiary of CMS Energy (NYSE: CMS), providing natural gas and/or electricity to 6.7 million of the state's 10 million residents in all 68 Lower Peninsula counties.

Consumers Energy
Consumers Energy
Consumers Energy is one of the nation's largest combination utilities, providing electric and natural gas service to nearly 6.6 million of Michigan's 10 million residents, in all 68 Lower Peninsula counties.
Our Growing Forward strategy calls for investing more than $6 billion in Michigan over the next five years. That includes significant investments in energy efficiency, renewable energy, environmental and customer service enhancements, and new power generation.
The investments make Consumers Energy one of the largest investors in Michigan and will help the utility maintain and improve service to customers, create jobs, boost the state's economy and expand the state's tax base.
More from Consumers Energy