Published 11-03-17
Submitted by Indigenous Designs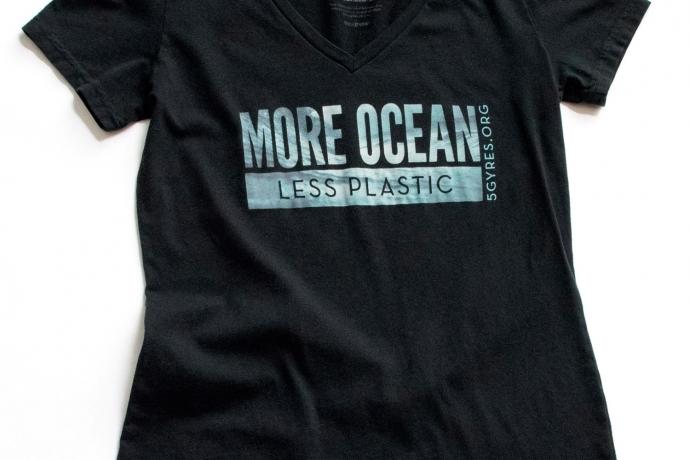 More Ocean. Less Plastic. 5Gyres Organic T-Shirt by Indigenous
By 2050, there will be more plastic in the ocean than fish. An estimated 51 trillion microplastic particles are in the ocean today—500 times more than the number of stars in our galaxy. Plastic pollution is one of the great crises of our century, and the time to take action is now. 
INDIGENOUS, a sustainable fashion brand committed to the planet and its people, is launching a campaign to raise money for the 5 Gyres Institute. 5 Gyres is a non-profit working to empower action against the global health crisis of plastic pollution.
Beginning November 1st, 2017, eco-conscious, ocean lovers, and fashionistas alike, will be able to support 5 Gyres while buying handcrafted, sustainable fashion for themselves or loved ones.
Reflecting the 5 Gyres' tagline, the "MORE OCEAN. LESS PLASTIC." shirts by INDIGENOUS are modern black T-shirts, made from organic cotton and crafted in a cradle-to-cradle certified factory in the USA. Those wishing to give and get more can bundle their shirts with organic cotton sweaters and artisan-knit scarves, just in time for the holidays. Made with fair trade principles by skilled artisan in Peru, these handcrafted pieces are sustainable and ethically made. All retail sale profits from the campaign will be donated to the 5 Gyres institute. This is fashion that gives back.
"We are so honored to partner with INDIGENOUS on this project, which reflects our shared vision of a planet free of plastic pollution, where fair trade, organic manufacturing supports communities—and our planet," said Rachel Lincoln Sarnoff, Executive Director of the 5 Gyres Institute.
"There is no organization that I would like to support more than the 5 Gyres Institute when it comes to empowering action to rid the world of plastic pollution and its toxic impact on humans, animals and the environment. I want to thank all who take-action to support MORE OCEAN. LESS PLASTIC." Matt Reynolds, President & Co-Founder
This partnership with 5 Gyres is part of INDIGENOUS' #HolidayWithPurpose campaign, which encourages consumers to shop and gift items that benefit our planet and communities this holiday season. Stay tuned for more from INDIGENOUS.
ABOUT INDIGENOUS
INDIGENOUS is a pioneer in ethical fashion, creating modern clothing using natural, organic and sustainable fibers, colored with low-impact dyes or no dyes at all. Since their founding in 1994, INDIGENOUS has worked to forge a better way forward for the fashion industry. By producing their clothing line with ecologically mindful practices, each year INDIGENOUS saves an estimated 48,450,000 liters of water; keeps 20,750 kg of carbon dioxide out of the atmosphere; and prevents 6528 oz. of deadly toxic pesticides from entering our environment. INDIGENOUS' sustainable fashion clothing line can be found in boutiques across the United States, as well as online at www.INDIGENOUS.com.
ABOUT 5 GYRES
The 5 Gyres Institute first discovered plastic microbeads in 2012 and campaigned for a successful federal ban in 2015. The non-profit organization was first to research plastic in all five subtropical gyres, and published the first Global Estimate of Plastic Pollution in 2014, finding nearly 270,000 tons and 5.25 trillion pieces of plastic smog worldwide. 5 Gyres has been in special consultative status with the United Nations Economic and Social Council since 2017.  www.5gyres.org
Campaign Hashtags: #HolidayWithPurpose #PlasticFreeHoliday #MoreOceanLessPlastic #5Gyres #PlasticFree
Large format photos available at: http://ow.ly/hYJ930g810X
All ocean photos provided by 5Gyres Institute

Indigenous Designs
Indigenous Designs
Our garments are made by the hands and hearts of artisans in many types of communities throughout the globe. By working directly with these artisans and their knitting cooperatives, a strong partnership has evolved to support their visions in managing sustainable commerce. We assist the artisans with quality control measures, sound production and planning management, as well as research and design for the local and world markets.
More from Indigenous Designs