Published 09-28-17
Submitted by Giving Compass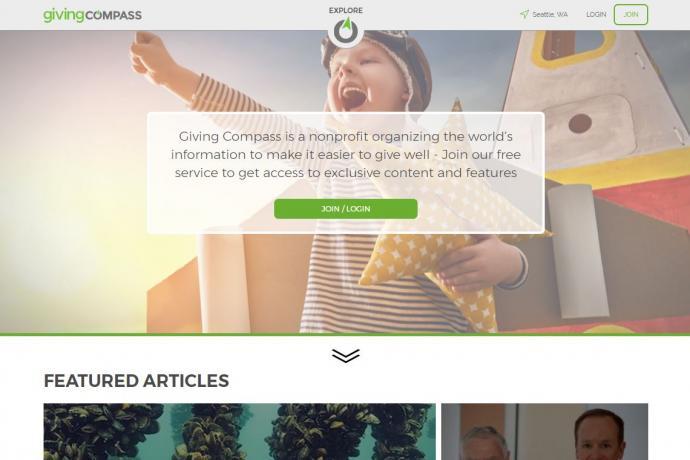 www.givingcompass.org has more resources to more good
 Giving Compass, the first of its kind online portal aggregating information to help people to give with impact released today a major technology refresh informed by over 25,000 visits during their beta period this past summer. Enhancements include a guided compass overlay to help users easily explore relevant content based on their interests, the addition of vetted interest funds and additional content such as volunteering opportunities served in real time.
Giving Compass was born through a catalytic grant by the Raikes Foundation, founded by Jeff and Tricia Raikes. They were enthusiastic about learning how to take their generosity to the next level but found it difficult to find targeted resources to guide their strategic giving.
"In our journey, Tricia and I found that other donors faced similar challenges. Giving Compass was created to address this opportunity, leveraging the power of technology and in collaboration with leading philanthropic organizations" said Jeff Raikes, co-founder and chairman of the board at Giving Compass.
Individual donors contribute over $280 billion to charitable causes in the U.S., but how can we give better? There is no single answer as there are many ways to define impact. The Giving Compass team believe that if donors take time to do comparative research and join with others who share similar interests, we can drive meaningful change.
"Giving Compass is tackling a hard, critical challenge for the social sector, getting better information in donor's hands so more dollars go towards greater impact" said Mario Morino, Chairman, Morino Institute, Co-founder, Venture Philanthropy Partners and LEAP Ambassadors Community Member. "LEAP has been a content partner and we see early indicators of their progress. We want to keep helping them reach their potential to be an important, new aggregator for our sector."
Giving Compass is a gathering place of the best content related to giving with impact. Instead of visiting a disjointed group of websites and conducting multiple queries to find information related to a particular topic, individuals can search GivingCompass.org. While searching for a topic of their interest, such as K-12 Education, donors can find trending articles and resources crafted by experts on how to give with impact, information on local events, volunteering opportunities, giving funds and more; all on a single screen aggregated in real time from multiple sources. "We want to help individual donors learn, connect and take action around areas of passion" added Raikes.
 "Thanks to Giving Compass I felt comfortable about where to donate to help Houston's relief efforts" said Valerie Conn, Executive Director, Science Philanthropy Roundtable.
Giving Compass represents a partnership in giving with a collective of corporate citizens, individual thought-leaders, foundations, and nonprofits to advocate for impact philanthropy.
Giving Compass Nonprofit and Foundational Partners
| | | | |
| --- | --- | --- | --- |
| Boardsource | LEAP Ambassadors | Social Venture Partners | The Philanthropy Workshop |
| Bright Funds | National Center for Family Philanthropy | Stanford PACS | Thrive Global |
| Charity Navigator | Raikes Foundation | The Bridgespan Group | VolunteerMatch |
| Global Brigades | Seattle Foundation | The Center for High Impact Philanthropy |   |
| Global Giving | Social Impact Exchange | The Impact Network |   |
Giving Compass Advisory Board Members and Leadership
| | | | |
| --- | --- | --- | --- |
| Tricia Raikes | Cindy Mercer | Mickie Rosen | Stephanie Gillis |
| Jeff Raikes | Kathleen Hebert | Paul Shoemaker | Luis Salazar |
| Bill Shaughnessy | Larry Leibowitz | Shelly Kurtz |   |
About Giving Compass
Headquartered in Seattle, WA, Giving Compass is a nonprofit portal organizing the world's information to make it easier to give well. Giving Compass guides donors who want to give with intention and impact on a journey to learn, connect with others, and take action to drive meaningful change in communities and the world. Learn more at givingcompass.org.

Giving Compass
Giving Compass
Giving Compass is a nonprofit organizing the world's information to make it easier to give well. Giving Compass offers a single online destination to power impact giving by aggregating resources in one convenient place, encouraging the journey to learn, connect and take action. Complement your CSR efforts with givingcompass.org on your employee intranet portal or customer-facing website.
More from Giving Compass