Published 09-07-17
Submitted by National Biodiesel Board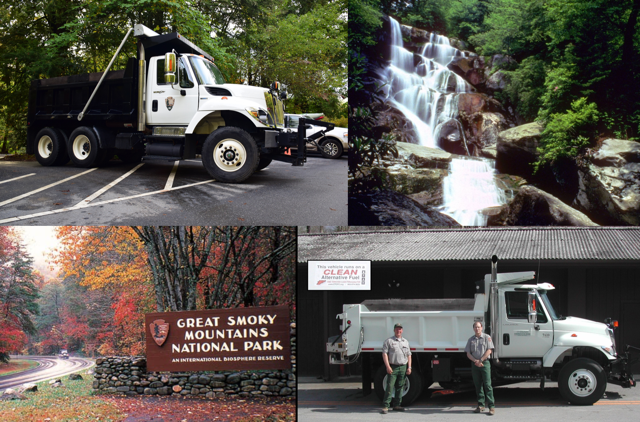 Great Smoky Mountains National Park, located in Eastern Tennessee and Western North Carolina, is a hikers™ paradise. Biodiesel and Bioheat® are helping to clear the air and reduce carbon emissions.
The last thing a hiker wants to encounter is a haze of smog that diminishes the view from atop a picturesque vista.  With more than 11 million visitors annually, Great Smoky Mountains National Park strives to maintain its pristine natural beauty by adopting practices that reduce the park's environmental footprint.
"At Great Smoky Mountains National Park we have implemented a comprehensive strategy to limit our environmental impact and reduce carbon emissions," said Brian Bergsma, deputy chief of facility management. "Biodiesel and Bioheat® are front and center in that effort."
In 2016, the park used 43,085 gallons of biodiesel (B20) resulting in the following estimated emissions reductions: 15 percent reduction in carbon dioxide; 12 percent reduction in carbon monoxide; 20 percent reduction in both hydrocarbon and sulfur dioxide and 12 percent reduction in particulate matter.*
In keeping with its history of preservation, Great Smoky Mountains National Park first began using biodiesel blends to power park-owned diesel vehicles and equipment in 2003. The cleaner-burning fuel has been used park-wide since 2006. Today, numerous locations in the park use B20 to power 40 pieces of heavy equipment such as dump trucks, graders, front-end loaders, a bucket truck and more. Additionally, Bioheat® is used to heat the park's headquarters building. 
"Because the southern Appalachians are downwind of many urban areas, industrial sites, and power plants in the eastern U.S., the Smokies' air resources have been significantly degraded by nitrogen and sulfur air pollutants, impacting human health, visitor enjoyment, and ecosystems," according to Jim Renfro, the park's air quality specialist.  "As a result, park staff have an opportunity to educate and demonstrate to the public ways that their actions can help reduce emissions and improve air quality, both at the park and in their own communities."
"We constantly strive to demonstrate and incorporate technologies that will result in cleaner air," said Bergsma. "This includes alternative fuels, electric vehicles and charging stations, photovoltaic systems, and greener building construction."
According to Bergsma, biodiesel blends have served the park well for many years. "We've used biodiesel blends consistently since 2006 and have had little to no problems.  Great Smoky Mountains' biodiesel is made from used fryer grease and soybean oil and we are happy to utilize this fuel source to reduce our impacts on the environment, landfills, etc."
The trolley systems in the neighboring towns of Pigeon Forge and Gatlinburg, Tenn. also use B20. Gatlinburg's trolley fleet is the fifth-largest mass transit system in the state and has grown to 20-plus trolleys servicing approximately 50 miles of trolley routes.
Great Smoky Mountains National Park, located in Eastern Tennessee and Western North Carolina, is a hikers' paradise.  Dedicated by Franklin D. Roosevelt on September 2, 1940, the park is world renowned for its diversity of plant and animal life, the beauty of its ancient mountains, and the quality of its remnants of Southern Appalachian mountain culture. These traits have made it America's most visited national park.
Made from an increasingly diverse mix of resources such as recycled cooking oil, soybean oil and animal fats, biodiesel is a renewable, clean-burning diesel replacement that can be used in existing diesel engines without modification. It is the first commercial-scale fuel produced across the U.S. to meet the EPA's definition as an Advanced Biofuel - meaning the EPA has determined that biodiesel reduces greenhouse gas emissions by more than 50 percent when compared with petroleum diesel. For more visit: http://biodiesel.org/
###
*Source NBB Emissions Calculator: http://biodiesel.org/using-biodiesel/handling-use/emissions-calculator 

National Biodiesel Board
National Biodiesel Board
The National Biodiesel Board is the national trade association representing America's first Advanced Biofuel. The group works to create sustainable biodiesel industry growth through education, communication, governmental affairs, technical and quality assurance programs. Serving as the coordinating body for research and development in the US the National Biodiesel Board is comprised of state, national, and international feedstock and feedstock processor organizations, biodiesel suppliers, fuel marketers and distributors, and technology providers.
More from National Biodiesel Board