Published 09-05-17
Submitted by Emerald Brand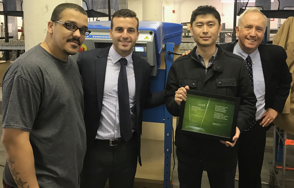 UncommonGoods Awarded the 2016 Emerald Sustainability Award for Packaging.
Emerald Ecovations and UncommonGoods, in Brooklyn, New York, recently announced their partnership to include Emerald's sustainable paper solutions in their shipment packaging. UncommonGoods is a catalog and online retailer that features unique, handmade, recycled, and environmentally friendly products. Founded in 1999, UncommonGoods is now looking to expand their efforts in sustainability and corporate social responsibility by removing plastics from their packaging.
Emerald Ecovations, which specializes in revolutionary eco-friendly solutions and products, is providing UncommonGoods with void fill paper, consisting of eighty percent post-consumer fibers, which is not only recycled, but also compostable. With Emerald's help, UncommonGoods will provide consumers with innovative and sustainable packaging, while still incorporating their well-known appeal and look.
"Consumer demand for environmentally friendly initiatives continues to see compounded growth year over year," states Shao Li, Director of Operations at UncommonGoods. "Emerald's eco-friendly and cost effective solutions in the packaging category, with recycled and compostable substances, provide UncommonGoods with a greener, healthier, plastic-free packaging solution."
Unlike other environmentally friendly alternatives to plastic, Emerald's packaging does not negatively impact UncommonGoods' warehouse employees through risking harm with blades or through the amount of cardboard particles and dust in the air. By using Emerald's packaging, UncommonGoods does not have to choose between customer satisfaction, team member health, or what is best for the planet. "After years of searching for a suitable alternative to plastic bubble, we are excited that this shipment packaging is a win-win-win situation," said Sean Cullen, who leads UncommonGoods' Sustainability Steering Committee.
The Emerald Sustainability Program provides participants with annual Environmental Impact Statements which calculates how many trees, gallons of water, pounds of landfill waste, electricity, plastic, and carbon dioxide emission participants have saved by using Emerald products over traditional, non-sustainable materials. Through the Emerald Sustainability Program, UncommonGoods is expected to save over 700 trees, 48,000 gallons of water, 88,000 pounds of virgin fiber, and 287,000 kWh of electricity, annually.
"UncommonGoods is a leader in the e-commerce industry, executing changes that will have a profoundly positive effect on the environment, and delivering their clients a healthier, more sustainable experience. Those are the kind of partners we at Emerald are looking for," states Ralph Bianculli Jr., Managing Director at Emerald Ecovations.
About Emerald Ecovations:
Emerald Ecovations, a division of Paradigm Group, drives sustainability in homes and offices around the world with their Brand of Tree-Free™ and petroleum free products and a suite of sustainable corporate solutions. Emerald Ecovations is at the forefront of unique raw materials such as bagasse (a sugarcane by product) and plant starch which are used in consumer packaging. Ecovations also includes an environmental consultation service that helps businesses adhere to new regulations and environmental mandates. Emerald Brand finished products are available for consumer purchase at www.emeraldbrand.com and for businesses at www.paradigm-grp.com/classic-packaging.html.
About UncommonGoods:
Founded in 1999 and headquartered in Brooklyn, NY, UncommonGoods offers remarkable designs by independent makers, and is committed to making a positive impact on both people and our planet. For additional information please visit www.uncommongoods.com
###

Emerald Brand
Emerald Brand
Emerald Brand's mission is to combat climate change by providing cost-effective sustainable disposable products to businesses and homes. With a line of over 225 products, Emerald can convert entire business facilities such as corporate offices, hotels, universities, and more to a full measureable sustainability platform in the cafeteria, breakroom, facilities, packaging, and cleaning categories.
Emerald specializes in producing Tree-Free and Petroleum-Free products made with agricultural fibers. This process supports local farmers, prevents deforestation, and prevents the burning of this formerly-wasted agricultural material.
You can learn more about Emerald Brand and the sustainable solutions they offer at EmeraldBrand.com.
More from Emerald Brand