Published 08-08-17
Submitted by FigBytes Inc.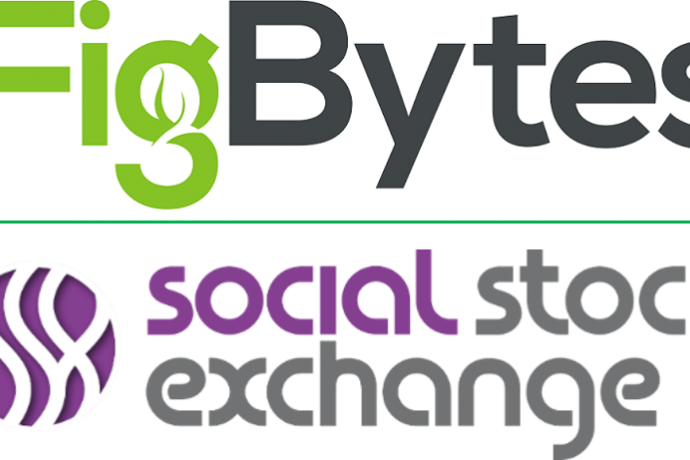 FigBytes Joins Social Stock Exchange
FigBytes Inc. ("FigBytes"), today announced that it has been approved as a member of the Social Stock Exchange (SSX), (www.socialstockexchange.com)  following the ratification of its impact report by the independent Admissions Panel.
The Social Stock Exchange enables its accredited impact issuers to increase their visibility, raise capital and undertake primary or secondary listings of debt or equity instruments. 
Debbie Ryan, Managing Director of the SSX stated, "Admission to the Social Stock Exchange relies on companies having a measurable social or environmental impact at the core of their mission. With FigBytes' ambition to take sustainability from a compliance metric to becoming a strategic part of their customers' businesses, this is clearly the case. We know there is a growing desire to deliver against the UN's 17 sustainable development goals and it is clear that FigBytes is already addressing the needs of the sustainable businesses of tomorrow - we are delighted to welcome them as members".
FigBytes' next-generation sustainability software platform has the unique ability to create a forward-looking roadmap for organisations to track their progress towards long-term goals and to be able to see progress in close to real-time.  FigBytes works with companies, cities, not-for-profits and other progressive organisations, allowing them to track sustainability and CSR data from quantitative measures of carbon, water and waste, to tracking more subjective CSR metrics such as community engagement.
FigBytes' CEO, Colin Grant, stated, "We are honoured to have been accepted for admission to the Social Stock Exchange and look forward to connecting with like-minded companies and investors.  FigBytes' mission runs far deeper than providing another ESG/EHS compliance product to a crowded market.  We are building a platform that can unite humankind in tackling the enormous challenges we face.  Around the world we see companies, cities and countries adopting the UN Global Goals, the Paris Accord and stretch goals like 100% renewable energy. Finally, we will have a way to move beyond discussions and software for compliance and "non-financial reporting" to being able to unite all of these plans and to see if our collective efforts are achieving what has to be achieved".
About FigBytes 
The FigBytes Sustainability Platform is cloud-based software that empowers corporations, cities, and other organizations to integrate the principles of environmental sustainability and corporate social responsibility (CSR) into core strategies, performance and brand.   FigBytes replaces outdated, disconnected reporting tools with a cloud-based system that can transform raw data into intuitive and beautiful visualizations of strategy and progress and link clients' roadmaps to the UN Sustainable Development Goals (SDGs) and humankind's efforts to tackling the critical challenges we face by 2030.
About the Social Stock Exchange
The Social Stock Exchange provides access to the world's first regulated exchange dedicated to businesses and investors seeking to achieve a positive social and environmental impact through their activities. The aim of the exchange is to help these businesses connect with investors and unlock capital at scale.  All issuer member companies must meet a rigorous set of criteria before joining, including the publication of an Impact Report.
The Social Stock Exchange has an agreement with NEX Exchange (formerly ISDX) to operate the Social Stock Exchange branded market segment for impact businesses.
The Social Stock Exchange Ltd (FRN: 625231) is an appointed representative of Kession Capital Limited (FRN: 582160) which is authorised and regulated by the Financial Conduct Authority ("FCA") in the UK.
NEX is a Recognised Investment Exchange operating a regulated market and a growth market and provides a secondary market trading facility.  NEX is supervised by the FCA.
For more information please contact:
Debbie Ryan
Social Stock Exchange
T: +44 (0) 203 608 8056
E: d.ryan@socialstockexchange.com
Sara-Louise Porter
Social Stock Exchange
T: +44 (0) 203 608 8841
Lillian Grant
FigBytes Inc
T: 778-457-2020

FigBytes Inc.
FigBytes Inc.
FigBytes is a cloud-based technology company with a mission - to empower organizations to tackle the key challenges of the 21st century by integrating their sustainability strategies with their social, environmental, and economic data.
Data-driven storytelling is a key component of the FigBytes platform. Our robust data management tools process complex data and transform them into "beyond-reporting" visualisations that convey the story that the metrics cannot achieve when they are segregated into spreadsheets, presentation decks, PDFs and old fashioned EHS data system charts and graphs. FigBytes replaces multiple layers of disconnected Excel, PowerPoint, PDF and clunky EHS compliance systems.
Flexible presentation options create beautifully simple representations of strategy and progress that make sense from the boardroom to the website and even a customer's social media feeds. Organizations can now move beyond the traditional "reporting to stakeholders" to a 21st century "engagement with people" approach.
We offer built-in, globally recognized reporting frameworks including:
Our newest version 2.0 also introduces the forward-looking, collaborative UN Global Goals framework, which can be implemented at multiple levels, from data and reporting framework integration to making sense of high level goals and aspirations.
FigBytes is the only truly integrated sustainability software solution.
Michael Meehan, former GRI CEO says this about FigBytes ability to connect strategy to data and brand: http://www.figbytes.com/testimonials
More from FigBytes Inc.