Published 08-07-17
Submitted by Yale Center for Environmental Law & Policy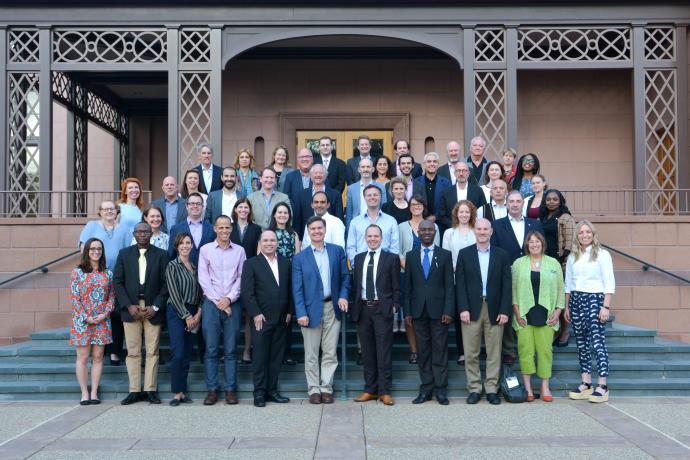 Yale Sustainability Leadership Forum, 2016 inaugural class. Click here to view video.
Sustainability professionals from around the world will gather at Yale University this September 12-15 for four days of thought-provoking lectures and interactive discussions at the Yale Sustainability Leadership Forum.
The Forum's small class size fosters an environment of idea sharing and gives participants and speakers an opportunity to interact one-on-one. Speakers are distinguished thought leaders and innovators drawn from Yale's renowned Law School, School of Management, and School of Forestry & Environmental Studies, as well as leading practitioners in government and industry. They collectively offer an essential set of strategies and sustainability principles to guide our institutions, governments, businesses, and society. 
The Director of the Forum, Professor Daniel C. Esty, brings decades of groundbreaking thinking on environmental law, policy, sustainability innovation, and public-private partnerships to the Forum. 
Video: Professor Esty discusses the Forum's agenda, speakers, benefits for participants, and why you can't miss this incredible educational experience: https://youtu.be/CiXCLYK-UOA
Yale Faculty returning to teach again this fall are standouts in the field of sustainability. Professors William Nordhaus, Marian Chertow, Gary Brudvig, E. Donald Elliott, and Bradford Gentry specialize respectively in carbon pricing, industrial ecology, molecular biophysics and biochemistry, environmental law, and land conservation. Each of their modules will examine current trends in their disciplines, along with sustainability principles and strategies for innovation.
New speakers joining the Forum bring an equally rich set of insights to share. The U.S. State Department's former top climate change lawyer and a key architect of the Paris Climate Agreement, Susan Biniaz, will teach a module on climate change negotiations. David Lubin, a world leader in the field of corporate performance management will teach a module on sustainable investing. Other speakers include Kenneth Gillingham, Julie Zimmerman, Anthony Leiserowitz, and Andrew Winston, who will teach respectively on the latest innovations in energy and environmental economics, green design, climate change communications, and corporate sustainability management.
To view the agenda, click here. To view the speaker line-up, click here.
Participants of the 2016 inaugural Forum praised the depth and breadth of the candid discussions and felt confident that they left Yale inspired and armed with a myriad of innovative and practical takeaways. "The Forum was an excellent opportunity for me to receive a compact overview of the main trends and challenges in our quest to transition to sustainable societies. Listening to and engaging with some of the field's brightest minds and leading scholars was both inspiring and an opportunity to calibrate some aspects of my work so that I can be more effective and successful," said Tanja Srebotjnak, Hixon Professor of Sustainable Environmental Design at Harvey Mudd College.
Jonathan Steinberg, State Representative at the Connecticut General Assembly, echoed that sentiment, saying, "If sustainability is truly the defining framework for this century, this forum is an invaluable medium for grasping the critical issues and opportunities which will determine our planet's continuing viability." 
YSLF is designed to advance sustainability thought leadership and to inspire sustainability action. To learn from leaders in the field and other sustainability professionals, apply for the 2017 program here. Applications are being accepted on a rolling basis and space is limited. 
For more information on the Forum and to apply, please visit sustainability-forum.yale.edu.

Yale Center for Environmental Law & Policy
Yale Center for Environmental Law & Policy
The Yale Center for Environmental Law and Policy, a joint undertaking between the Yale School of Forestry & Environmental Studies and the Yale Law School, seeks to incorporate fresh thinking, ethical awareness, and analytically rigorous decision-making tools into environmental law and policy.
In addition to its research activities, the Center aims to serve as a locus for connection and collaboration by all members of the Yale University community who are interested in environmental law and policy issues. The Center supports a wide-ranging program of teaching, research, and outreach on local, regional, national, and global pollution control and natural resource management issues. These efforts involve faculty, staff, and student collaboration and are aimed at shaping academic thinking and policymaking in the public, private, and NGO sectors.