Published 07-31-17
Submitted by Emerald Brand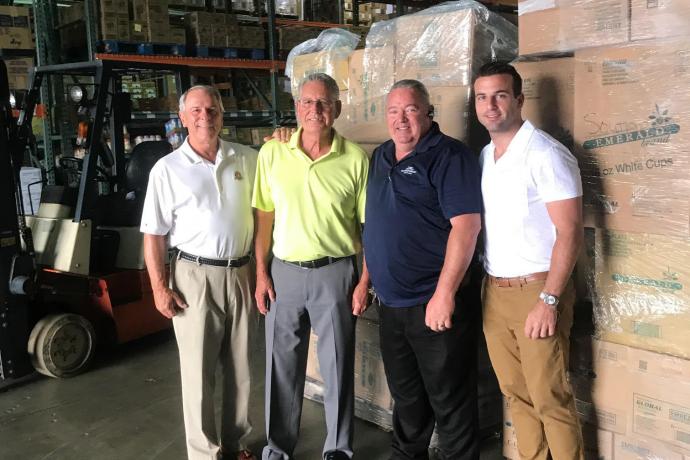 Southern Refreshment Services and Emerald Brand have announced a partnership to deliver Emerald's sustainable food service program throughout the greater Atlanta area. Southern Refreshment Services delivers solutions in office coffee services, micro-markets and pantry services to many of Atlanta's top corporations, universities, hospitals, and more.
With a consistently growing consumer demand for environmental solutions, corporations are adhering to stricter environmental and CSR guidelines. Southern Refreshment Services has incorporated sustainability as well as health and wellness into their unique business model and is taking their customer's environmental concerns very seriously. "By providing Emerald's line of Tree-Free™, compostable, and BPA free products, along with their measurement and marketing tools, we are helping our customers meet their goals to reduce their environmental impact," said David Carroll, VP of OCS Operations at Southern Refreshment Services.
Southern Refreshment Services will be offering its customers a broad range of Emerald Brand products including Tree-Free™ towel and tissue, Tree-Free™ molded fiber products, bio-plastic foodservice disposables, environmental cleaners, and more. Southern's client base will now have access to Emerald Brand's marketing, communication and environmental consulting teams- allowing them to broaden and grow their initiatives beyond the disposable and cleaning categories. 
"We are looking forward to expanding Emerald Brand in the Atlanta market through Southern Refreshment Services," said RJ Bianculli, Managing Director at Emerald Brand. "They are one of the most innovative and forward thinking OCS/foodservice providers in the Southeast. They understand our environmental mission to mainstream sustainability, enhance American manufacturing by creating sustainable American jobs, and the tremendous value our solutions bring to existing as well as new clients."
About Emerald Brand:
Family owned and operated since 1997, Emerald Brand is committed to innovating through tree-free, sustainable and rapidly renewable solutions. From Tree-Free paper products to petroleum-free cutlery and a suite of over 250 sustainable corporate solutions, Emerald Brand is at the forefront of driving sustainability in homes and offices around the world.  Emerald Brand products are available for consumer purchase at www.emeraldbrand.com and for businesses at www.paradigm-grp.com. 
About Southern Refreshment Services:
Southern Refreshment Services is a privately-held company founded in 1979.  Our owners built a thriving business with a focus on providing high-quality products with exceptional service.  In 2001, we acquired partnership with Compass, which provides us with national recognition and global purchasing power as a member of the Canteen Franchise Group.  Southern Refreshment Services is an award-winning company that values strong relationships with our business partners, employees, and customers.  Our sister company, Vend Food Services, provides services that mirrors Southern Refreshment Services and additionally operates on-site business dining and catering services throughout Northeast Georgia.
Southern Refreshment Services, Tucker, GA www.refreshthesouth.com
Vend Food Services, Athens, GA www.vendfoodservices.com
###

Emerald Brand
Emerald Brand
Emerald Brand's mission is to combat climate change by providing cost-effective sustainable disposable products to businesses and homes. With a line of over 225 products, Emerald can convert entire business facilities such as corporate offices, hotels, universities, and more to a full measureable sustainability platform in the cafeteria, breakroom, facilities, packaging, and cleaning categories.
Emerald specializes in producing Tree-Free and Petroleum-Free products made with agricultural fibers. This process supports local farmers, prevents deforestation, and prevents the burning of this formerly-wasted agricultural material.
You can learn more about Emerald Brand and the sustainable solutions they offer at EmeraldBrand.com.
More from Emerald Brand