Published 07-21-17
Submitted by Global Sustain Limited (Ltd.)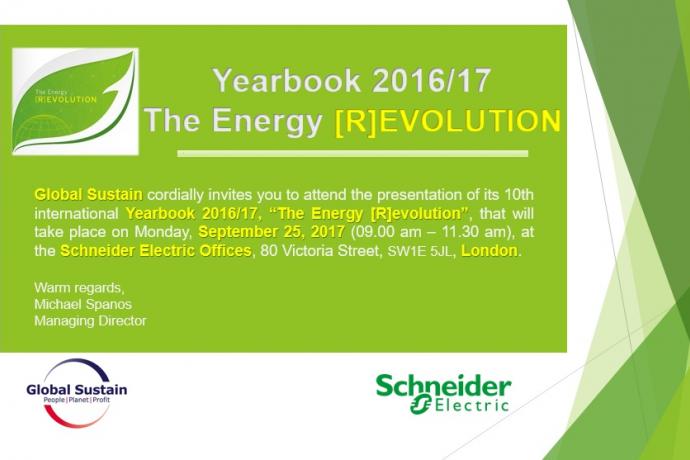 Invitation_Yearbook 2016/17_London
Global Sustain cordially invites you to attend the presentation of its 10th international Yearbook 2016/17, "The Energy [R]evolution", that will take place on Monday, September 25, 2017 (09.00 am – 11.30 am), at the Schneider Electric Offices, 80 Victoria Street, SW1E 5JL, London.
This 10th year's carbon neutral edition was established in collaboration with the United Nations Conference on Trade and Development (UNCTAD), UN Sustainable Energy for All, World Energy Council, European Commission, etc. In the face of a growing global population and the increase in energy demand, one of the greatest challenges of the 21st century is meeting our energy needs in a sustainable way. The yearbook focuses on the evolution and challenges of the energy market that impact on the climate, geopolitics and world economy, aiming to navigate and better understand our energy future. During the event, chief executive officers will give speeches and present their vision and experiences to a special audience. Global Sustain has already presented the 10th Yearbook in Athens and other events will follow in Brussels and Berlin.
Free admission on presentation of the invitation. Due to the limited positions and for safety reasons, early registration is recommended.
Registration details:
E-mail: events@globalsustain.org 
About the Yearbook series
Yearbook series aim at highlighting critical sustainability issues and constitute a catalyst for constructive dialogue and positive change. This annual global publication is trusted by top companies and important stakeholders from all around the world. Each year, Global Sustain selects a topic of universal interest relevant to the people-planet-profit concept and analyses all the aspects through the views of internationally renowned personalities, business leaders, politicians, visionaries and academia. Industry opinion formers and decision makers across the world contribute with policy and business intelligence to the publication, while leading corporations showcase their best practices and flagship products and services in the sustainability field. The hard copy publication is presented every year in special events and venues, with high level participants and is distributed to a worldwide targeted audience. To date, Yearbooks have been distributed in more than 50 countries on 5 continents, profiling more than 200 CEOs.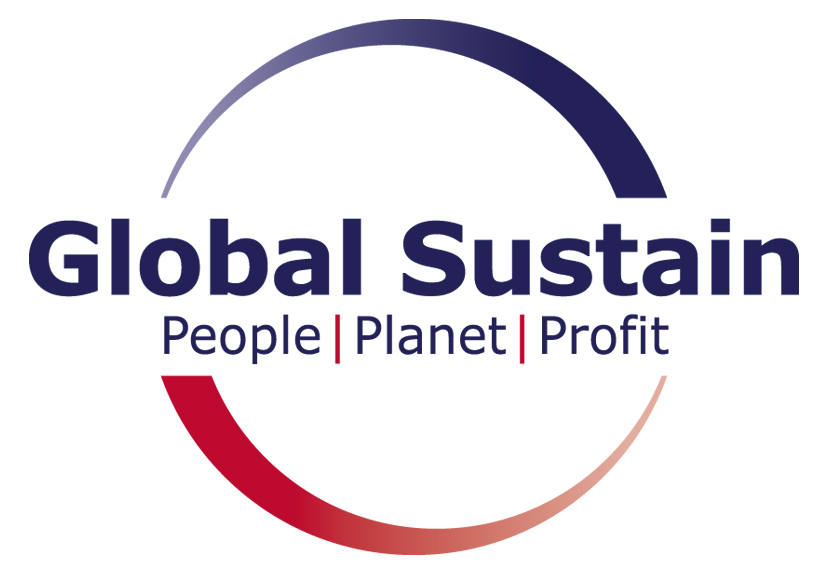 Global Sustain Limited (Ltd.)
Global Sustain Limited (Ltd.)
About Global Sustain
Founded in 2006, Global Sustain with offices in Athens, Berlin, Brussels, London, New York and Nicosia, creates awareness and inspires and supports companies and organisations to embody sustainability, through advisory, communications, networking and training, with a focus on the people-planet-profit philosophy. Its members include corporations, non-governmental and non-profit organisations, municipalities and local authorities, educational foundations, media, professional bodies, think tanks and other public or private entities. Global Sustain is a signatory to the Ten Principles of the UN Global Compact, to the Principles for Responsible Investment (PRI), a GRI Data Partner and Organisational Stakeholder (OS), an affiliated member of the Academy of Business in Society, Social Value International, Institute of Directors, CEO Clubs and EFQM. www.globalsustain.org / www.globalsustaingroup.com
More from Global Sustain Limited (Ltd.)