Published 06-02-17
Submitted by Keep America Beautiful
Keep America Beautiful, the nation's iconic community improvement nonprofit organization, believes that meaningful, lasting change is best achieved when NGOs and social service organizations, businesses, government, academia and individuals — reflecting the strength and diversity of our nation and the world — join together to take responsibility with collective action.
Yesterday's decision to withdraw the United States from the historic Paris Climate Agreement adds an even greater sense of urgency to our work to help create a country where every community is a clean, green and beautiful place to live, work and play.
Helen Lowman, president and CEO of Keep America Beautiful said, "Yesterday's announcement reinforces the immediacy and relevancy of the work done by Keep America Beautiful for nearly 65 years — along with the efforts of many others — to bring people together from all walks of life to create positive environmental, economic and social impact in communities across America and beyond.
"Behavior change — steeped in education, research and behavioral science — are the cornerstones of Keep America Beautiful. We strive to educate and empower generations of community and environmental stewards with real-world experiences, practical advice, curricula, programs and other resources that help people understand the essentials of proactive community citizenship, including the preservation and conservation of our natural resources and the importance of responsible consumption.
"Yesterday, we renew our commitment to work with and help bring together federal, state, county and municipal government leaders — joined by our other partners and millions of volunteers across the country — to advance our fight to End Littering, Improve Recycling and Beautify America's Communities."
About Keep America Beautiful
At Keep America Beautiful, we want to ensure that beauty is our lasting signature. A leading national nonprofit, Keep America Beautiful inspires and educates people to take action every day to improve and beautify their community environment. We envision a country in which every community is a clean, green, and beautiful place to live. Established in 1953, Keep America Beautiful provides the expertise, programs and resources to help people End Littering, Improve Recycling and Beautify America's Communities. The organization is driven by the work and passion of more than 600 state and community-based Keep America Beautiful affiliates, millions of volunteers, and the support of corporate partners, social service organizations, academia, municipalities, elected officials, and individuals. To donate or take action, visit kab.org. Follow us on Twitter and Instagram, like us on Facebook, or view us on YouTube.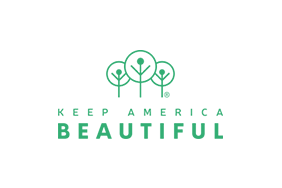 Keep America Beautiful
Keep America Beautiful
Keep America Beautiful is the nation's leading nonprofit that brings people together to build and sustain vibrant communities. With a powerful national network of community-based affiliates, we work with millions of volunteers who take action in their communities to transform public spaces into beautiful places. Through our programs and public-private partnerships, we engage individuals to take greater responsibility for improving their community's environment.
For more information, visit kab.org, follow us on Twitter, like us on Facebook, discover us on Pinterest, or view us on YouTube.
More from Keep America Beautiful