Published 05-08-17
Submitted by BBB Foundation of Metropolitan New York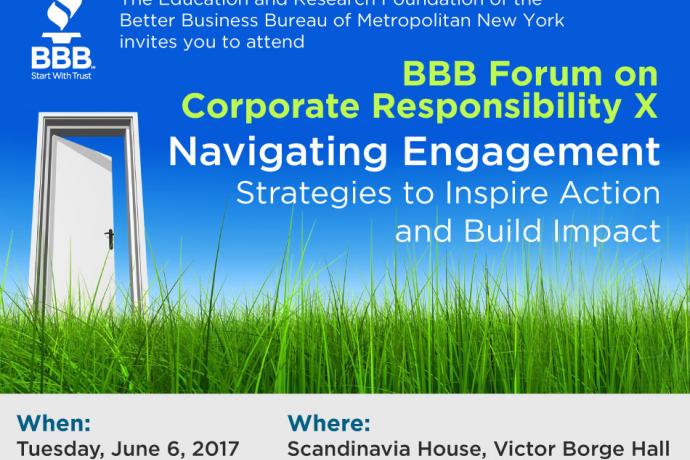 On June 6, 2017, the BBB Foundation of Metro New York will present its tenth BBB Forum on Corporate Responsibility, with the theme Navigating Engagement: Strategies to Inspire Action and Build Impact. This elite half-day program is attended by business leaders working in corporate responsibility, sustainability, corporate communications and public affairs, and their advisers as well other interested executives. It will take place at Scandinavia House, Victor Borge Hall, 58 Park Avenue at 38th Street in Manhattan, from 8:00 AM to 12:30 PM. This year's Forum topics will include stakeholder engagement to drive corporate responsibility goals, CSR trends and strategies, current developments related to the United Nations Sustainable Development Goals, and investor-related perspectives on environment and social risk factors.
The 2017 BBB Forum is generously supported by Major Sponsor EY; Benefactor Sponsors MLB Advanced Media, New York Daily News, Nielsen, and Verizon; Friend Sponsor S&P Global; and Media Supporter Corporate Responsibility Magazine.
To kick off the 2017 BBB Forum, keynote speaker Crystal Barnes, Vice President, Global Responsibility and Sustainability of Nielsen, will speak to the Forum's overall theme, providing insights about stakeholder engagement issues and using "data for good."
Following the keynote, a featured panel of top thought leaders will discuss corporate responsibility trends and expectations, as they touch on stakeholder engagement issues:
Eric Gertler, moderator, Co-Chairman and Co-Publisher, New York Daily News and Co-Chairman, U.S. News and World Report

Jennifer Ryan Crozier, Vice President, IBM Corporate Citizenship, President, IBM International Foundation, IBM

Timothy J. McClimon, President, American Express Foundation, Senior Vice President, Corporate Social Responsibility, American Express

Keith Mestrich, President and CEO, Amalgamated Bank

Kathryn S. Wylde, President and CEO, Partnership for New York City
Following the panel, a senior leader from BSR will discuss stakeholder engagement trends and frameworks, as well as related issues. The program will conclude with three special reports: a senior manager from EY will discuss how a company's nonfinancial performance might reveal its true value; the U.S. Director of World Business Council for Sustainable Development will share the latest developments concerning business efforts around the Sustainable Development Goals (SDGs); and the Chairman of Sovereign Investor Institute will shed light on investor perspectives regarding the SDGs and corporate responsibility trends.
BBB Forum 2017 Event Supporters include: Advertising Self-Regulatory Council, American Sustainable Business Council, BSR, CDP, Council of Better Business Bureaus, CSRHub, Governance & Accountability Institute, Interfaith Center on Corporate Responsibility, Manhattan Chamber of Commerce, New York Society of Association Executives, NYCharities.org, Partnership for New York City, Social Accountability International, The Sustainability Consortium, Sustainability Practice Network, World Business Council for Sustainable Development, and The Robert Zicklin Center for Corporate Integrity (list in formation).
Cost to attend:
BBB Accredited, CBBB National Partners, Event Supporter Guests, Nonprofits:
$90 per person until May 23, $125 per person after that.
Non-BBB Accredited:
$160 per person until May 23, $195 per person after that.
Please register in advance. Space is limited. Register now to assure seating.
Details & online registration:
bbb.org/new-york-city/bbb-forum-2017
Registration by phone & more information:
Call: 212-358-2829
Email: cbowers@newyork.bbb.org 
About BBB Foundation of Metropolitan New York
Metro New York's BBB Foundation is a 501(c)(3) nonprofit organization established in 1967. It provides educational programs and services for businesses, charities and consumers; encourages informed consumer support of charities; promotes transparency and accountability; conducts research; and provides educational intern opportunities to students who are potential business and charity leaders.  It operates the BBB Charity Accountability Program which publishes BBB Charity Reports on about 770+ Metro New York area charities based on performance against the 20 BBB Standards for Charity Accountability. BBB Charity Reports are available online at ny.give.org.
About BBB Serving Metropolitan New York
For more than 100 years, Better Business Bureau has been helping consumers find businesses, brands and charities they can trust. In 2016, people turned to BBB more than 170 million times for BBB Business Profiles on more than 5.2 million businesses and Charity Reports on 11,000 charities, all available for free at bbb.org. The Council of Better Business Bureaus is the umbrella organization for 106 regional, independent BBBs across North America, as well as home to its national programs on dispute resolution and industry self-regulation.  The BBB Serving Metropolitan New York was founded in 1922.  Please visit newyork.bbb.org or bbb.org for more information.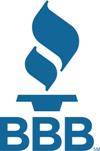 BBB Foundation of Metropolitan New York
BBB Foundation of Metropolitan New York
BBB Serving Metropolitan New York, Long Island and the Mid-Hudson Region is an unbiased non-profit organization that works to foster a transparent marketplace where buyers and sellers can trust each other. Businesses that earn BBB accreditation formally agree to uphold the BBB's high standards of ethical business practices. BBB provides objective advice, free business BBB Business and Charity Reports, and educational information on topics affecting marketplace trust.
To further promote trust, BBB also offers complaint and dispute resolution support for consumers and businesses when there is a difference in viewpoints. The first BBB was founded in 1912 by advertising executives. The BBB of Metropolitan New York was founded in 1922 by the NY Stock Exchange. Today, 112 BBBs serve communities across the U.S. and Canada, evaluating and monitoring more than 4.5 million local and national businesses and charities. Please visit
www.bbb.org
for more information about BBB.
More from BBB Foundation of Metropolitan New York