Published 05-01-17
Submitted by Environmental Leader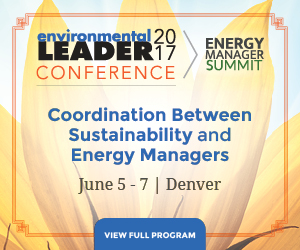 Business Sector Media, publisher of the Environmental Leader and Energy Manager Today, announced that it will bring its annual Environmental Leader Conference back to Denver, June 5-7, 2017. With a focus on what effect executive orders from the White House and rules from new administrations at the EPA and DOE will have on sustainability, environmental and energy programs, the conference will highlight what major companies are doing to minimize threats to their initiatives.
The Environmental Leader Conference 2017, featuring the Energy Manager Summit, offers a unique opportunity for environmental, sustainability and energy professionals to come together to identify new areas of opportunity to work more collaboratively in addressing their organizations goals. Unlike other conferences, this program unites a group of multidisciplinary, forward-thinking executives to share diverse perspectives and approaches to improving processes and better managing resources.
"Attendees will leave the conference with an understanding of the turbulent internal landscape environmental, energy, sustainability and compliance programs will face over the next 12-18 months and steps that can be taken to help weather the storm and even thrive through uncertain times" said Paul Nastu, Founder and CEO, Business Sector Media, LLC. "We have an impressive list of speakers from organizations willing to share how they solved their environmental and energy challenges."
Environmental Leader Conference 2017 speakers include:

Steven Avadek, Director and Global Head of Sustainability, Citi Realty Services
Fawn Bergen, Corporate Sustainability Group – Water and Carbon Footprint Program Manager, Intel
Amy Braun, Sustainability Director, Kellogg
Joby Carlson, Director, energy and operations sustainability, Walmart
Cheri Chastain, Sustainability Manager, Sierra Nevada Brewing
James DeMouy, Vice President of Environmental, Health, Safety and Sustainability, Bridgestone Americas
Bill Gill, Vice President, Environmental Affairs, Smithfield Foods
Dennis Hu, Director Environmental Health and Safety and Systems Safety Engineering, Ball Aerospace & Technologies Corp
Ryan McMullan, Environmental & Safety Manager, Toyota Motor Sales
Craig Moeller, Director, Advanced Energy Generation, Lockheed Martin
Matthew J. Pekar, Energy Conservation Specialist, United Technologies
Jonathan S. Radtke, Water Sustainability Program Director, Coca-Cola North America
Rob Threlkeld, Global Manager, Renewable Energy, General Motors
Marco Ugarte, Sustainability Manager, MillerCoors
The Environmental Leader Conference 2017 will culminate with the presentation of the sixth annual Environmental Leader Product and Project Awards and the Energy Manager Today Awards. These awards recognize excellence in products/services and projects that provide companies with energy and environmental benefits.
To register or find the latest agenda for the Environmental Leader Conference, visit www.environmentalleader.com/events/conference2017/ and connect with the Environmental Leader Conference on Facebook, Twitter and LinkedIn.
About Business Sector Media, LLC: Business Sector Media LLC delivers industry-specific business-to business news, research, insights and information to decision-makers worldwide. Our leading websites, newsletters and myriad of programs have become top sources that business executives visit every day to receive timely, trusted and objective business-to-business information. http://businesssectormedia.com/
Media Contact: Warwick Davies. General Manager, wdavies@environmentalleader.com

Environmental Leader
Environmental Leader
Environmental Leader is the daily online news journal and email newsletter that corporate environmental and sustainability executives trust to be comprehensive yet succinct. The site doesn't just summarize the news - it provides timely and original insight on the most important things that environmental decision-makers need to know.
More from Environmental Leader