Published 04-13-17
Submitted by Rebuilding Together, Inc.
 Rebuilding Together, a leading national non-profit rebuilding communities in need across the country, will partner with Lowe's to launch its Rebuild-a-Block program and restore homes and neighborhood service centers in Tampa, Fla., Henderson, Nev. and Fayetteville, N.C. Nearly 200 Lowe's Heroes employees will provide critical home repairs to their neighbors in need at no cost to them.
Additionally, Lowe's is providing 33 Rebuilding Together affiliates with $450,000 in grant money to increase their impact and rebuild homes throughout the country.
"Lowe's has made a significant commitment to provide our neighbors with the necessary repairs to remain in their home," said Caroline Blakely, President and CEO of Rebuilding Together. "Our continued partnership has been crucial to Rebuilding Together's mission of rebuilding our communities and serving individuals in need."
In Tampa, Fla. Lowe's Heroes will provide critical repairs for five homeowners and revitalize the Rosa Valdez Daycare Center in Old West Tampa on April 19 and 20. The center has been serving the neighborhood for over 100 years by providing daycare and developmental services to disadvantaged children.
On May 16 and 17, Lowe's Heroes will rebuild 4 homes and a community center in Henderson, Nev., southeast of Las Vegas. Henderson was first incorporated during WWII and was a major production hub for munitions and airplane parts. Along with nearby Boulder City, the area housed many of the workers who built the Hoover Dam.
On June 13 and 14, Lowe's Heroes will also rebuild 4 homes and a community space serving the Fayetteville, N.C. community. The area was struck by Hurricane Matthew in 2016, causing $1.5 billion of flood damage to 100,000 homes, businesses, and government buildings in the state.
With the support of Lowe's Heroes, Rebuilding Together has completed over 1,500 projects, impacting 16,000 of our neighbors since 2007.
"Lowe's shares Rebuilding Together's vision in providing a safe and healthy home for every person," said James Frison, Lowe's Community Relations Director. "It takes dedicated, hard work to keep a house in good condition. Our Lowe's Heroes love being part of the Rebuild-a-Block program that helps homeowners make the necessary repairs to ensure a safe environment and keep a house feeling like a home."
For the latest information about the initiative, follow #RebuildABlock on Facebook, Twitter and Instagram.
###
About Rebuilding Together
Rebuilding Together is a leading national nonprofit in safe and healthy housing with more than 40 years of experience. Together, with our corporate and community partners, we transform the lives of low-income homeowners by improving the safety and health of their homes and revitalizing their communities. Rebuilding Together's local affiliates and nearly 100,000 volunteers complete about 10,000 rebuild projects nationwide each year. Learn more and get involved at rebuildingtogether.org.
About Lowe's in the Community
Lowe's, a FORTUNE® 50 home improvement company, has a 60-year legacy of supporting the communities it serves through programs that focus on K-12 public education and community improvement projects. In the past decade, Lowe's and the Lowe's Charitable and Educational Foundation together have contributed nearly $300 million to these efforts, and for more than two decades Lowe's Heroes volunteers have donated their time to make our communities better places to live. For the latest news, visit Newsroom.Lowes.com or follow @LowesMedia on Twitter.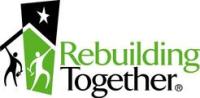 Rebuilding Together, Inc.
Rebuilding Together, Inc.
Rebuilding Together is the nation's largest non-profit organization whose mission is to preserve and revitalize houses and communities to assure that low-income homeowners, particularly those who are elderly and disabled, live in warmth, safety and independence. Through 2005 Rebuilding Together has rehabilitated over 96,120 houses, utilizing 2.5 million volunteers for a market value of $905 million.
More from Rebuilding Together, Inc.