Published 04-04-17
Submitted by Pact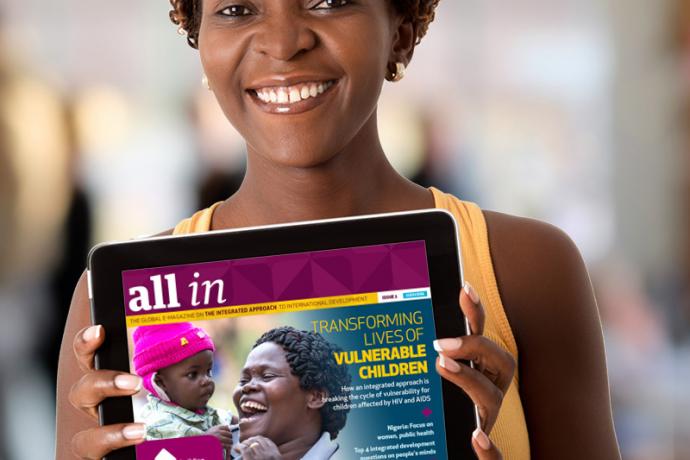 Today, Pact released the newest issue of All In, the global e-magazine on the integrated approach to international development. This latest edition explores the progress of integrated efforts to address children's vulnerability because of HIV and AIDS in Africa. The publication highlights the necessity of an integrated approach to tackle this issue, among others.
Integrated development is one of the leading approaches to international development today. A holistic approach, integrated development considers the many interrelated factors that contribute to poverty and marginalization. All In, a highly designed, richly interactive e-magazine, provides an in-depth look inside Pact's unique integrated approach and its application worldwide.
Across Africa, millions of children have been left vulnerable by HIV's devastating toll on the continent, particularly Sub-Saharan Africa. As a result of Pact's integrated approach, last year more than 608,000 orphans and vulnerable children and their caregivers received household economic strengthening services, knowledge of and improved access to healthcare, nutritious food, and understanding of children's rights and links to child protection services. This combination of interventions supports sustainable, systemic solutions for caring for these children and reducing their vulnerability.
In addition to supporting vulnerable children, the e-magazine details other ways this unique approach to development is measurably transforming lives across the world, such as saving Cambodia's natural resources and helping mothers provide for themselves and their children in Nigeria.
The latest edition of the e-magazine also explores the development community's views of integrated programming and the top four questions on people's minds about the development model. The issue also features an in-depth discussion with the director of Locus, a coalition of organizations supporting integrated, local solutions to development challenges.
Read the current issue of All In and subscribe for free.
For more information about Pact's integrated approach to development, visit www.pactworld.org/our-integrated-approach.
#  #  # 
About All In – Poverty and other major development challenges don't have a single cause. They require integrated solutions. They require us to go all in. Published in the spirit of shared knowledge and cooperation, All In is Pact's global e-magazine on the integrated approach to international development. Our interactive editions feature engaging stories about the most promising development model in the world today. Interested in contributing? We're accepting article submissions from international development stakeholders for future issues. Contact us here. 
About Pact – Pact is a promise of a better tomorrow for all those who are poor and marginalized. Working in partnership to develop local solutions that enable people to own their own future, Pact helps people and communities build their capacity to generate income, improve access to quality health services, and gain lasting benefit from the sustainable use of the natural resources around them. With more than 3,500 staff at work in almost 40 countries, Pact is building local promise with an integrated, adaptive approach that is shaping the future of international development. Visit us at http://www.pactworld.org/.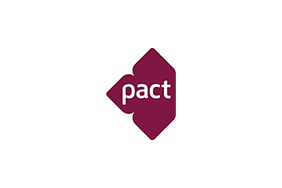 Pact
Pact
Pact is an international nonprofit that works in nearly 40 countries building solutions for human development that are evidence-based, data-driven and owned by the communities we serve. Founded in 1971, Pact works with partners to build resilience, improve accountability, and strengthen knowledge and skills for sustainable social impact.
More from Pact