Published 03-07-17
Submitted by OLD Pure Strategies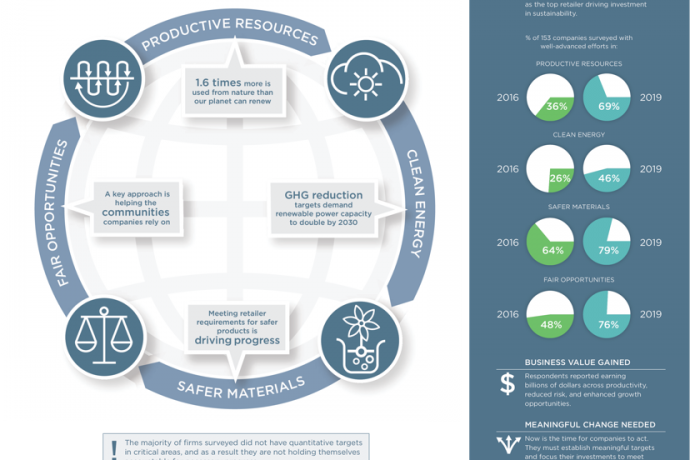 Key elements for building a sustainable and circular economy.
New research from sustainability consulting firm, Pure Strategies, reveals growth in corporate spending in sustainability; more than 80 percent of surveyed companies expect a budget increase from 2016 to 2017 with a third anticipating double-digit growth.
The 153 survey respondents reported gaining approximately $800 million from increased sales and $800 million in manufacturing cost savings, with additional earnings in risk reduction, productivity gains, and enhanced growth opportunities adding up to billions in value.  Companies that report earning the most from sustainability plan to further increase their budgets, pointing to a key link between sustainability program investment and business benefits.
"The business case for sustainability has never been stronger," noted Tim Greiner, Pure Strategies Managing Director.  "Investment is higher than ever, especially from the top performers.  But resources must shift to promoting more productive and regenerative systems, clean energy, safer materials, and fair opportunities.  These shifts are where change is most needed and where companies can find the greatest business value."
There are encouraging signs of progress.  The number of companies using renewable energy is anticipated to nearly double, from 26 percent in 2016 to 46 percent of companies planning to have well-advanced efforts in 2019.  Top performing firms in the survey expect to rely on renewable power purchase agreements during that time period.
The survey respondents are embracing safer materials, with this area expected to grow from 64 percent of companies with well-advanced programs in 2016 to 79 percent in 2019. When asked about safer materials efforts, meeting retailer requirements ranked highest; with 70 percent of respondents reporting strong efforts in this area.
The number one retailer driving investment in sustainability is Walmart.  Survey respondents have consistently identified the world's largest company as the leading retailer influencing company investment in sustainability.  In two previous Pure Strategies' studies, Walmart was named the top retailer stimulating investment in product sustainability.  In the new survey, the company was named the top retailer driving investment in sustainability, receiving twice as many votes as Target, the second most cited retailer.
"This report shows that companies know sustainability is good business," said Kathleen McLaughlin, Senior Vice President and Chief Sustainability Officer for Wal-Mart Stores, Inc. "Strengthening product supply chains and other systems today will benefit customers, business, and society tomorrow. We're proud to be addressing major issues like climate change and livelihoods, while at the same time improving efficiency and strengthening our company."
Explore:
Pure Strategies' fielded a survey, through research firm Verdantix, with 153 telephone interviews with sustainability leads in global companies with revenue of at least $250 million in these industries: food and beverage, apparel and footwear, life sciences and medical products, electronics and appliances, home care and cleaning, personal care and cosmetics, and general merchandise. Pure Strategies conducted similar studies in 2015 and 2013 that also informed the report.
About Pure Strategies:  Pure Strategies is a leading sustainability consulting firm founded in 1998 working to transform business to create a more sustainable future.  The company helps firms in the food, consumer products, retail, life sciences, and other sectors gain the business benefits of improved sustainability.  Areas of expertise include corporate sustainability strategy and CSR reporting, sustainable chemicals management, life cycle assessment, product sustainability and innovation, and supply chain sustainability assessment and engagement.   Clients include Walmart, Annie's, Organic Valley, Ben & Jerry's, Seventh Generation, Colgate-Palmolive, Biogen, MilliporeSigma, Radio Flyer, and others.  For more information, visit www.purestrategies.com/.

OLD Pure Strategies
OLD Pure Strategies
Pure Strategies, a leading U.S. sustainability consulting firm, helps organizations gain strategic and financial benefits by helping them improve the sustainability of their organizations, their products, and their supply chains. Our team includes experts in corporate sustainability strategy and reporting, life cycle assessment (LCA), chemicals and materials assessment, product sustainability, and supply chain sustainability assessment and engagement. Our clients include Stonyfield Farm, Seventh Generation, The North Face, Walmart, EMD Millipore, Biogen, and other leading consumer products and B2B companies.
Learn more about our services: http://www.purestrategies.com/services
More from OLD Pure Strategies