Published 01-05-17
Submitted by Sustainability Roundtable, Inc.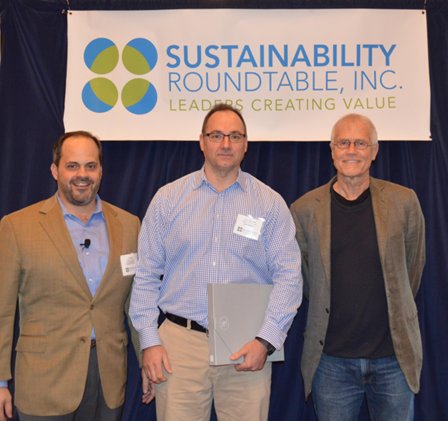 (Left to right) Jim Boyle — CEO & Chairman, Sustainability Roundtable Inc, Jason Shulman — Sustainability Manager- Reporting & Analysis, Bloomberg, Paul Hawken — Author & Executive Director, Project Drawdown at the Summit for Sustainable Operations
 Sustainability Roundtable, Inc. ("SR Inc"), the leader in Sustainability Program support services, recognized Bloomberg as the Sustainable Business & Enterprise Roundtable's (SBER) Outstanding Corporate Leader for 2016. SR Inc recognized Bloomberg at the Summit for Sustainable Operations V in DC December 8th because of its industry leading best practices in driving greater sustainability throughout Bloomberg's global real estate and operations portfolio. SR Inc has been recognizing Outstanding Corporate Leaders of the Year since 2010 and  Bloomberg, first recognized in 2014, is the first company to be recognized a second time.
Year over year, SR Inc confidentially scores and assists dozens of world-leading companies in developing and managing strategies to move their operations to greater sustainability. Bloomberg warranted the Outstanding Corporate Leader Award for a second time because of its leading success in driving continuous innovation and optimization throughout its operations to advance the company's long-term business success in a world of rising resource constraints.  Bloomberg continues to achieve leadership scores on SR Inc's annual assessment, which evaluates the strength of a company's sustainability strategy for real estate and operations, even as the diagnostic survey it is based on raises the bar to stay aligned with current industry leading best practices.
The comprehensive, aggressive, and effective nature of Bloomberg's sustainability efforts support the award, including:
Explicit and visible commitment driven from Chairman's office

Integration of sustainability information sharing into the company's core business products, helping advance more sustainable industry practices

Transparency and depth of sustainability reporting beyond SR Inc scoring

Breadth and depth of employee engagement in virtually all aspects of corporate sustainability

Leadership commitment sufficient to positively influence renewable energy and quality REC markets

Robust participation across leadership development and engagement programs, with 80+% of employees engaging with at least 1 of Bloomberg's social impact groups

Continued investments to bring Sustainable Finance into Bloomberg products and services, media outlets and industry vertical groups (e.g. Portfolio Carbon Footprint Tool, Water Risk Valuation Tool)

Continued level of financial investment in sustainability projects, funded by calculated avoided cost savings per FTE of sustainability initiatives over time (a featured Member-Client best practice), resulting in $23.8M in net savings between 2007 and 2015 for facilities-related initiatives that reduce CO2e emissions at offices, data centers and warehouses

A commitment to reduce emissions 20% while achieving 20% IRR, by 2020 – proving that a focus on reducing environmental impact is good business.
"I'm pleased to, for the first time, recognize a repeat SBER Outstanding Corporate Leader of the Year in Bloomberg," noted SR Inc CEO & Chairman Jim Boyle. "Bloomberg has earned it – they have continued to perform at the highest level in driving an exceptional worldwide sustainability program throughout all of their operations. Their approach to scoring and accounting for the full benefit of sustainable operations is a breakthrough best practice that every corporation interested in sustainability should examine."
"Sustainability is a core component of Bloomberg's culture. Through our environmental strategy we scrutinize every aspect of our business and operations with the aspiration of creating a fully sustainable Bloomberg.  Since 2007, the company has achieved cost savings of $83M, increased operating efficiencies by 35%, and is on target to achieve 35% direct renewable energy by 2020. "
– Michael Barry, Head of Sustainable Business Operations
About Bloomberg: 
Bloomberg, the global business and financial information and news leader, gives influential decision makers a critical edge by connecting them to a dynamic network of information, people and ideas. The company's strength -- delivering data, news and analytics through innovative technology, quickly and accurately -- is at the core of the Bloomberg Professional service, which provides real time financial information to more than 325,000 subscribers globally. Headquartered in New York, Bloomberg employs more than 17,000 people in 192 locations around the world in a portfolio of 5.0 million square feet. The company is moving towards having 50% of these employees working in LEED certified space by 2017. To date, 29 LEED-certified projects (15 Platinum and 14 Gold) have been completed, and the company has an ongoing commitment to any new office space with more than 100 employees seeking LEED Gold certification or higher. For more information visit: http://www.bloomberg.com/company
About SR Inc: 
Sustainability Roundtable, Inc. (SR Inc) is a private, mission driven, research and consulting company based in Cambridge, MA. SR Inc's mission is to accelerate the development and adoption of best practices in more sustainable business. Since 2009, SR Inc has advised companies who own or lease more than one billion square feet of real estate and who are leading the global move to more sustainable real estate and operations. SR Inc provides Member companies with confidential annual assessments and management recommendations and helps them develop strategies, set goals, assess solutions, measure progress and report results internally and externally for more sustainable real estate and operations locally and globally.  For information regarding Membership in SR Inc's Sustainable Business & Enterprise Roundtable service, please visit our website at www.sustainround.com or call us at 617-682-3631.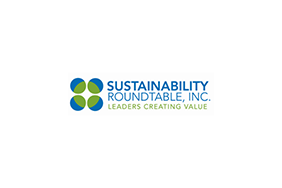 Sustainability Roundtable, Inc.
Sustainability Roundtable, Inc.
Sustainability Roundtable, Inc. (SR Inc) is the leader in outsourced Environmental, Social & Governance (ESG) assistance. SR Inc's Sustainable Business & Enterprise Roundtable (SBER) provides confidential, membership-based, Strategic Advisory & Support Services to help management teams set goals, drive progress, and report results as they lead their organizations to greater sustainability. SR Inc's Renewable Energy Procurement Services (REPS) team is led by 20+ year experts focused on corporate renewable energy strategy development, markets, law, financing, technology, transaction structuring, negotiation services and procurement. For information regarding SR Inc's Sustainable Business & Enterprise Roundtable service and/or SR Inc's Renewable Energy Procurement Services, visit our website at www.sustainround.com. 
More from Sustainability Roundtable, Inc.