Published 12-21-16
Submitted by Mary Kay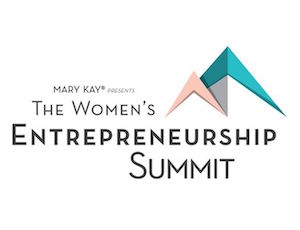 Mary Kay Inc. will host its first Women's Entrepreneurship Summit on Friday, January 27, 2017, from 7:30 a.m. – 5:00 p.m. at the Fairmont Hotel Dallas, located at 1717 N. Akard in Downtown Dallas. Registration is now open, www.marykaywomenssummit.com.
"For 53 years Mary Kay has been empowering, mentoring and promoting women entrepreneurs. Our founder, Mary Kay Ash herself was one of the greatest business minds of all time and millions of women around the world have built successful businesses by following her proven leadership and sales techniques," said Sheryl Adkins-Green, Chief Marketing Officer for Mary Kay Inc. "No one person or company has more experience with women's entrepreneurship than Mary Kay Inc. We believe that the Women's Entrepreneurship Summit will help inspire current and future female entrepreneurs."
In partnership with The Dallas Entrepreneur Center (The DEC), Mary Kay will convene experts and thought leaders, with backgrounds in fashion, high technology, consumer-packaged goods and business services, for the inaugural summit specifically designed for women business owners. 
"We can think of no better partner than Dallas' own Mary Kay to provide effective tools and resources for the next generation of women innovators, said Trey Bowles, co-founder and CEO of The Dallas Entrepreneur Center. "We hope to bring some of the success-proven mindsets, processes and practices to the women that attend this inaugural Mary Kay Women's Summit."
The day will begin with a light breakfast followed by morning keynote speaker, Gloria Mayfield Banks, internationally renowned motivational speaker and number one U.S. ranked Mary Kay Independent Elite Executive National Sales Director. Attendees will then select from a menu of breakout sessions, which have been customized for entrepreneurs of all ages and stages and will include case studies, how to's and tools to take your company to the next level. A seated luncheon will feature an inspiring keynote speaker, to be announced. 
Throughout the day, unprecedented mentorship opportunities and networking will help broaden participants' knowledge and expertise, and the first-ever "Pink Tank" will provide the opportunity for pre-selected participants to fast pitch their business ideas for seed funding from The DEC. The day will conclude with a "Champs and Candy" reception featuring sweets from Make Your Life Sweeter.
Confirmed breakout sessions and speakers include:
Why Women Make Great Entrepreneurs:  Amber Venz Box, RewardStyle and Valerie Freeman, Imprimis Group

10 Questions You Need To Answer Before You Become An Entrepreneur:  Shama Hyder, Marketing Zen; and Yasmeen Tadia, Make Your Life Sweeter

How To Build the Best Team For Success: Sheryl Chamberlain, Cap Gemini; Kristi Libby, S.W.C./SoCu; and Jill Scigliano, Dallas Entrepreneur Center

Customer Development: How To Find And Grow Customers:  Melissa Youngblood, LCC Management Consulting

Building Your Brand:  Heather Capps, HCK2; Holly Mason, Mason Baronet; and Jessica Nunez, True Point;

Fundraising: How To Fund Your Business: Julia Taylor Cheek, Everly; Louise Kee, Golden Seeds; Cynthia Nevels, Integrality; and Cristin Thomas, Goldman Sachs 10,000 Small Businesses
Pink Tank judges include Mary Kay Inc. Chief Marketing Officer Sheryl Adkins-Green; Abe Minkara, director of business development for Mark Cuban Companies; and, fashion designer and CEO Abi Ferrin.
Registration is $100 per person prior to January 1, 2017 and includes light breakfast, breakout sessions, lunch, keynote speakers, mentorship opportunities, Pink Tank and post-event reception. On January 2, registration fee increases to $125; and $150 per person at the door. For more information or to register, visit www.marykaywomenssummit.com or info@thedec.co.
About Mary Kay
Irresistible products. Positive community impact. Rewarding opportunity. For more than 50 years, Mary Kay has offered it all. With 3.5 million Mary Kay Independent Beauty Consultants and $4 billion in global annual sales, Mary Kay is a top beauty brand and direct seller in more than 35 markets around the world. Discover what there is to love about Mary Kay by connecting with a Mary Kay Independent Beauty Consultant at marykay.com.
About The Dallas Entrepreneurship Center
The Dallas Entrepreneur Center (the DEC) is a 501(c)(3) non-profit which serves entrepreneurs through providing a location where they can receive training, education, mentorship, promotion and access to capital in order to encourage and equip the entrepreneurial community to start, build and grow their businesses. Facilitating a culture of entrepreneurship and giving before you get," the DEC connects new and old entrepreneurs with a vibrant, collaborative environment. The DEC currently has 6 locations across Texas with their headquarters in the historic West End Historic District and newly named Dallas Innovation District. For more information visit, thedec.co.

Mary Kay
Mary Kay
Mary Kay is one of the world's largest direct selling companies with more than $3 billion in annual wholesale sales worldwide. Mary Kay was founded in 1963 by Mary Kay Ash with the goal of helping women achieve personal growth and financial success. Mary Kay remains committed to enriching women's lives, and today more than 2.4 million people of all backgrounds are enjoying the advantages of being Mary Kay Independent Beauty Consultants. Mary Kay's high-quality skin care and color cosmetic products are sold in more than 35 countries around the world. To learn more about Mary Kay, visit www.marykay.com.
More from Mary Kay