Published 12-13-16
Submitted by McKinney Capital & Advisory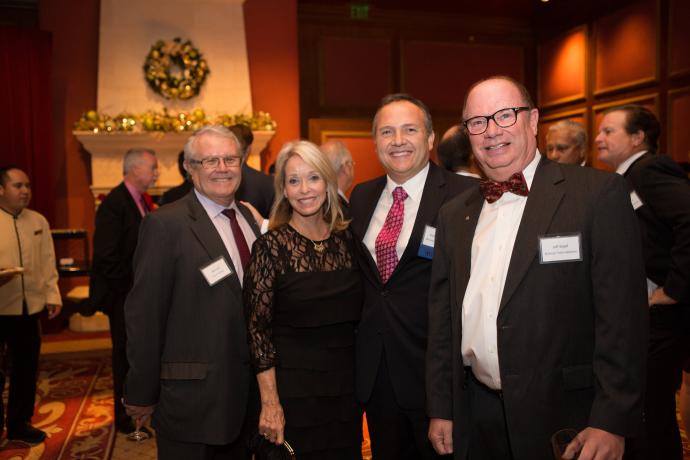 Matt & Phyllis Hall, Renato Alesiani, and Jeff Segall (Photo Courtesy of Laura Christin Photography)
McKinney Advisory Group held its 5th Annual Charity Event, an elite networking reception, at the Fairmont Grand Del Mar Resort on November 30, 2016. McKinney Advisory provided each executive guest with a $100 voucher in their name to donate to one of the four charities.
Through the 5th Annual McKinney Advisory Charity Event, $17,000+ was donated to this year's featured charities: Helen Woodward Animal Center (where animals help people and people help animals), Noah Homes (giving adults with developmental disabilities a safe and loving home), San Diego Blood Bank (saving lives through quality blood services in partnership with the community), and Traveling Stories (inspiring a love of reading while outsmarting poverty).
The purpose of this annual event is to gather like-minded executives to celebrate our successes of the year and give back to the community. In the event's 5th year, McKinney Advisory maximized exposure for the featured charities and delivered an opportunity for all involved to become better versions of themselves. 
The lasting highlight of this event is marked by the opportunities presented to charities to recruit new board members and volunteers from the executive attendees. Could it be that McKinney Advisory provides the treasure and the attendees deliver the time and talent? 
Todd Clyde, Chief Operating Officer of HME remarks, "The McKinney Charity Event is much more than a facilitation event to provide contributions to organizations in need.  The McKinney team brings together a small group of quality, nonprofit organizations with community leaders in a forum where each group can get to know each other in a more thoughtful way.  Giving back to the community is not only a desire of Damian and Lori McKinney, but is at the core of who they are. They are truly Servant Leaders and I am honored to be part of this vital event."
The true value of the evening is not merely the vouchers donated; rather in the connections made between guests, charities, board members, and sponsors. McKinney Advisory would like to thank its sponsors for helping make this evening possible: Sage Executive Group, City National Bank, Sharp Business Systems, Levitzacks, Allenbrooke Insurance, HME, Wealth Legacy Group, Arco National Construction, and Ferrari Productions.
About McKinney Advisory Group: McKinney Advisory Group is a fully integrated commercial real estate firm providing transaction management and corporate services. We have a proven track record of advising clients of all sizes, specializing in brokerage, portfolio management, property and asset management, development, and investment. We provide every client with integrity as we create leverage to maximize their bottom line through real estate savings.
For more information, please contact Tresa Dalton at tdalton@mckinneyadvisory.com or 858-519-3240. www.McKinneyAdvisory.com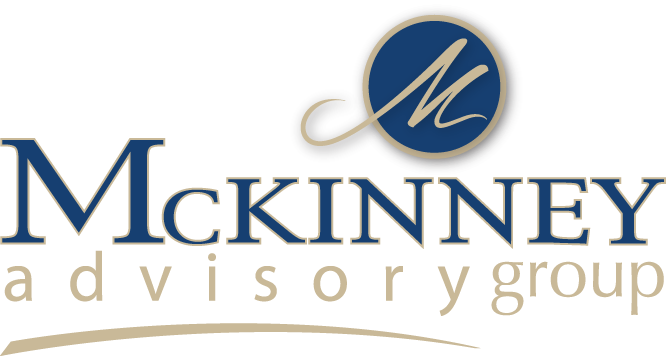 McKinney Capital & Advisory
McKinney Capital & Advisory
McKinney Advisory Group is a full-service real estate firm focusing on the representation of tenants to maximize the value of their real estate assets. We represent companies in all stages of acquisition disposition and financing of commercial real estate.
McKinney Advisory Group is a uniquely client-focused firm, operating at the highest level of fiduciary responsibility as we look at the bigger picture when helping companies make real estate decisions. Ultimately, we are an achieve your vision company, finding customized solutions and building relationships for long-term success. McKinney Advisory Group is not like many other real estate firms. We believe in our sense of purpose and commitment to making the world a better place.
McKinney Advisory Group seeks to enhance the bottom-line and social impact of nonprofits in our community. Through our business relationships we have supported many nonprofits with our gifts of time, talent and treasure. We have a dedicated individual in our staff to assist with our commitments to nonprofits and make sure we are utilizing our resources to meet all our nonprofit partners' needs effectively. We love that there are so many great organizations available and strive to make the biggest impact by bringing together nonprofit and for profit partners.
More from McKinney Capital & Advisory