Published 12-02-16
Submitted by GlobalGiving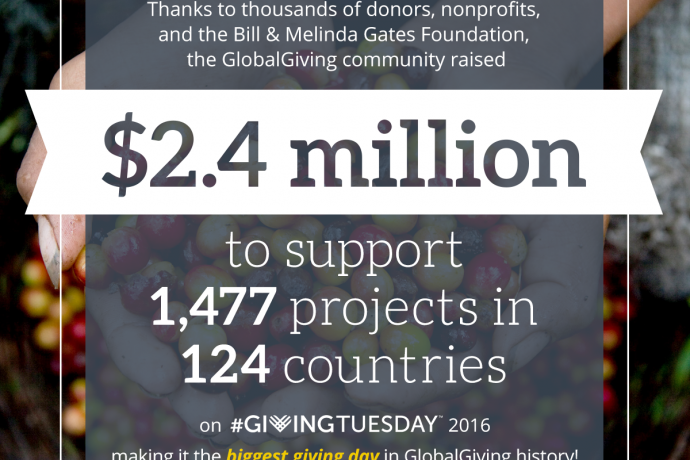 GlobalGiving is thrilled to announce that #GivingTuesday 2016 was the highest-volume fundraising day in the nonprofit's 14-year history. Thanks to GlobalGiving's donors, nonprofits, and the Bill & Melinda Gates Foundation, the crowdfunding community helped raise more than $2.4 million for 1,477 nonprofit projects in 124 countries, GlobalGiving nearly tripled its previous one-day giving record from #GivingTuesday in 2013. 
GlobalGiving's 2016 #GivingTuesday campaign featured a #MatchAMillion offer from the Bill & Melinda Gates Foundation, who gave $500,000 in matching funds (applied at a 50% match). Matching funds were available to all GlobalGiving's nonprofit partners, helping them motivate donors to give.
"These results aren't just exciting because everyone exceeded their fundraising goals. They're inspiring because of all of the amazing things our partners can do now with these funds. In the coming weeks and months I look forward to hearing about how our efforts helped pregnant women get healthcare in Tanzania, fought childhood malnutrition in Guatemala, helped girls go to school in Afghanistan, or the thousand other inspiring community projects that we all work so hard to make possible," said Kevin Conroy, Chief Product Officer at GlobalGiving.
"We are so grateful for GlobalGiving. I have never raised $10,000 in one day but you guys made it possible. You prepared me well to give the right messages at the right time. I am so thrilled!" said Ruth Nambowa Bulyaba, from Another Hope Childrens Ministries, who raised a total of $20,966 on #GivingTuesday for their youth empowerment project in Uganda. 
"The tremendous response to #GivingTuesday over the last five years has been both humbling and inspiring," said Henry Timms, Executive Director of 92Y. "Giving is a powerful reminder of our shared humanity, and the willingness of so many to participate and elevate giving is reason for celebration—even with lots of work still to be done." 
See the full results of #GivingTuesday 2016 on the #GivingTuesday website here. 
About GlobalGiving
GlobalGiving is the first and largest global crowdfunding community for nonprofits. GlobalGiving makes it safe and easy for people and companies to give to local projects anywhere in the world, providing nonprofits with the tools, training, and support they need to become more effective. Since 2002, GlobalGiving has helped raise more than $240 million from more than 550,000 donors for more than 15,500 projects in more than 165 countries. Each of the nonprofits on GlobalGiving.org has been vetted, and has committed to providing donors regular updates about how donations are put to work. Find out more at www.globalgiving.org.
About #GivingTuesday
#GivingTuesday is a movement, built by people around the world, to celebrate giving of all kinds.  It is celebrated on the Tuesday after Thanksgiving (in the United States), Black Friday, and Cyber Monday; this year it fell on November 29, 2016. This movement is the result of the collective power of a unique blend of partners—nonprofits large and small; businesses and corporations; schools and universities; civic campaigns in cities, states and regions; and families and individuals—to inspire people to take collaborative action to improve their local communities and contribute in countless ways to the causes they believe in. Everyone has something to give.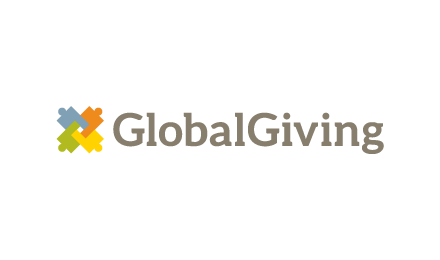 GlobalGiving
GlobalGiving
GlobalGiving is the first and largest global crowdfunding community. We promote a virtuous circle of good by helping nonprofits, individual donors, and companies enhance the effectiveness of locally-led projects around the world. We work with companies on their strategic community investment, employee engagement and cause marketing programs to strengthen thousands of nonprofits in more than 165 countries.
More from GlobalGiving