Published 11-29-16
Submitted by Swarovski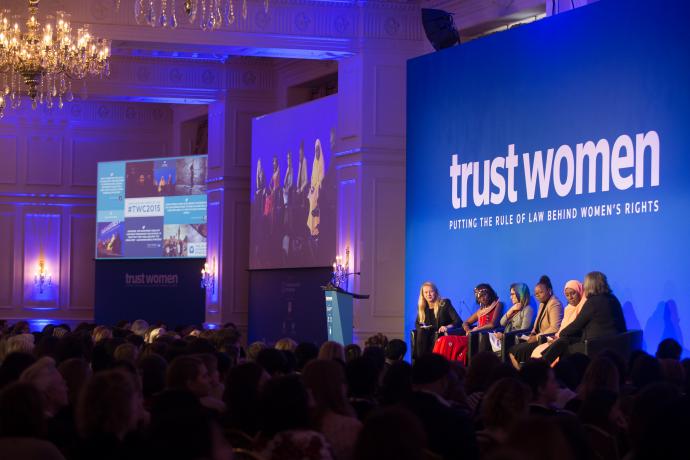 For the third consecutive year Swarovski is supporting the Trust Women conference (November 30 – December 1), which brings together thought leaders and change makers to find real solutions to empower women and to fight slavery worldwide.
The Trust Women conference is an annual event gathering over 600 delegates from around the world to discuss women's rights, women's empowerment, modern-day slavery and forced labour. This year the event features incredible speakers from the fields of women's rights and anti-slavery, including Nobel Peace Prize laureate Muhammad Yunus, actress and activist Gillian Anderson, International President of Médecins Sans Frontières Joanne Liu and anti-slavery activist Biram Dah Abeid.
With Swarovski's support, Trust Women has built a platform for change makers to forge crucial connections and to shed light on these pressing issues. Over the two-day event, delegates propose innovative solutions to address the conference's themes, find opportunities to create fresh partnerships and, importantly, commit to taking ambitious actions towards empowering women and ending slavery.
Swarovski and Trust Women share common values. As a company with a largely female customer base and workforce, Swarovski actively seeks to promote women's empowerment — both among its employees and in the wider community. The company is committed to conducting business in a lawful and ethical manner and to protecting the right of all individuals to be free from slavery and any kind of forced labour in the workplace.
Swarovski is proud to support the Trust Women conference, which offers a strong platform for communication on these pressing issues, helping key delegates to share their expertise, learnings and challenges to find high-impact solutions for real change.
For more information about Swarovski's efforts in the field of women's empowerment and slavery, please visit www.swarovskigroup.com/csr
For more information about Trust Women, please visit www.trustwomenconf.com   

Swarovski
Swarovski
Swarovski delivers a diverse portfolio of unmatched quality, craftsmanship, and creativity. Founded in 1895 in Austria, Swarovski designs, manufactures and markets high-quality crystals, genuine gemstones and created stones as well as finished products such as jewelry, accessories and lighting. Now run by the fifth generation of family members, Swarovski Crystal Business has a global reach with approximately 2,560 stores in around 170 countries, more than 25,000 employees, and revenue of about 2.33 billion euros in 2014. Together with its sister companies Swarovski Optik (optical devices) and Tyrolit (abrasives), Swarovski Crystal Business forms the Swarovski Group. In 2014, the Group generated revenue of about 3.05 billion euros and employed more than 30,000 people. A responsible relationship with people and the planet is an integral part of Swarovski's heritage. The global Swarovski Waterschool education programme has reached 257,000 children on the world's greatest rivers, and the Swarovski Foundation incorporated in 2013, works to support culture and creativity, promote wellbeing, and conserve natural resources to achieve positive social impact.
More from Swarovski