Published 11-22-16
Submitted by Republic Services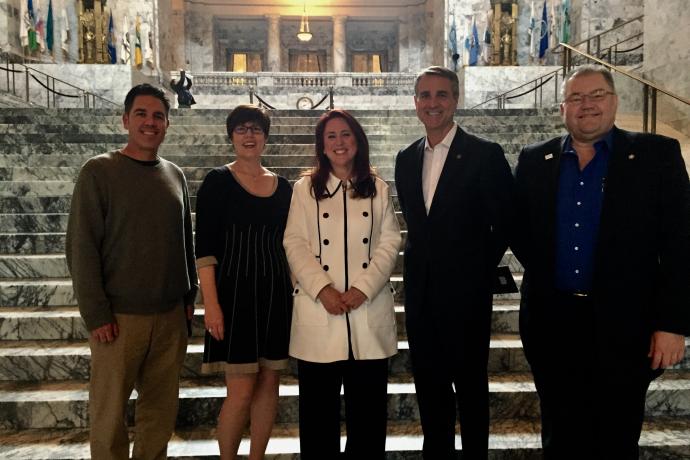 Republic Services, Inc. (NYSE: RSG) announced today that the Washington Secretary of State's office has recognized the Company with the 2016 National Association of Secretary of State's Medallion Award for charitable giving. The award was presented to Republic during a special presentation earlier this week.
"We are honored to accept this award on behalf of all of our employees," said Gregg Brummer, area president for Republic Services. "We thank our municipal partner, the City of Monroe, for recognizing us with this incredible nomination. We are deeply committed to giving back to the communities we are fortunate to serve, and preserving the natural beauty and resources of our state for generations to come."
The Corporations for Communities Award honors exceptional Washington businesses that make it a priority to help their communities. The Medallion Award recognizes civic engagement, voter education efforts, government services and a commitment to giving back to the community. Secretary of State Kim Wyman presented four companies with the Award.
"Our state is fortunate to have so many companies that give back to their communities in tangible ways," said Secretary of State Wyman. "It is a privilege to honor several of these caring and compassionate corporations that make a difference."  
Republic Services employees in Washington State dedicate considerable time and resources to a variety of local projects and charitable efforts; from wildfire abatement in Roosevelt, to helping the City of Monroe with its downtown beautification efforts, and from bringing the community together at Movies Under the Moon, to volunteering at Monroe's Fair Days.
Republic Services of Washington employs more than 730 people, and operates a fleet of more than 200 collection trucks, including 118 trucks powered by Compressed Natural Gas. In addition to a world-class recycling center, Republic operates six transfer stations and a landfill in the state.
Known as the Blue Planet™ sustainability initiative, Republic is defining its approach to corporate social responsibility through reduced emissions from operations, materials management, safety, community engagement, and employee growth opportunities. Republic collects and processes approximately 5 million tons of recyclables per year at 67 recycling centers nationwide. To view Republic's 2015 Sustainability Report, go to https://www.republicservices.com/sustainability.
About Republic Services
Republic Services, Inc. is an industry leader in U.S. recycling and non-hazardous solid waste. Through its subsidiaries, Republic's collection companies, recycling centers, transfer stations and landfills focus on providing effective solutions to make proper waste disposal effortless for its 14 million customers. We'll handle it from here.™, the brand's promise, lets customers know they can count on Republic to provide a superior experience while fostering a sustainable Blue Planet™ for future generations to enjoy a cleaner, safer and healthier world.
For more information, visit the Republic Services website at www.republicservices.com/. "Like" Republic on Facebook at www.facebook.com/RepublicServices and follow on Twitter @RepublicService.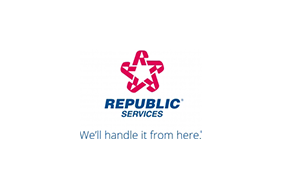 Republic Services