Published 11-10-16
Submitted by iPoint-systems gmbh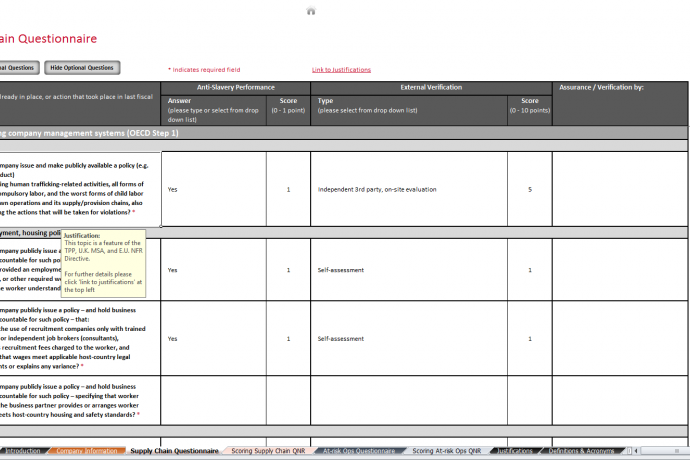 The eLRT questionnaire: tooltips highlight the laws the respective question is based on
iPoint-systems is excited to announce the official launch of the electronic Labor Rights Template (eLRT), a free, open-access, Excel-based, business-to-business (B2B) reporting tool designed to support companies in their compliance with global human trafficking and modern-day slavery legislation. The template facilitates the collection, analysis, communication, and reporting of critical anti-slavery measures through companies' supply and provision chains in accordance with the regulatory and company-specific requirements.
eLRT is based on a set of seven recent US, EU, and UK human trafficking and slavery laws directed at the private sector, including the E.U. Non-Financial Reporting Directive (2014), the U.S. Federal Acquisition Regulation (2015), and the U.K. Modern Slavery Act (2015). The legal obligations have been translated into 21 core B2B reporting indicators that companies using eLRT would apply to collect data on their supply and provision chains and their own production sites. Furthermore, companies can select additional, red-flag detection indicators, drawn from numerous slavery-relevant reporting standards, tools, and frameworks. All of the indicators are structured according to the OECD's internationally recognized five-step due diligence framework.
"While there are a plethora of reporting standards and tools which incorporate an anti-human trafficking or anti-slavery dimension, eLRT is the only compliance-focused template to date which covers the current set of legal requirements many companies around the globe face", states Dr. Bayer, principal investigator at Development International and eLRT architect. "We also intend for the tool to evolve as other pertinent laws are passed."
To ensure its sensitivity, robusticity, and responsiveness to the present reporting requirements and at-risk labor practices, eLRT has been thoroughly evaluated and tested by a multi-stakeholder forum consisting of experts and practitioners drawn from the private sector and civil society. A similarly composed steering committee ensures the quality and further development of the tool.
"Working closely with various stakeholders from an early stage has enhanced the design, clarity, and usability of eLRT, version 1.0 of which we are proudly launching today", states Joerg Walden, CEO of iPoint-systems. "We take a pragmatic approach by offering software solutions that meet our customers' business needs, all while fully aligned with present legal requirements. This solution satisfies market-specific corporate and legal requirements and reflects the actual anti-slavery and anti-human trafficking reporting requirements of the end-users." With so many stakeholders involved in the creation of the tool, Joerg Walden is "confident that eLRT will not only be widely applied in the future by companies from the production and mining source all the way to retailers, but has the potential to become the standard reporting tool for anti-slavery and anti-human-trafficking compliance in any industry sector where goods or services are rendered."
The Excel-based eLRT template, along with the legal framework, is available for download free of charge on the website www.elrt.org. In parallel, iPoint is also developing a cloud-based eLRT module as part of its supply chain stewardship solutions portfolio with features and functionalities to automatize the collection, analysis, management, and reporting of relevant anti-slavery and anti-human trafficking data. iPoint's integrated platform enables efficient and automated process management, a unified and consistent exchange of compliance and sustainability data between customers and suppliers, and traceability of data from your entire value creation network.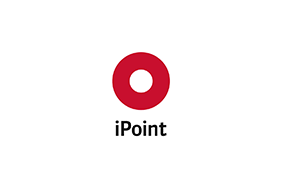 iPoint-systems gmbh
iPoint-systems gmbh
iPoint is a leading provider of software and consulting for environmental and social product compliance, and sustainability. Tens of thousands of companies around the globe rely on iPoint for managing, tracking, analyzing, and reporting data across the whole value creation network. iPoint's software and consulting services support you in meeting and staying one step ahead of regulations and requirements such as REACH, RoHS, WEEE, ELV, Conflict Minerals- and Modern Slavery-related laws, as well as other trending developments in the compliance and sustainability arena.
More from iPoint-systems gmbh