Published 11-08-16
Submitted by Emerald Brand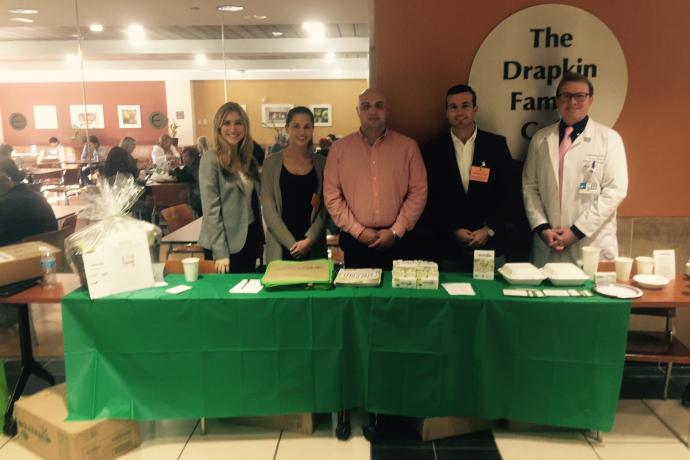 The Emerald team visits Englewood Hospital to launch their sustainability program.
Emerald Brand and Englewood Hospital and Medical Center in Englewood, New Jersey, recently announced their partnership through HiTouch Business Services to offer Emerald's sustainable foodservice solutions in the healthcare facility. Englewood Hospital is a leading provider of high-quality, comprehensive, and humanistic care in the northern New Jersey area and beyond, and is nationally recognized for many notable medical achievements. Englewood Hospital is now looking to expand their efforts in sustainability and social corporate responsibility.
Emerald Brand, which specializes in revolutionary eco-friendly disposable solutions, will provide food service disposables to promote health and hygiene throughout Englewood Hospital's café, patient food service and employee lounges. The program will be distributed and monitored through HiTouch Business Services,  a single source for virtually everything a business needs to operate – office products, supplies and equipment, contract furniture, coffee/beverage/break room supplies, promotional products, printing and forms, reusable moving crates, and total workspace environments. "HiTouch is proud to partner with Emerald Brand and Englewood Hospital and Medical Center in delivering an environmental food-service program that will not only improve the institution's environmental impact, but allow its stakeholders to use products that are plastic free, tree-free, BPA free and chlorine free," states Michael Palmer, Chief Operations Officer & Partner at HiTouch.
HiTouch will be supplying the hospital's food service facility with Tree-Free and FSC Certified paper disposables, which is expected to save approximately 100 trees, 11,600 pounds of virgin fiber, and 12,700 pounds of plastic material over the course of one year. Emerald Brand will measure Englewood Hospital's environmental savings every quarter to provide the healthcare facility with their most recent environmental achievements. "We are excited to launch this program and officially commit to sustainability as part of our larger mission of health and well-being," says [Liza Kind, Chief of Staff and the project manager of the sustainability effort at Englewood Hospital and Medical Center]. We exist to serve our community, and it is our duty to provide our patients, visitors and employees with safe, health-conscious products. We highly value our developing partnership with Emerald Brand and HiTouch Business Services and look forward to the contribution we will make to our community together."
The demand for environmentally friendly initiatives in healthcare facilities is continuously growing and is now being embraced by leading healthcare providers including Englewood Hospital and Medical Center. Emerald's eco-friendly and cost effective solutions in the food service and towel and tissue categories provide healthcare facilities with a full service program that can be seamlessly transitioned over in 1 business day.
About Emerald Brand:
Established in 1997, Emerald Brand produces everyday disposable products from sustainable, alternative materials at affordable prices. With a robust product line ranging from Tree-Free™ and petroleum-free tissue and food service products to Earth-friendly cleaning and packaging solutions, Emerald Brand makes it easy to green homes and businesses. Emerald Brand products are available for consumer purchase at www.emeraldbrand.com and for businesses at www.paradigm-grp.com. 
About Englewood Hospital:
Englewood Hospital and Medical Center in Englewood, New Jersey, is a leading provider of high-quality, comprehensive, and humanistic care. The hospital is nationally recognized for cardiac surgery and cardiac care, breast imaging and cancer care, spine surgery, orthopedic surgery, and maternity care, and is an international leader in patient blood management and bloodless surgery. Englewood Hospital and Medical Center is a "Best Regional Hospital" according to US News & World Report (2016-2017) and the only hospital in Bergen County and one of fewer than 100 in the nation to earn The Leapfrog Group's "Top Hospital" award for safety and quality (2014 and 2015). Since 2012, the hospital has earned a Safety Score "A" by Leapfrog, a record of achievement maintained by only five hospitals in New Jersey. In 2016, the medical center earned its fourth consecutive designation since 2002 by the Magnet Recognition Program® for excellence in nursing. Englewood Hospital and Medical Center is an affiliate of Hackensack Meridian Health and offers training programs for students and professionals, including an internal medicine residency program. Learn more about Englewood Hospital at www.englewoodhealth.org.

Emerald Brand
Emerald Brand
Emerald Brand's mission is to combat climate change by providing cost-effective sustainable disposable products to businesses and homes. With a line of over 225 products, Emerald can convert entire business facilities such as corporate offices, hotels, universities, and more to a full measureable sustainability platform in the cafeteria, breakroom, facilities, packaging, and cleaning categories.
Emerald specializes in producing Tree-Free and Petroleum-Free products made with agricultural fibers. This process supports local farmers, prevents deforestation, and prevents the burning of this formerly-wasted agricultural material.
You can learn more about Emerald Brand and the sustainable solutions they offer at EmeraldBrand.com.
More from Emerald Brand