Published 10-31-16
Submitted by Emerald Brand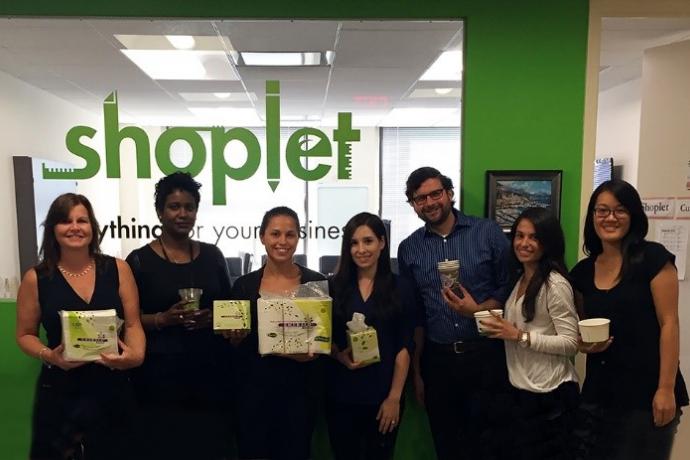 The Emerald team visits Shoplet headquarters in New York City.
Emerald recently announced their latest partnership with Shoplet, a leading e-commerce website that sells over 1,000,000 products including furniture, technology, paper, breakroom supplies, cleaning products, medical equipment, and much more.
Emerald offers a full branded line of over 225 sustainable products ranging from Tree-FreeTM paper and petroleum free plastics to environmentally friendly cleaners that will now be available nationally through Shoplet. Shoplet and Emerald Brand share a very similar mission to help businesses solve problems in socially responsible ways. "The office supply is considered very wasteful," says Tony Ellison, Founder and CEO of Shoplet. "We knew we had to do our part to address that." Shoplet is involved in a number of green initiatives, partnering with Trees.org to plant a tree for every order placed on the site, as well as providing a growing list of eco-friendly products. "We are very excited to finally offer Emerald Brand supplies on our website," says Ellison. "It's our mission to encourage environmentally-conscious purchasing, and we're proud to work directly with a manufacturer who feels the same way."     
Unlike other brands who offer recycled "green" products, Emerald offers state of the art finished goods made from rapidly renewable agricultural by-products, providing a revolutionary solution in sustainability. "We go above and beyond the status quo to find and bring to market the most innovative and environmentally conscious products in the industry. We are continuously looking for new, forward thinking partners like Shoplet, who shares our values and is committed to bringing our mission to life," states Ralph Bianculli Jr., Managing Director of Emerald Brand. 
The Emerald mission will tie in with Shoplet's "Care, Share, Grow" campaign to help educate consumers in the B2B and B2C channels alike. Bianculli concludes, "We share a common goal and feel that the most important tool we can offer is education and awareness among consumers. We want to provide consumers with the best environmental and economical choices available while helping them make a positive impact on the environment and their overall health."
About Shoplet
Established in 1994, Shoplet offers a variety of specialty items, such as office supplies, printer paper, technology, office furniture, ink and toner supplies, and cleaning and maintenance supplies. The leading e-commerce company, whose mission is to offer socially responsible solutions to consumers and businesses, offers free next day shipping on most orders over $25, a selection of over 1,000,000 products, and an unbeatable 110% price match guarantee, all backed up by our best in class US based customer service team. Shoplet products are available for purchase at www.shoplet.com. 
About Emerald Brand
Established in 1997, Emerald Brand produces everyday disposable products from sustainable, alternative materials at affordable prices. With a robust product line ranging from Tree-Free™ and petroleum-free tissue & food service products, to earth-friendly cleaning and packaging solutions, Emerald Brand makes it easy to green homes and businesses. Emerald Brand products are available for consumer purchase at www.emeraldbrand.com and for businesses at www.paradigm-grp.com. 

Emerald Brand
Emerald Brand
Emerald Brand's mission is to combat climate change by providing cost-effective sustainable disposable products to businesses and homes. With a line of over 225 products, Emerald can convert entire business facilities such as corporate offices, hotels, universities, and more to a full measureable sustainability platform in the cafeteria, breakroom, facilities, packaging, and cleaning categories.
Emerald specializes in producing Tree-Free and Petroleum-Free products made with agricultural fibers. This process supports local farmers, prevents deforestation, and prevents the burning of this formerly-wasted agricultural material.
You can learn more about Emerald Brand and the sustainable solutions they offer at EmeraldBrand.com.
More from Emerald Brand