Published 10-26-16
Submitted by Arrow Electronics, Inc.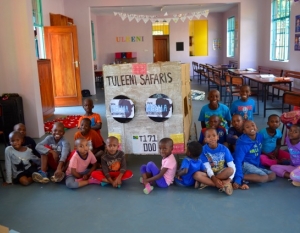 A full-sized bobsled with blinking LED lights. A 10-foot blue dragon. Skyscrapers, bulldozers, even a version of Van Gogh's "Starry Night" painting – all made from scrap materials by schoolchildren in Arrow Electronics communities as part of a global STEM education event called the Cardboard Engineering Challenge.
Arrow Electronics is the presenting sponsor of the Cardboard Engineering Challenge for the Cherry Creek School District, the southeast metro Denver public K-12 district that includes Arrow's headquarters in Centennial, Colorado. Arrow has sponsored the cardboard challenge since its inception in 2014.
This year's challenge drew 550 students. The awards ceremony gathered not only the teams, but hundreds of parents and community supporters as well.
"These students are the innovators of tomorrow," said Raime Leeby Muhle, vice president of finance at Arrow who serves on the board of the Cherry Creek Schools Foundation. "Using the free materials all around us, they have taken what is possible and turned their ideas into something practical."
For the second consecutive year, Arrow expanded its support to a cardboard engineering challenge in a community overseas.
Students at Tuleeni Academy in the remote village of Uru, Tanzania built a model safari vehicle large enough to hold several children. They shared their project virtually with photographs and a friendship message that were projected to the awards ceremony in suburban Denver.
Tuleeni serves 200 children, most of whom lost their parents to AIDS. The school is supported by the nonprofit NEEMA International. In the past year, Arrow provided the school with a sustainable, solar-powered computer lab called the DigiTruck equipped with 20 refurbished laptops.
Around the world, more than 100,000 children in 50 nations participate in cardboard engineering challenges annually. The events are facilitated by the Imagination Foundation.
About Arrow 
Arrow Electronics is a global provider of products, services and solutions to industrial and commercial users of electronic components and enterprise computing solutions. Arrow serves as a supply channel partner for more than 100,000 original equipment manufacturers, contract manufacturers and commercial customers through a global network of more than 460 locations serving over 85 countries. Learn more at www.fiveyearsout.com.

Arrow Electronics, Inc.
Arrow Electronics, Inc.
Arrow Electronics' Corporate Social Responsibility (CSR) program guides today's innovators to a better tomorrow. With our help, our partners will transform their ideas into real and influential achievements that will help people and the communities in which Arrow works.And just as technology touches all facets of our lives, we intend to foster new, cross-cutting collaborations between Arrow, CSR partners, customers and suppliers, so efforts yield astonishing and unforeseen results. Working together, we can make the world a better place — now and Five Years Out.
Learn more at www.fiveyearsout.com.
More from Arrow Electronics, Inc.