Published 09-06-16
Submitted by University of St. Michael's College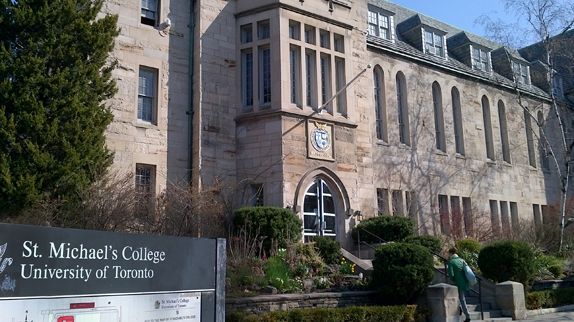 Certificate in CSR & Sustainability at University of St. Michael's College is a world-wide leader
The Return on Investment for Sustainability and CSR education is "priceless" according to Alumni of the University of St. Michael's College Graduate Certificate in CSR & Sustainability.
In a 2016 Sustainability & CSR Education Impact Survey, graduates said the program opened the door to job promotions, new business contracts and resolving business challenges. "This program coached and mentored me through the creation of a company specific sustainability and CSR strategy," said Mary Ann Sayers, Director Corporate Sustainability & Community Relations, Ricoh Canada Inc, Class of 2013. "It allowed our company to build internal capacity rather than bring in external resources providing an immediate Return on Investment."
2016 Sustainability & CSR Education Impact Survey
Graduates were asked four questions in the survey:
1) Did graduating from the CSR Certificate program open new career opportunities for you?
2) Was your capstone project of value to your company?
3) After graduation, did you use the program's knowledge and skills to tackle a business challenge/opportunity for your company?
4) Did the Certificate in CSR help you to build a professional network of colleagues and subject matter experts?
Respondents gave the program "two thumbs up" saying:
"I was hired by the United Nations to teach CSR to ten Caribbean postal administrations."
"Increased my knowledge on the Global Reporting Initiative. Ended up with a contract with Global Reporting Initiative to assess their training programs."
"Helped with completing customer RFP process and inclusion into the DJSI globally."
"Our new sustainability initiatives were directly relatable to the successful acquisition of two new top tier clients."
"Changed the composition of our van and aircraft fleet."
"I now have a broader network of CSR professionals outside the industry that I work in, which has enabled me to seek advice/input on challenges or opportunities I may be facing. This network has been invaluable to me."
"Having the opportunity to meet and collaborate with CSR experts in different industries has enabled me to see CSR with a different lens which has allowed me to think more creatively about CSR as a whole."
Also, participants reported that since their graduation they have advanced to some of the following positions: Executive VP & Chief Sustainability Officer, VP Stakeholder Relations, National Director Corporate Sustainability & Energy Management, Director Corporate Development, and Managing Director.
About the Graduate Certificate in CSR/Sustainability
The Certificate in CSR/Sustainability is taking applications now for 2016/2017. Module 1 will be held in Toronto, Canada, October 19-21, 2016. Module 2 and 3 will be held May, 2017 and November, 2017 respectively. To apply, go to the Certificate in Corporate Social Responsibility/Sustainability Website. See the program schedule, past graduates and news about the program.
Participants can work full time while earning this professional post graduate university credential for CSR and Sustainability through a blending learning approach. Participants:
tackle and resolve a CSR/Sustainability challenge in their company in a major Action Project under the mentorship of faculty and co-learners;

learn Next Generation Practices from global thought leaders on the forefront of Sustainability and CSR;

use practical tools to assess, measure and integrate CSR and Sustainability into their organization;

experience the practical real world application of CSR and change management through ExperienceChange™ Simulations; and 

join a prestigious community of St. Michael's Alumni in continuing education, sharing and networking. 
Next Generation Practices in the program include Transformational Company research, the Embedding Project and Change Management Simulations applied to CSR/Sustainability implementation. Another recent addition is the creation of learning and practice modules for the International Society of Sustainability Professionals ISSP-SA and ISSP-CSP Certification exams. The University of St. Michael's College was one of the first post-secondary institutions to support the ISSP's Certification process.
Applications for the program are currently being accepted through September 30th. To apply, please go to the Certificate in Corporate Social Responsibility/Sustainability Website. Application Deadline is September 30, 2016.
About the University of St. Michael's College 
The Graduate Certificate in CSR & Sustainability is guided by an Advisory Committee made up of CSR/Sustainability Leaders from a broad range of industries from insurance to mining, including: Co-operators, Farm Credit Canada, Atlantic Lottery, Ricoh Canada, Scotia Bank (ret.), Canadian Business for Social Responsibility,Centerra Gold, Enbridge, Conference Board of Canada, Rotman School of Management (University of Toronto). 
The University of St. Michael's College (USMC), federated with the University of Toronto, is a Catholic institution of higher learning founded by the Congregation of St. Basil, whose motto, "Teach me goodness, discipline and knowledge," sets the tone for campus life. Committed to the pursuit of knowledge, meaning and truth, USMC is a dynamic centre where the Catholic intellectual tradition thrives in a context of academic freedom and rigorous debate. As such, it seeks to provide an environment that fosters the intellectual, moral and spiritual development of its members. Rooted in a tradition of commitment to personal and social justice, the Certificate Program in Corporate Social Responsibility has been offered at the University for over 15 years.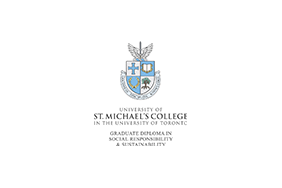 University of St. Michael's College
University of St. Michael's College
St. Michael's is a recognized leader in undergraduate, graduate and lifelong education. Its highly acclaimed Certificate in Corporate Social Responsibility is a unique executive education program developed in collaboration with the Conference Board of Canada. Founded over 150 years ago, the University of St. Michael's College is federated with the University of Toronto. Its faculty bring to current CSR issues the understandings that they have gained not only from the perspective of business but also from a tradition that includes the study of literature, philosophy and ethics. The goal of the program is to engage participants in a process of weaving together the major strands of CSR in a way that provides a time out from customary corporate activity. Alumni have called the result "transformational". Since 2003 St. Michael's has collaborated with an innovative technology company, ExperiencePoint to produce and distribute ExperienceCSR, a web based business simulation . In the simulation, which is offered as part of the Certificate program, participants advise a multinational technology firm on revising its corporate strategy to meet a myriad of critical environmental, community, employee relations, human rights and financial objectives. Through the application of sound CSR principles, participants help the corporation align its operations to its articulated values and, consequently, satisfy stakeholder interests and ensure long-term profitability. (www.experiencepoint.com)
More from University of St. Michael's College