Published 08-26-16
Submitted by JLL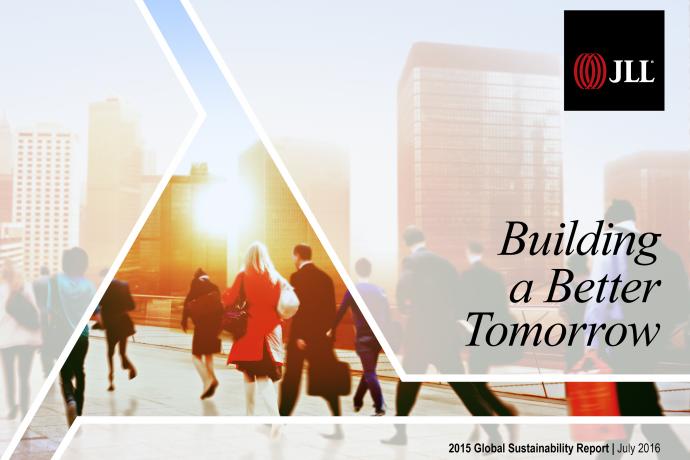 JLL launches "Building a Better Tomorrow", the firm's recently released 2015 Global Sustainability Report. The report demonstrates the positive impacts we have made through our services to clients, as well as in our own global operations. It also serves to further demonstrate JLL's commitment to creating and sustaining long-term client relationships.
"Sustainability presents one of the biggest opportunities for us to create and to deliver value to clients. As well as helping to drive operational efficiencies, attract top talent and boost productivity, an increasing body of evidence shows that investors are looking at the overall citizenship of businesses to inform their investment decisions," said Colin Dyer, JLL CEO. "We are determined to be a sustainable organization in the fullest sense of the word, creating lasting value now and in the future. This report provides a great illustration of JLL's commitments to the communities in which we live and work around the world and exemplifies our core values of teamwork, ethics and excellence," said Christian Ulbrich, JLL President.
The report also announces JLL's new sustainability program, Building a Better Tomorrow. Building a Better Tomorrow will apply broad social and environmental filters to the real estate advice and services we provide to Clients such as facility and property management, investment sales, valuations, and the execution of leases. Building a Better Tomorrow aims to drive forward the innovative, future-oriented solutions JLL is renowned for providing.
The program also includes our own operations. We engage our People through rewards and recognition, by focusing on training and career development, by recognizing the value of diversity and by promoting the health and well-being of our staff. Building a Better Tomorrow also focuses on our Workplaces: ensuring that they provide safe and productive environments for our staff and contractors, operate efficiently, and are supplied with resources that do not negatively impact the environment. In the Communities where we live and work, Building a Better Tomorrow seeks to continue the positive impact our company makes through employee volunteering, charitable contributions and pro bono work.
The results of JLL's environmentally and socially sustainable practices are described in case studies and client testimonials demonstrating the significant impact of operating as a sustainable enterprise. Highlights from the 2015 report include:
Clients
During 2015, we helped deliver estimated energy savings for U.S. clients of 424 million kWh (247,000 metric tons of CO2), equating to estimated cost savings of $47 million.

By the end of 2015, we had 1,706 professionals with sustainability accreditations - LEED and others - working in our teams around the world.

In 2015, we assisted our clients in achieving a total of 121 green building certifications 
People
The 2015 Global Employee Engagement Survey found that 78% agree that they are extremely satisfied with JLL as a place to work.

We invested a total of $16.2 million on training across the globe. This equates to $248 per employee on training, compared to $263 in 2014.

84% of countries reported that they were undertaking at least one health, safety and well-being initiative in 2015.
Workplaces
Our building-related emissions per corporate office employee were 1.5 metric tons, a reduction of 6% against our 2012 baseline.

By the end of 2015, 19% of our offices had green building or fit-out certifications such as LEED, BREEAM or RICS SKA.

73% of our own offices have alternative workplace strategies such as hot-desking, evolved open-plan environments, flexi-time and making use of communications technologies to support remote working.
Communities
In 2015, JLL recorded total charitable contributions of $5.3 million from both corporate and employee donations.

Our employees volunteered more than 5,533 days of their time to support charitable causes, a 21% increase compared to 2014.
Read the full 2015 Global Sustainability Report, "Building a Better Tomorrow"
For more news, research and information from JLL, please visit: www.jll.com.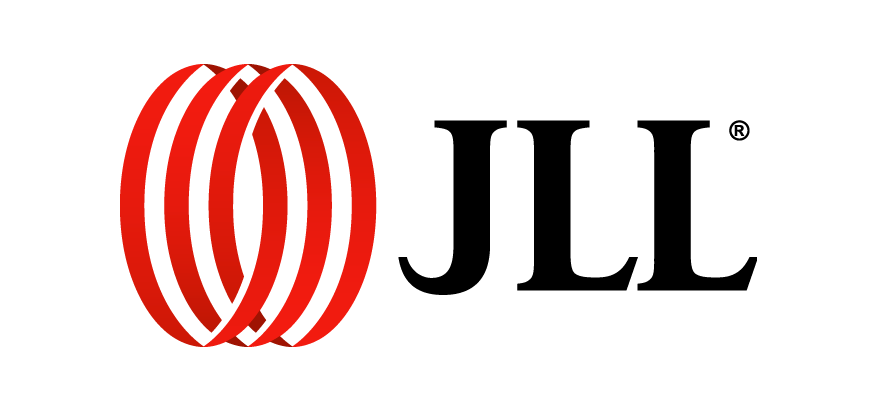 JLL
JLL
JLL is a Fortune 500 professional services and investment management firm specializing in real estate. We offer integrated services worldwide to clients seeking increased value by owning, occupying, developing or investing in real estate. We are an industry leader in property and corporate facility management services, with a portfolio of 3.4 billion square feet worldwide.
We understand that sustainability can and should impact all aspects of our organization, whether our people, our bottom line, or our relationship with the communities in which we operate. We also understand that sustainability should be embedded into our organization's strategy and culture rather than bolted on as an afterthought. Superior client service, teamwork and collaboration, and high ethical standards define our culture, drawing us closer to each other and to our clients.
More from JLL