Published 08-15-16
Submitted by Yale Center for Environmental Law & Policy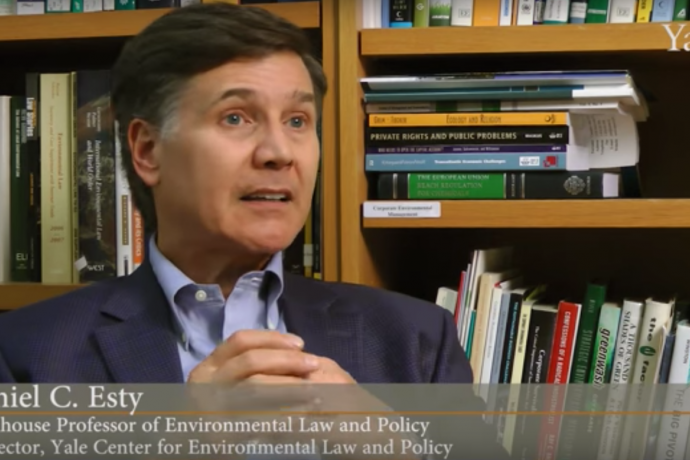 Daniel C. Esty, Faculty Director of the Yale Sustainability Leadership Forum, discusses what participants can expect to take away from attending YSLF. Click to watch.
Sustainability is changing the way we experience life in the 21st Century. It integrates concepts that in the 20th Century were considered in isolation. No longer can we celebrate a strong economy if the environment is in decline. Nor can we push environmental policies that do not also consider the attending social and economic implications. Gone are the days of silo thinking.
Sustainability operates as a megatrend: it presents a framework that values interconnection, feedback, and holistic thinking. Understanding and operationalizing sustainability within the business, government, and non-profit sectors will allow for a healthier, wealthier, and more-balanced society.
Yale University, as a global thought leader, is increasingly focused on developing sustainability leadership. This September 21-23, Yale will host the first Yale Sustainability Leadership Forum, bringing together perspectives from the United States and across the world, from business, government, NGOs, and academia, to examine the concept of sustainability. The Forum will conceptualize sustainability as a megatrend, then delve into a detailed look at how to operationalize it in a variety of settings.
Participants of the Forum will learn from some of the most qualified sustainability faculty at Yale University and beyond. Each faculty will teach on their topic of expertise, nesting their field of study within the larger sustainability landscape. Forum Director Professor Esty will open the Forum by defining sustainability as a mega-trend of the 21st Century. He will elucidate how sustainability can be understood and utilized as an integrated framework to manage our interrelated energy, environment and economic challenges and opportunities.
The forum topics will include environmental entrepreneurship, sustainable investment strategy, new conservation, circular economies, spurring innovation, sustainability governance, and more. In addition to the modules, Sterling Professor William Nordhaus will deliver a dinnertime talk on tools for addressing sustainability issues, focusing in particular on carbon pricing mechanisms, and Mary Evelyn Tucker will deliver a lunchtime talk on the nexus of ecology and sustainability.
The Yale Sustainability Leadership Forum will provide participants with the conceptual tools to consider sustainability as a framework for life in the 21st century. Each person who attends the Forum will undoubtedly return home with new insights, new perspectives, new contacts, and a renewed energy to integrate sustainability into their work and their communities. 
Applications are being accepted through September 1st. For more information on the agenda, faculty, logistics, or application process, please visit the Yale Sustainability Leadership Forum website or email sustainability-forum@yale.edu. 
You can also find the Yale Sustainability Leadership Forum on Facebook and Twitter.

Yale Center for Environmental Law & Policy
Yale Center for Environmental Law & Policy
The Yale Center for Environmental Law and Policy, a joint undertaking between the Yale School of Forestry & Environmental Studies and the Yale Law School, seeks to incorporate fresh thinking, ethical awareness, and analytically rigorous decision-making tools into environmental law and policy.
In addition to its research activities, the Center aims to serve as a locus for connection and collaboration by all members of the Yale University community who are interested in environmental law and policy issues. The Center supports a wide-ranging program of teaching, research, and outreach on local, regional, national, and global pollution control and natural resource management issues. These efforts involve faculty, staff, and student collaboration and are aimed at shaping academic thinking and policymaking in the public, private, and NGO sectors.