Published 07-11-16
Submitted by Swarovski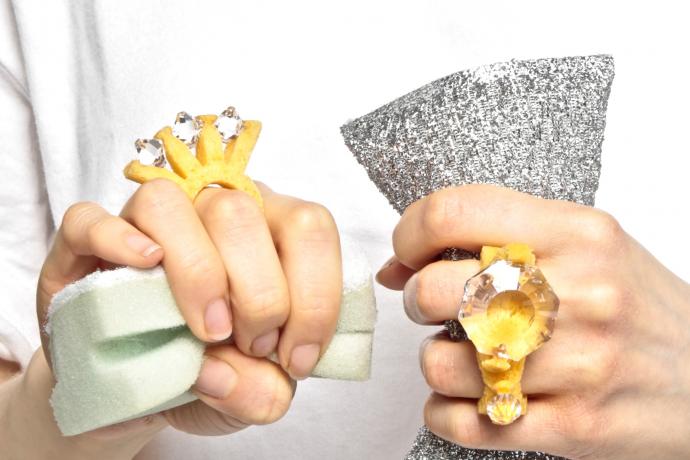 'For twice the shine- Just add water™, Compressed cellulose sponge with Swarovski Crystal, Lucie Davis
Swarovski brought a sustainable twist to its long-running partnership with Central Saint Martins with this year's edition of the BA Jewellery Design project, the 15th consecutive year of Swarovski's collaboration with CSM students.
Working with the theme of 'water', third year BA Jewelry Design students at CSM were challenged to use upcycled Swarovski crystals and gemstones in an innovative way to create couture pieces inspired by the precious natural resource. From an initial 38 applications, ten students were shortlisted and supported by Swarovski, which supplied the finalists with product to create their pieces.
The esteemed judging panel included Central Saint Martins' Caroline Broadhead and Lin Cheung, who reviewed the entries at an event in London. The overall winner was Lucie Davis, whose rings made from 100% compressed cellulose sponge featuring Swarovski crystals were titled: 'For twice the shine - Just add water'. 
Lucie Davis commented: "I feel extremely grateful and honored to have won. It's been a great experience working on the theme of water and sustainability. I integrated Swarovski crystal into a sponge material, adding an element of preciousness to the ordinary. After this exciting experience, sustainability will definitely always be in the back of my mind when designing jewelry as it has been a great source of inspiration".
As a company operating in a society increasingly concerned by the issue of resource availability, Swarovski strives to find creative solutions to use resources efficiently and responsibly. Giving new life to Swarovski's stunning crystals and gemstones was a challenge for students, but also offered them the opportunity to actively participate in the growing circular economy. 

Swarovski
Swarovski
Swarovski delivers a diverse portfolio of unmatched quality, craftsmanship, and creativity. Founded in 1895 in Austria, Swarovski designs, manufactures and markets high-quality crystals, genuine gemstones and created stones as well as finished products such as jewelry, accessories and lighting. Now run by the fifth generation of family members, Swarovski Crystal Business has a global reach with approximately 2,560 stores in around 170 countries, more than 25,000 employees, and revenue of about 2.33 billion euros in 2014. Together with its sister companies Swarovski Optik (optical devices) and Tyrolit (abrasives), Swarovski Crystal Business forms the Swarovski Group. In 2014, the Group generated revenue of about 3.05 billion euros and employed more than 30,000 people. A responsible relationship with people and the planet is an integral part of Swarovski's heritage. The global Swarovski Waterschool education programme has reached 257,000 children on the world's greatest rivers, and the Swarovski Foundation incorporated in 2013, works to support culture and creativity, promote wellbeing, and conserve natural resources to achieve positive social impact.
More from Swarovski