Published 06-30-16
Submitted by Hawaiian Cider Company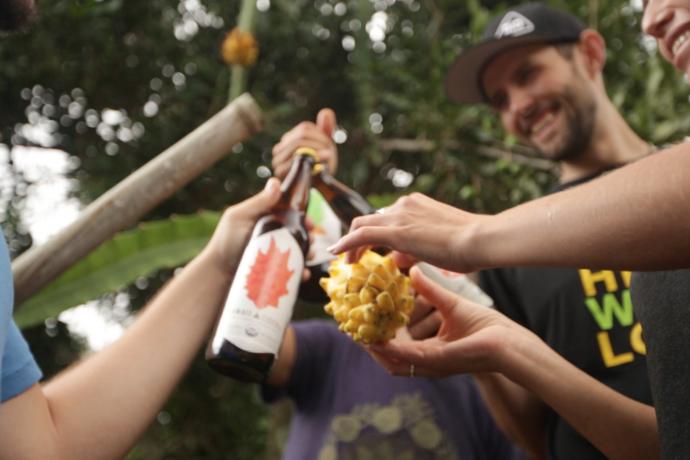 Introducing Hawaii's first locally grown, locally produced hard cider company.
Hawaii Cider Co. has just launched an equity crowdfunding campaign on WeFunder.com for local island residents to own a stake in Hawaii's first locally grown, and locally produced hard cider company.
While the rise of micro breweries and micro distilleries nationwide continues to grow steadily, the cider industry is seeing an exponential boom and a demand for more flavors and new styles of cider; Hawaii Cider Co. is crafting hard ciders from the abundant tropical fruit varieties on Hawaii Island, and aims to share its progress and successes with their island community. What better way to give back to the community than to include them in Hawaii's first 'kick-starter for investing' campaign to date.
The recent authorization of the Jumpstart Our Business Startups (JOBS) Act—signed into law May 16, 2016— allows and encourages small businesses and entrepreneurs to raise capital from their trusted community rather than seeking tethered and unfamiliar angel investments. When asked about the new legislation, president and co-founder of WeFunder, Nick Tommarello says, "Everyone should have the right to invest in what they truly care about, and the people who care should have a say where the capital gets distributed."
Since the new JOBS Act regulations were implemented, many small businesses across the US are adopting this model of fundraising. "We decided to utilize the WeFunder platform for a number of reasons," says Brett Jacobson, CEO/Founder of Hawaii Cider Co. "Perhaps the main reason though, is to incorporate the community into our business." Jacobson, also the founding CEO of local beverage company, Hawaiian Ola, has had a long-standing passion for supporting Hawaii's agriculture and economy by empowering farmers to grow responsible crops. "...Rather than isolating community stakeholders, we want to work with shoppers by making them shareholders of everything we do."
To learn more about how to invest a minimum of $100 visit their profile at www.wefunder.com/hawaiicider! Hawaii Cider Co. aims to raise $1M for start-up capital through WeFunder to pay for the first year's operations, and build out of the cidery and processing facility. First ciders are scheduled to come off the line in December 2016
About Hawaii Cider Co.:"¨The Hawaii Cider Company is Hawaii's first locally sourced and locally produced cider company. The team is comprised of the seasoned beverage industry peeps that brought you the Hawaiian Ola Beverage Company, as well as brew master Sebastian Bach, who has won a total of 36 awards for his decade of innovative brewing. Hawaii Cider Company supports farmers growing responsibly grown tropical fruits, and is passionate about creating great tasting ciders, which provides shoppers a local alternative to imported ciders.
For more information, please contact:"¨
Naehalani Breeland, Director of Marketing at Hawaii Cider Co.
808.388.6654
naehalani@hawaiiciderco.com
www.hawaiiciderco.com
www.wefunder.com/hawaiicider

Hawaiian Cider Company
Hawaiian Cider Company
Hawaiian Ola is a mission-focused food and beverage company sharing organic Hawaiian Noni with the world.
More from Hawaiian Cider Company