Published 06-21-16
Submitted by ImpactAssets
ImpactAssets announced today that it has deployed more than $8.3MM to financial institutions and agricultural organizations in Latin America and Asia for small business expansion, socioeconomic development and environmental sustainability through its recently launched Impact Investment Notes.
These lower-­-minimum, publicly offered debt securities enable financial advisors and their clients to provide capital to growing micro-­-entrepreneurs and smallholder farmer cooperatives in developing economies where access to affordable capital is significantly limited. Impact investing is defined as investing with the specific objective of achieving a financial return as well as creating positive, measurable impact in communities across the globe.
"These lower-­-minimum Notes have opened doors to retail investors interested in investing in small businesses in developing economies, while realizing financial returns," said Ron Cordes, Board Member and Chairman, Executive Committee, ImpactAssets and Co-­-Founder, Cordes Foundation. "Removing barriers to capital is key to ending the cycle of poverty for owners and producers and creating positive social and environmental impact in the communities they operate in."       
As of May 18, 2016, ImpactAssets invested $4.8MM in 9 separate senior term loans to low-­-income finance institutions (LIFIs) and microfinance institutions (MFIs) offering financial services to low-­-income populations in Cambodia, Chile, Ecuador, Georgia, El Salvador and Nicaragua. Working capital and on-­- lending loans enable these LIFIs and MFIs to make small loans to an assortment of low-­-income borrowers, such as local entrepreneurs, small businesses and lending groups at the base of the socioeconomic pyramid. 
As of June 9, 2016, ImpactAssets also deployed more than $3.5MM in capital to smallholder farmer cooperatives in Honduras, Costa Rica, Chile and Peru in seven separate transactions. Three transactions included smallholder farmer coffee cooperatives that produce and certify high quality coffee. Providing affordable credit helps bring farmers into the value chain, improve the quality of the commodities they sell and advance sustainable farming techniques.
"By financing agricultural cooperatives and small businesses in low-­-income communities, ImpactAssets is helping individuals – many of them women – transition from subsistence to commercial sustainability. Once all investment capital is deployed, we will reach more than 20,000 smallholder farmers and 700,000 microfinance borrowers," said Fran Seegull, Chief Investment Officer, ImpactAssets.
"Our recent investments in Latin America and Asia demonstrate our long-­-term commitment to catalyzing greater flows of capital to impact investing by improving access, affordability and availability," said Tim Freundlich, President, ImpactAssets. "Extending capital to growth-­-stage entities in some of the world's most vulnerable socioeconomic and environmental hotspots reinforces ImpactAssets as a reliable source (gateway) to impact investing for investors."
Additional information about the Notes is included in the Offering Circular and its Supplements, as well as Notes Fact Sheets, which may be obtained by calling 855.649.5980 or emailing Notes@impactassets.org. 
About ImpactAssets:
ImpactAssets is a non-­-profit financial services firm that increases the flow of capital into investments delivering financial, social and environmental returns. ImpactAssets' donor advised fund, The Giving Fund, Impact Investment Notes and field-­-building  initiatives enable philanthropists, other asset owners and   their wealth advisors to advance social or environmental change through investment. 
This news release is not an offer to sell, nor a solicitation of an offer to buy any securities. Such an offer will be made only by means of a current Offering Circular and only in states in which the Notes have been qualified for offer and sale or are exempt from qualification or registration requirements. These securities are exempt from federal registration and have not been approved or disapproved by the Securities and Exchange Commission or any state securities commission, nor has the Securities and Exchange Commission or any state securities commission passed on the accuracy or adequacy of this document.
Any representation to the contrary is a criminal offense.
Please refer to the Offering Circular, along with its Supplements, for additional information, which may be obtained by contacting ImpactAssets at 855.649.5980 or emailing Notes@impactassets.org.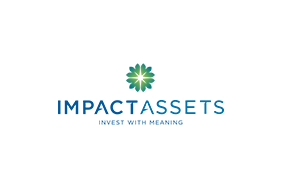 ImpactAssets
ImpactAssets
ImpactAssets is an impact investing trailblazer, dedicated to changing the trajectory of our planet's future and improving the lives of all people. As a leading impact investing firm, we offer deep strategic expertise to help our clients define and execute on their impact goals.  
Founded in 2010, ImpactAssets increases flows of money to impact investing in partnership with our clients through our impact investment platform and field-building initiatives, including the IA 50 database of private debt and equity impact fund managers.  
ImpactAssets has more than $2 billion in assets in 1,700 donor advised fund accounts, working with purpose-driven individuals and their wealth managers, family offices, foundations and corporations. ImpactAssets is an independent 501(c)(3) organization. 
More from ImpactAssets