Published 05-11-16
Submitted by BBB Foundation of Metropolitan New York
On June 2, 2016, the Metro New York BBB's Education and Research Foundation will present its ninth BBB Forum on Corporate Responsibility entitled Playing the Long Game: Corporate Responsibility in a Changing Environment.  This elite half-day program for business leaders in the corporate responsibility space and other interested executives will take place at EmblemHeath, 55 Water Street in Manhattan, from 8:00 AM to 12:30 PM.
The 2016 BBB Forum is generously supported by Major Sponsor Ernst & Young LLP and Benefactor Sponsors COTY Inc., MLB Advanced Media, Nielsen and S&P Global Inc. The BBB Forum's generous Host is EmblemHealth. 
At the Forum, keynote speaker Lori Michelin, Vice President, Global Sustainability & EHS of Colgate-Palmolive, will provide a look at Colgate-Palmolive's sustainability journey.
Following the keynote, a panel of thought leaders from Ford Motor Company, BSR, AXA US, and HEINEKEN USA will discuss new corporate responsibility pathways, trends and expectations.  In an additional session, senior executives from Ralph Lauren and the Interfaith Center on Corporate Responsibility will discuss the latest human rights issues and their impact on business. The program will conclude with two special reports:  an executive from Ernst & Young LLP will discuss building the value of social and natural capital into business decision-making; and a senior research scientist from Yale University will wrap-up the BBB Forum by revealing fresh research findings about how consumer perceptions and behaviors might affect corporate responsibility. 
Click here to view the complete 2016 BBB Forum agenda.
BBB Forum 2016 Event Supporters include: Advertising Self-Regulatory Council, American Sustainable Business Council, Association of Corporate Contributions Professionals, BSR, CDP, Council of Better Business Bureaus, CSRHub, CSRwire/3BL Media, Interfaith Center on Corporate Responsibility, Manhattan Chamber of Commerce, NYCharities.org, Partnership for New York City, Social Accountability International, The Sustainability Consortium, Sustainability Practice Network, World Business Council for Sustainable Development and The Robert Zicklin Center for Corporate Integrity (list in formation). Corporate Responsibility Magazine is the Forum's Media Supporter.  
Cost to attend:
BBB Accredited, CBBB National Partners, Event Supporter Guests, Nonprofits:
$90 per person until May 20, $125 per person after that.
Non-BBB Accredited:
$160 per person until May 20, $195 per person after that.
Space is limited.  Advance registration is required.  Register now to assure seating.
Details & online registration:
bbb.org/new-york-city/bbb-forum-2016
Registration by phone & more information:
Call: 212-358-2829
Email: cbowers@newyork.bbb.org 
About BBB Foundation of Metropolitan New York
Metro New York's BBB Foundation is a 501(c)(3) nonprofit organization established in 1967. It provides educational programs and services for businesses, charities and consumers; encourages informed consumer support of charities; promotes transparency and accountability; conducts research; and provides educational intern opportunities to students who are potential business and charity leaders.  It operates the BBB Charity Accountability Program which publishes BBB Charity Reports on about 800 Metro New York area charities based on performance against the 20 BBB Standards for Charity Accountability. BBB Charity Reports are available online at ny.give.org.
About BBB Serving Metropolitan New York
For more than 100 years, Better Business Bureau has been helping consumers find businesses, brands and charities they can trust. In 2015, people turned to BBB more than 175 million times for BBB Business Reviews on more than 5.3 million businesses and BBB Charity Reports on 11,000 charities, all available for free at bbb.org. The Council of Better Business Bureaus is the umbrella organization for regional, independent BBBs across the United States, Canada and Mexico, as well as home to its national programs on dispute resolution and industry self-regulation.  The BBB Serving Metropolitan New York was founded in 1922.  Please visit newyork.bbb.org or bbb.org for more information.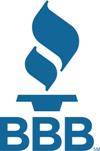 BBB Foundation of Metropolitan New York
BBB Foundation of Metropolitan New York
BBB Serving Metropolitan New York, Long Island and the Mid-Hudson Region is an unbiased non-profit organization that works to foster a transparent marketplace where buyers and sellers can trust each other. Businesses that earn BBB accreditation formally agree to uphold the BBB's high standards of ethical business practices. BBB provides objective advice, free business BBB Business and Charity Reports, and educational information on topics affecting marketplace trust.
To further promote trust, BBB also offers complaint and dispute resolution support for consumers and businesses when there is a difference in viewpoints. The first BBB was founded in 1912 by advertising executives. The BBB of Metropolitan New York was founded in 1922 by the NY Stock Exchange. Today, 112 BBBs serve communities across the U.S. and Canada, evaluating and monitoring more than 4.5 million local and national businesses and charities. Please visit
www.bbb.org
for more information about BBB.
More from BBB Foundation of Metropolitan New York