Published 04-25-16
Submitted by Emerald Brand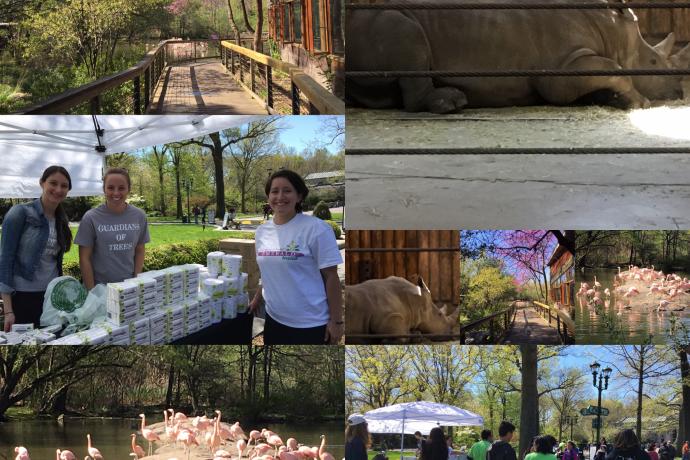 In honor of Earth Day, Emerald Brand partnered with the Wildlife Conservation Society's Bronx Zoo for Earth Weekend on April 23rd and April 24th to educate visitors on sustainability and global conservation.
The Bronx Zoo Earth Weekend events produced public awareness about environmental protection and Emerald Brand proudly partnered with the WCS in this initiative. Emerald's Brand Ambassadors educated visitors about alternative, environmentally-friendly materials such as sugarcane, bamboo, and eucalyptus that can be used in everyday paper products, rather than the traditional use of hardwood trees. Visitors were given goodie bags of Emerald's products, and were encouraged to make minor changes in order to generate a huge environmental impact.
"April is a huge month for us at Emerald since our mission revolves around saving the environment," stated Emerald Brand Managing Director, Jaclyn McDuffey. "It's always an honor to work with organizations like the Wildlife Conservation Society and the Bronx Zoo who share our beliefs to further educate the public about the environment and sustainability."
Similar to Emerald's mission, which is focused around global conservation and sustainability, the Bronx Zoo, a Wildlife Conservation Society Park, is dedicated to saving wildlife and conserving natural places worldwide through science, conservation action, education and inspiring people to value nature.
Earth Day, annually held on April 22nd, is a globally celebrated holiday where events are held worldwide to demonstrate support for environmental protection and appreciation for the Earth.
About Emerald Brand:
Established in 1997, Emerald Brand produces everyday disposable products from sustainable, alternative materials at affordable prices. With a robust product line ranging from Tree-Free™ and petroleum-free tissue and food service products to Earth-friendly cleaning and packaging solutions, Emerald Brand makes it easy to green homes and businesses. Emerald Brand products are available for consumer purchase at www.emeraldbrand.com and for businesses at www.paradigm-grp.com. 

About the Wildlife Conservation Society:
The Wildlife Conservation Society holds itself to the highest standards, adhering to core values of respect, accountability and transparency, innovation, diversity and inclusion, collaboration, and integrity. WCS saves wildlife and wild places worldwide through science, conservation action, education, and inspiring people to value nature. To achieve its mission, WCS, based at the Bronx Zoo, harnesses the power of its Global Conservation Program in nearly 60 nations and in all the world's oceans and its five wildlife parks in New York City, visited by 4 million people annually. WCS combines its expertise in the field, zoos, and aquarium to achieve its conservation mission. 

Emerald Brand
Emerald Brand
Emerald Brand's mission is to combat climate change by providing cost-effective sustainable disposable products to businesses and homes. With a line of over 225 products, Emerald can convert entire business facilities such as corporate offices, hotels, universities, and more to a full measureable sustainability platform in the cafeteria, breakroom, facilities, packaging, and cleaning categories.
Emerald specializes in producing Tree-Free and Petroleum-Free products made with agricultural fibers. This process supports local farmers, prevents deforestation, and prevents the burning of this formerly-wasted agricultural material.
You can learn more about Emerald Brand and the sustainable solutions they offer at EmeraldBrand.com.
More from Emerald Brand