Published 04-05-16
Submitted by Emerald Brand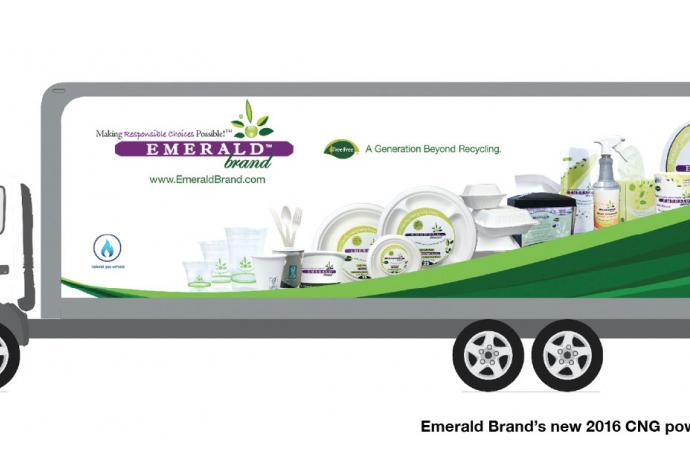 Emerald Compressed Natural Gas Fueled Truck
Emerald is proud to announce its conversion to Penske Truck Leasing compressed natural gas (CNG) fueled trucks. Emerald's New York based fleet will move to CNG this month, furthering Emerald's mission of global conservation and mainstreaming sustainability.
Each year, Emerald drivers deliver thousands of tons of its alternatively sourced, sustainable products to clients around the country. This conversion will greatly reduce the company's environmental footprint by lessening the amount of gas emissions released into the air as compared to traditional diesel fueled vehicles.
"We are always striving to discover new ways to help the environment and reduce our footprint, and the conversion to CNG fueled trucks was the next sustainable step for our company to help deliver our products to clients in the most environmentally friendly way possible," said Emerald Brand Managing Director, Jaclyn McDuffey. "Penske Truck Leasing has been a great partner by offering options and guidance in this transition to greener vehicles."
The use of CNG fueled trucks reduces the amount of harmful gas emissions into the atmosphere, burns more efficiently, and emits significantly less carbon than traditional fossil fuels. CNG is domestically produced from natural gas and renewable biogas. The United States has a vast supply of natural gas reserves whereas diesel fuel is manufactured using oil, an already limited resource, of which nearly half is imported into the United States. Diesel engine emissions are known to have health risks and have the potential to be carcinogenic to humans.
"We salute Emerald Brand's continuous effort to reduce their environmental footprint, and appreciate the confidence that they have placed in Penske to support their conversion from diesel powered vehicles to clean-burning natural gas powered vehicles," stated Matt Krasney, Penske Director of Fuel Strategy. "Their investment in these new vehicles is also an investment in the air quality of the towns in which their customers and associates live and breathe."
Emerald's CNG trucks will begin full operation this month with plans to refuel at local Clean Energy Fuels Corp (NASDAQ: CLNE) compressed natural gas CNG stations. 
About Emerald:
Established in 1997, Emerald Brand produces everyday disposable products from sustainable, alternative materials at affordable prices. With a robust product line ranging from Tree-FreeTM and petroleum-free tissue and food service products to Earth-friendly cleaning and packaging solutions, Emerald Brand makes it easy to green homes and businesses. Emerald Brand products are available for consumer purchase at www.emeraldbrand.com and for businesses at www.paradigm-grp.com.
About Penske Truck Leasing:
Penske Truck Leasing is a transportation industry leader in the areas of spec'ing, operating and maintaining fleets of traditionally fueled vehicles as well as alternative-fueled vehicles that includes natural gas, propane, electric and diesel-electric hybrids. Penske operates more than 231,000 vehicles and serves customers from more than 1,000 locations in North America, South America, Europe and Asia. Product lines include full-service truck leasing, contract maintenance, commercial and consumer truck rentals, used truck sales, transportation and warehousing management and supply chain management solutions. To learn more about Penske's products and services please visit http://www.GoPenske.com.

Emerald Brand
Emerald Brand
Emerald Brand's mission is to combat climate change by providing cost-effective sustainable disposable products to businesses and homes. With a line of over 225 products, Emerald can convert entire business facilities such as corporate offices, hotels, universities, and more to a full measureable sustainability platform in the cafeteria, breakroom, facilities, packaging, and cleaning categories.
Emerald specializes in producing Tree-Free and Petroleum-Free products made with agricultural fibers. This process supports local farmers, prevents deforestation, and prevents the burning of this formerly-wasted agricultural material.
You can learn more about Emerald Brand and the sustainable solutions they offer at EmeraldBrand.com.
More from Emerald Brand