Published 02-10-16
Submitted by Arrow Electronics, Inc.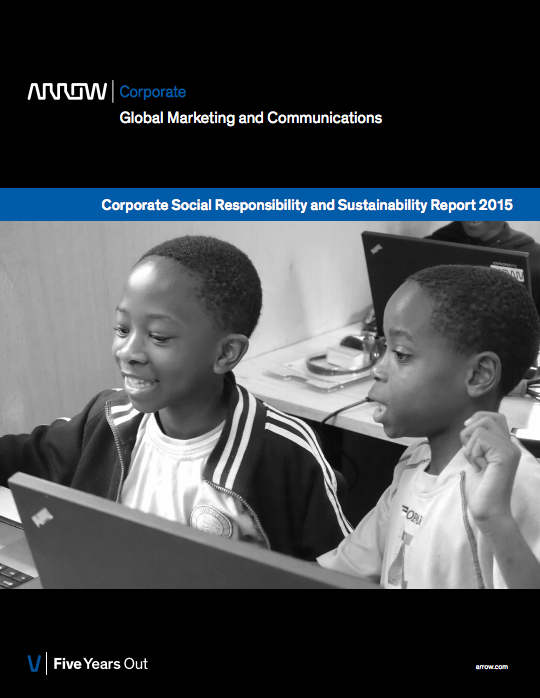 Arrow Electronics, Inc. (NYSE: ARW) today released a recap of its 2015 corporate social responsibility (CSR) and sustainability initiatives. The global technology-solutions provider's dedicated CSR program helps guide today's innovators to a better tomorrow.
In 2015, Arrow continued to advance its award-winning SAM car project that enabled quadriplegic former racecar driver Sam Schmidt to realize his dream of driving again. Arrow also collaborated with the nonprofit organization Close the Gap on the DigiTruck project, which is deploying mobile classrooms and clinics to developing nations to help close the digital divide.
"Arrow is committed to developing innovative technologies that help change people's lives. Our CSR and sustainability programs continue to demonstrate Arrow's commitment to working Five Years Out and guiding today's innovators to a better tomorrow," said Michael J. Long, Arrow's president, chairman and chief executive officer.
Arrow evaluates the impact of its CSR projects and community partners through a sophisticated engagement rating system that includes elements of similar evaluation tools used by the Boston College Center for Corporate Citizenship. The company recognizes it is accountable to its employees, customers, shareholders and to the communities in which it operates.
"Arrow's CSR program is unique because we focus on tangible and impactful ways that technology can improve people's lives," said Joe Verrengia, global director of Arrow CSR. "Arrow also prefers to take on a few transformational projects that leverage our technical expertise and global resources, in addition to making financial contributions to organizations that share our values and vision."
View the complete 2015 Arrow CSR and Sustainability Report. 
About Arrow Electronics
Arrow Electronics is a global provider of products, services and solutions to industrial and commercial users of electronic components and enterprise computing solutions. Arrow serves as a supply channel partner for more than 100,000 original equipment manufacturers, contract manufacturers and commercial customers through a global network of more than 460 locations in 56 countries.

Arrow Electronics, Inc.
Arrow Electronics, Inc.
Arrow Electronics' Corporate Social Responsibility (CSR) program guides today's innovators to a better tomorrow. With our help, our partners will transform their ideas into real and influential achievements that will help people and the communities in which Arrow works.And just as technology touches all facets of our lives, we intend to foster new, cross-cutting collaborations between Arrow, CSR partners, customers and suppliers, so efforts yield astonishing and unforeseen results. Working together, we can make the world a better place — now and Five Years Out.
Learn more at www.fiveyearsout.com.
More from Arrow Electronics, Inc.