Published 12-15-15
Submitted by NRG EVgo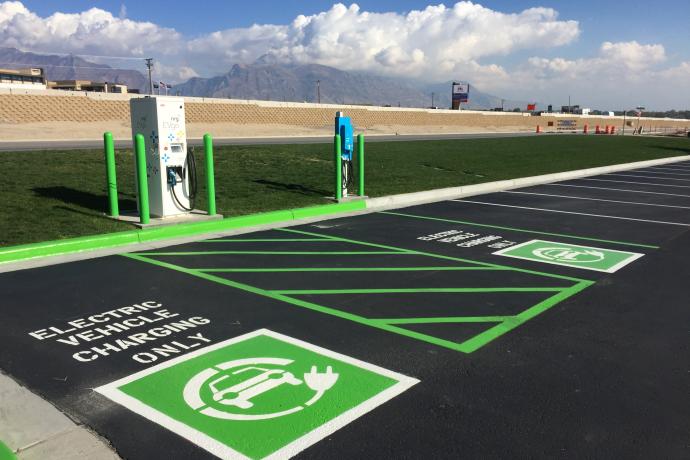 EVgo Dual Standard DC Fast Chargers at Thanksgiving Point
EVgo (ee-vee-go) and a diverse collection of site host partners announced today the installation of new Electric Vehicle (EV) Fast-Charging EVgo Stations at 6 Salt Lake City area locations. The chargers will give EV drivers the ability to recharge their vehicles in 30 minutes or less at the following locations: 
Thanksgiving Point - 2935 Thanksgiving Way Lehi, UT, 84043

Daybreak -  4628 Daybreak Rim Way, South Jordan, UT 84095

Newpark - 1456 Newpark Blvd., Park City, UT 84098

Gateway - 18 North Rio Grande Street, Salt Lake City, UT 84101

City Creek Center - 50 S Main St., Salt Lake City, UT 84101

Harmons City Creek - 135 E 100 S, Salt Lake City, UT 84111
"It is our mission to put the right chargers in the right places," said Arun Banskota, President and CEO of EVgo. "These premier properties are incredible additions to our national network of reliable and accessible DC fast chargers that keep drivers of all EV's charging forward." 
Key to the success of the EVgo Network are the premier locations for the state-of-the-art DC fast charging infrastructure that is now in place. "We are thrilled to be a part of the first EVgo charging stations in Utah," said Erica Brown, Vice President of Marketing for Thanksgiving Point. "Because of our location between Salt Lake City and Provo we feel that this will be a terrific spot for all Utah electric car drivers to visit and get the needed charge." 
"In keeping with RPAI and The Gateway's commitment to reducing the global carbon footprint, we are excited to be offering convenient access to the EVgo Station," said Bryan Hill, the General Manager of The Gateway while our patrons enjoy the shopping, dining, and entertainment amenities offered at The Gateway."
"Newpark Town Center is thrilled to enter a new partnership with EVgo to add progressive electric vehicle charging stations as part of our ongoing environmental commitments," said Chris Eggleton, General Manager of Newpark Town Center. "Being the first LEED-certified neighborhood development plan in Utah and offering the first DC Fast charging station in Park City, Utah continues to demonstrate our community's commitment to be a vibrant neighborhood that uniquely combines the very best of mountain living with the convenience of urban amenities and services."
The EVgo Station locations in the Greater Salt Lake City area are part of the nationwide established EVgo electric vehicle charging network that is designed to support both current and future charging technology. The stations serve the charging needs of all EV drivers regardless of the EV they drive. 
"EVgo is the largest developer and network provider of public DC Fast Charging for electric vehicles in the nation and we are using this experience to partner with these premier Salt Lake  host properties to begin serving area customers," said Jason Buckland EVgo's Vice President, Central Region. "This network of charging stations features the fastest public charging available and provides drivers with the confidence needed to purchase an EV and discover an incredible new driving experience." 
EVgo Stations are equipped with DC Fast Chargers, which can deliver 40 miles of range in as little as 15 minutes, allowing EV drivers to quickly charge their vehicles while enjoying one of the many conveniences our partners offer from a movie, to a quick bite to eat, to a run down the slopes. The stations also have Level 2 chargers that can charge all EVs. 
For additional information on EV charging stations, please visit www.evgo.com.
About EVgo
EVgo SM leads America's electric vehicle revolution.  Our mission: Build the nation's largest EV charging network while improving the planet and boosting the economy.  At home, work, and on the road, we put the right chargers in the right places. Together we unite the EV movement for all, making it unstoppable. EVgo provides access to hundreds of public charging sites across the United States. To find out more, or to join the EVgo network, visit www.evgo.com. Connect with EVgo on Facebook and follow us on Twitter @nrgevgo.
NRG EVgo
NRG EVgo
EVgo SM leads America's electric vehicle revolution. Our mission: Build the nation's largest EV charging network while improving the planet and boosting the economy. At home, work, and on the road, we put the right chargers in the right places. Together we unite the EV movement for all, making it unstoppable. Service plans offered by EVgo can provide EV owners a home or workplace charger and use of EVgo's Freedom Station® sites and other public charging stations. EVgo provides access to hundreds of public charging sites across 26 cities including Atlanta, Chicago and the greater Washington D.C. area plus many in California, and Texas. To find out more, or to join the EVgo network, visit www.nrgevgo.com. Connect with EVgo on Facebook and follow us on Twitter @nrgevgo
More from NRG EVgo