Published 12-03-15
Submitted by ImpactAssets
ImpactAssets, a non-profit financial services firm that increases the flow of capital into investments that deliver financial, social, and environmental returns, today announced the launch of two low-minimum publicly offered debt securities that are designed to deliver impact and financial returns.
The ImpactAssets Microfinance Plus and Global Sustainable Agriculture Notes have a minimum investment of $25,000, significantly lower than most currently available theme-specific debt and equity impact investment options.
The World Economic Forum's 2013 report, "From the Margins to the Mainstream," identified reaching mainstream investors as the biggest opportunity to scale impact investing at this stage. More recently, the Morgan Stanley Institute for Sustainable Investing February 2015 report found that 71% of individual investors are interested in sustainable investing. And, female investors are nearly two times as likely as male investors to consider both rate of return and positive impact when making an investment, according to "Sustainable Signals," the Morgan Stanley report.
"Accessible, high-impact products are key to realizing the promise of impact investing," said Tim Freundlich, President of ImpactAssets. "We've seen real demand for impact investing in our Donor Advised Fund and heard the call for more options throughout the market. Based on our research with advisors and investors plus macroeconomic trends, the first two Notes focus on microfinance and sustainable agriculture."
The ImpactAssets Microfinance Plus Note and the ImpactAssets Global Sustainable Agriculture Note are each five-year debt securities and well diversified across borrowers, geographies and maturities. The Notes are designed to target a competitive interest rate, be held in brokerage accounts and have a limited liquidity feature.
The ImpactAssets Microfinance Plus Note invests in microfinance and other low-income finance institutions providing a range of financial services to poor populations in developing countries. ImpactAssets selected MicroVest Capital Management, LLC to identify investment opportunities and service the loan portfolio.
The Global Sustainable Agriculture Note invests in grower cooperatives and agricultural enterprises that help smallholder farmers increase and stabilize their incomes and farm in a productive, sustainable manner. Alterfin, a Belgian impact investing organization, has been selected for their track record in sustainable agriculture investing and loan servicing.
"Calvert Investments is proud to support ImpactAsset's work to bring impact investing more mainstream," said John Streur, CEO of Calvert Investments. "Backing these new Notes deepens the embedded impact in our mutual funds – allowing our shareholders' investment dollars to help create and build sustainable economies throughout the world."
With a shared objective of making impact investing more broadly available, an established group of impact investing leaders has been instrumental in bringing the Notes to market. These pioneer investors include Calvert Investments and Blue Haven Initiative as the Lead Investors in both. They are joined by Cordes Foundation, KL Felicitas Foundation, Swift Foundation, PAX World Funds, Embrey Family Foundation, The CAPROCK Group and several individuals.
"We're pleased that the significantly lower minimums on these Notes opens doors for investors interested in financial inclusion or sustainable agriculture while realizing reasonable returns," said Liesel Pritzker Simmons, Co-Founder of Blue Haven Initiative, a lead investor in both Notes. "Like many Millennials, my husband, Ian, and I are committed impact investors. But too often, impact investments are only available to ultra high net worth individuals, which is unfair. Everyone should have the ability to align money and their values, and this is a wonderful step in that direction."
Ron Cordes, Board Member and Chairman, Executive Committee, ImpactAssets and Executive Co-Chairman, Assetmark, Inc., adds, "Ultimately, our hope is that these Notes help unleash the capital needed to effectively address global poverty through support of small growing businesses."
Additional information about the Notes is included in the offering fact sheets and circulars, which may be obtained by calling 855.649.5980 or emailing Notes@impactassets.org.
About ImpactAssets:
ImpactAssets is a non-profit financial services firm that increases the flow of capital into investments delivering financial, social and environmental returns. ImpactAssets' donor-advised fund ("The Giving Fund"), impact investment notes, and field-building initiatives enable philanthropists, other asset owners and their wealth advisors to advance social or environmental change through investment. 
This news release is not an offer to sell, nor a solicitation of an offer to buy any securities. Such an offer will be made only by means of a current Offering Circular and only in states in which the Notes have been qualified for offer and sale or are exempt from qualification or registration requirements. These securities are exempt from federal registration and have not been approved or disapproved by the Securities and Exchange Commission or any state securities commission, nor has the Securities and Exchange Commission or any state securities commission passed on the accuracy or adequacy of this document. Any representation to the contrary is a criminal offense.
Please refer to the Offering Circular for additional information, which may be obtained by contacting ImpactAssets at 855.482.2946.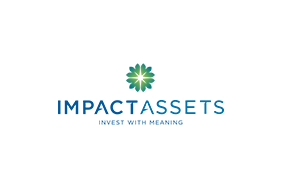 ImpactAssets
ImpactAssets
ImpactAssets is an impact investing trailblazer, dedicated to changing the trajectory of our planet's future and improving the lives of all people. As a leading impact investing firm, we offer deep strategic expertise to help our clients define and execute on their impact goals.  
Founded in 2010, ImpactAssets increases flows of money to impact investing in partnership with our clients through our impact investment platform and field-building initiatives, including the IA 50 database of private debt and equity impact fund managers.  
ImpactAssets has more than $2 billion in assets in 1,700 donor advised fund accounts, working with purpose-driven individuals and their wealth managers, family offices, foundations and corporations. ImpactAssets is an independent 501(c)(3) organization. 
More from ImpactAssets