Published 11-18-15
Submitted by AT&T Inc.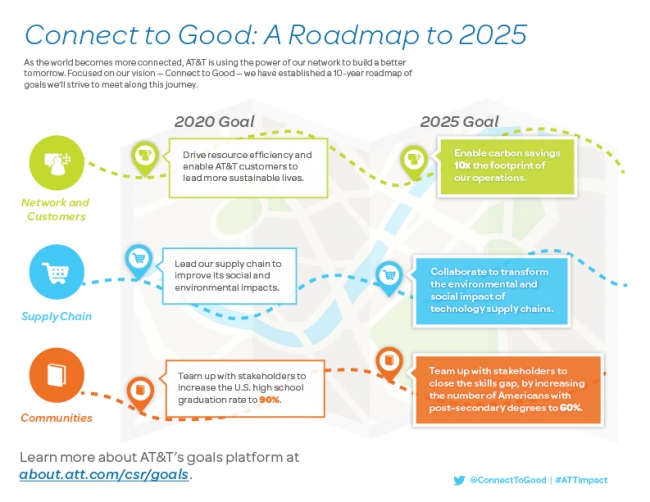 AT&T* today announced its goal to enable carbon savings 10 times the footprint of its operations by 2025. By enhancing the efficiency of its network and delivering low-carbon customer solutions, AT&T supports the use of technology as a method to address and reduce carbon emissions.
AT&T will engage with customers, companies and non-governmental organizations on tactics to drive reductions in emissions and increases in resource efficiency to achieve this carbon savings. This is one of three overarching goals that are part of Connect to Good, AT&T's citizenship and sustainability platform, which will drive the company's corporate social responsibility efforts in the next decade.
"Connect to Good represents our company's vision of using the power of our network to build a better tomorrow," said Charlene Lake, senior vice president – corporate social responsibility and chief sustainability officer, AT&T. "Our technology will guide us as we work with our employees, customers, suppliers and communities to fulfill our goals."
To be achieved by 2025, additional goals focus on the communities in which AT&T operates and the company's supply chain:
AT&T will invest resources, develop initiatives and collaborate with stakeholders to close the skills gap, by increasing the number of Americans with high-quality, post-secondary degrees or credentials to 60 percent.

AT&T will work with its industry peers to develop and promote adoption of sustainability metrics that will transform the environmental and social impact of technology supply chains.
These long-term goals require checkpoints along the way. AT&T has built a roadmap to 2025 that includes 2020 goals to meet on the way to achieving the 2025 goals, in addition to specific targets to reach throughout the years to demonstrate transparency in reaching the goals.
"As the information and communication technology (ICT) sector grows, it has a particularly crucial role to play in addressing its own sustainability impacts and in using its products to power global progress," said Dunstan Allison-Hope, Managing Director, Advisory Services, BSR. "Long-term company goals are vital to address the ICT sector's biggest sustainability challenges and opportunities, and AT&T's new goals represent a leap forward in the company's efforts to enable a sustainable future."
Visit about.att.com/csr/goals to learn more about AT&T's roadmap to 2025 and Connect to Good. Download this PDF to read a letter from Charlene Lake and receive details on AT&T's specific goals and targets.
*AT&T products and services are provided or offered by subsidiaries and affiliates of AT&T Inc. under the AT&T brand and not by AT&T Inc.
###
About AT&T
AT&T Inc. (NYSE:T) helps millions around the globe connect with leading entertainment, mobile, high speed Internet and voice services. We're the world's largest provider of pay TV. We have TV customers in the U.S. and 11 Latin American countries. In the U.S., our wireless network has the nation's strongest 4G LTE signal and most reliable 4G LTE. We offer the best global coverage of any U.S. wireless provider*. And we help businesses worldwide serve their customers better with our mobility and highly secure cloud solutions.
Additional information about AT&T products and services is available at http://about.att.com. Follow our news on Twitter at @ATT, on Facebook at http://www.facebook.com/att and YouTube at http://www.youtube.com/att.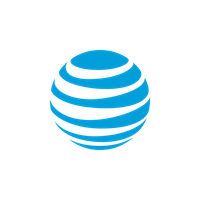 AT&T Inc.