Published 11-16-15
Submitted by MetLife Foundation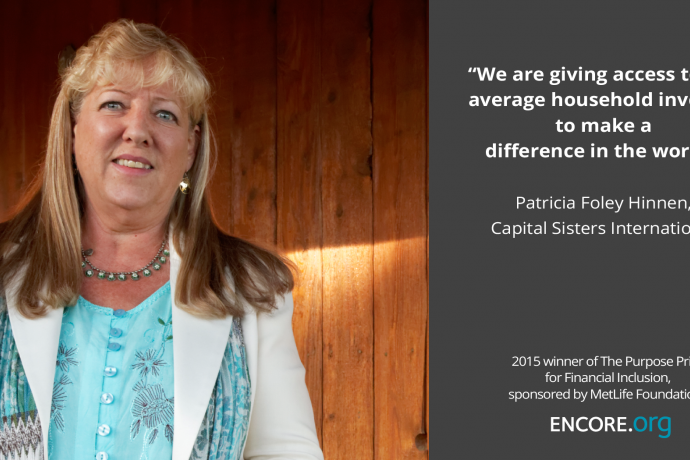 Patricia Foley Hinnen, founder and CEO of Capital Sisters International, will be named the 2015 winner of The Purpose Prize® for Financial Inclusion, sponsored by MetLife Foundation. The Purpose Prize, a program of Encore.org, recognizes and rewards the achievements of outstanding social innovators over 60 whose projects strive to improve local communities and the world. MetLife Foundation is the sponsor of Hinnen's $25,000 award.
The Purpose Prize for Financial Inclusion recognizes an outstanding individual working to alleviate poverty. Patricia Foley Hinnen's groundbreaking approach to financing microloans to impoverished women in the developing world has helped thousands of women and their families achieve greater economic stability. She sells $1,000 zero interest bonds to social investors, and then loans the bond proceeds on an interest free basis to her non-profit field partners who make $100 business loans to destitute women without collateral. When the borrowers repay their microloans at affordable interest rates, the field partners use the interest to support health and education services - and return the principal to Capital Sisters International for its investors.
"I am deeply grateful to MetLife Foundation and Encore.org for their recognition and encouragement of Capital Sisters International. Females own less than 1 percent of the world's private property and earn less than 10 percent of the world's income. In the developing world, the majority of females are illiterate and impoverished; our bonds have helped thousands of women and their families achieve economic independence – and our investors are repaid in full," Hinnen said.
"We're proud to be a part of Encore.org's Purpose Prize program and to support The Purpose Prize for Financial Inclusion, granted this year to Patricia Foley Hinnen. Her creative, unconventional strategies that improve the financial and personal autonomy of low-income women exemplify MetLife Foundation's global commitment to bringing financial inclusion to economically challenged communities around the world," said Dennis White, president and CEO of MetLife Foundation.
"MetLife Foundation's vision, generous support and commitment to partnering with Encore.org and The Purpose Prize sets it apart as a visionary leader in the social-impact sector." said Purpose Prize director Eunice Lin Nichols.
Hinnen and additional winners of the 2015 Purpose Prize will be honored in a gala celebration on February 10, 2016, at the SF Jazz Center in San Francisco, marking 10 years of The Purpose Prize. MetLife Foundation president and CEO Dennis White will be on hand to present Hinnen's award. Emmy-award-winning journalist Jane Pauley and 2013 Purpose Prize winner and former anchorwoman Ysabel Duron will host the event, which will include representatives from all 10 years of the Purpose Prize and hundreds of encore movement leaders.
"When we launched The Purpose Prize, the idea that people in their 60s and 70s (and beyond) were every bit as innovative as those in their 20s and 30s was blasphemy. And the notion that they were every bit as committed to solving society's biggest challenges was not even considered seriously. Ten years--and more than 500 Purpose Prize winners and fellows later--it's an indisputable truth," said Encore.org founder and CEO Marc Freedman. "We can't wait to see what these creative, passionate innovators will do next."
Twenty-six jurors – leaders in business, politics, media and the nonprofit sector – chose the 2015 winners of The Purpose Prize. In addition to the six Purpose Prize winners honored in 2015, an additional 41 Purpose Prize fellows were selected from a pool of more than 600 nominees. Jurors include Sherry Lansing, former CEO of Paramount, Michael D. Eisner, former CEO of The Walt Disney Company and co-founder of The Eisner Foundation; Arianna Huffington, founder of the Huffington Post; Jo Ann Jenkins, CEO of AARP; Eric Liu, author and founder of Citizen University, and Sree Sreenivasan, Chief Digital Officer for the Metropolitan Museum of Art.
The Purpose Prize was first awarded in 2006 by Encore.org, formerly Civic Ventures, with major investments from The Atlantic Philanthropies and the John Templeton Foundation. Since its inception, more than 500 people have been recognized as Purpose Prize winners or fellows.
For more information about The Purpose Prize, visit www.encore.org/prize.
Financial Inclusion efforts seek to connect more than 2 billion "unbanked" people globally with a broad spectrum of financial services and supports to lift communities out of poverty. To learn more about Financial Inclusion, visit Encore.org's Financial Inclusion microsite, sponsored by MetLife Foundation.
About MetLife Foundation
MetLife Foundation (www.metlife.org) was created in 1976 to continue MetLife's long tradition of corporate contributions and community involvement. Since its founding through the end of 2014, MetLife Foundation has provided more than $670 million in grants and $70 million in program-related investments to organizations addressing issues that have a positive impact in their communities. Today, the Foundation is dedicated to advancing financial inclusion, committing $200 million to help build a secure future for individuals and communities around the world.
About The Atlantic Philanthropies
The Atlantic Philanthropies (http://www.atlanticphilanthropies.org/) is dedicated to advancing opportunity, equity and human dignity. Established in 1982, when Chuck Feeney quietly committed virtually all of his assets to the foundation, Atlantic has since made grants approaching $8 billion. In keeping with Mr. Feeney's "Giving While Living," big-bet philosophy, Atlantic invests in systemic change to accelerate improvements in the lives of disadvantaged and vulnerable people. The foundation, which has operated in Australia, Bermuda, Cuba, Northern Ireland, the Republic of Ireland, South Africa, the United States and Viet Nam, will complete all grant making in 2016 and conclude operations shortly afterward.
About the John Templeton Foundation
The John Templeton Foundation (www.templeton.org) serves as a philanthropic catalyst for discoveries relating to the Big Question of human purpose and ultimate reality. The Foundation supports research on subjects ranging from complexity, evolution and infinity to creativity, forgiveness, love and free will. It encourages civil, informed dialogue among scientists, philosophers and theologians and between such experts and the public at large, for the purpose of definitional clarity and new insights.
About Encore.org
Encore.org is a national nonprofit that is building a movement to tap the skills and experience of those in midlife and beyond to improve communities and the world. The Purpose Prize is a program of Encore.org.
About Patricia Foley Hinnen
As a girl, Patricia Foley Hinnen was told she couldn't be a "paperboy." As a young woman, among the first to work in an underground mine while earning money for grad school, she fought for equal treatment. Later, in the Peace Corps, she witnessed the devastating impact of predatory moneylenders who charged 20% interest a day to impoverished female market vendors. These experiences led Hinnen to a career in economic development and international affairs. On visits to more than 60 countries, she witnessed the increasing feminization of poverty, despite billions in international aid.
Females own less than 1 percent of the world's private property and earn approximately 10 percent of the world's income. They represent two-thirds of the world's illiterate and 75 percent of the world's poorest people, living on a dollar a day. The growing microfinance industry can meet only 15 to 20 percent of the global demand for microloans, with few opportunities for investments that empower women.
At 51, Hinnen launched her own social enterprise, Capital Sisters International, which offers a $1,000 zero-interest security that exclusively finances women's microloans in developing countries. Her "Sister Bonds" are one of the only global microfinance investment products available to the average household investor, allowing them to respond to global poverty – and then get their money back. To date, 100 percent of investors have reinvested in Sister Bonds. Hinnen has raised $1.5 million via Sister Bonds, providing 15,000 micro loans to support 75,000 women and family members in Guatemala and the Philippines. By 2020, Capital Sisters International plans to have raised $15 million, funding 150,000 loans in five countries. "My mom always said my first two words were 'How come?'" Hinnen says. Now, in her encore, Hinnen sees only opportunity – for herself and the thousands of women she's helping around the world. ($25,000 Purpose Prize for Financial Inclusion, sponsored by MetLife Foundation.)
Longer bio and high-resolution photos are available on request.
For additional information, visit www.encore.org/prize.

MetLife Foundation
MetLife Foundation
MetLife Foundation was established in 1976 by MetLife to carry on its long-standing tradition of corporate contributions and community involvement. MetLife and MetLife Foundation have invested more than $15 million for Alzheimer's research and public information programs, including $10 million through the Awards for Medical Research program. Working with the Alzheimer's Association, the Foundation has supported caregiving videos, resources for the Hispanic community and the Safe Return identification program, which addresses the problem of senior wandering. The Foundation has expanded its focus on aging issues, including helping people remain physically and mentally fit and remaining engaged in the community. It also supports programs addressing issues of caregiving, intergenerational activities and volunteer opportunities. Grants support health, education, and civic and cultural programs. More information about MetLife Foundation is available at www.metlife.org.
More from MetLife Foundation