Published 10-29-15
Submitted by Preserve
Did you know that plastic caps are one of the most frequently found forms of trash on beaches and in our oceans?  Caps harm our marine life and ruin their habitats.  Unwanted caps pollute our oceans and dirty our beaches. Preserve, a leading sustainable goods company and producer of 100% recycled household products, announced today that it will continue its role as a pioneer in sustainability and roll out a solution to ensure that plastic caps across the USA are properly recycled.
"We consider caps to be one of the next key recycling frontiers," says Eric Hudson, Founder and CEO of Preserve. "Our goal is to not only keep caps out of the ocean but out of landfills as well.  We are proud to be joining forces with like-minded companies like ACURE, Burt's Bees®, Stonyfield ™, Brita® and Plum Organics® to provide an efficient recycling solution for caps."
Today, Preserve and its partners launched a pilot caps recycling program, available in over 160 schools in Massachusetts and Florida, to give schools the tools they need to build upon the recycling work they have done to date.  The goals of the program are to:  1. Educate students, ranging in age from kindergarten through grade twelve, about the harmful effects plastic has on our oceans; 2. Inspire them to spread the word and; 3. Take Action – recycle the caps that are recyclable with their bottles and save the caps that aren't. 
Recycling caps has proven to be tricky.  Caps are so small that they often fall through the cracks of recycling machinery.  A "caps on" movement has helped educate America that certain caps can be successfully recycled when screwed onto their bottles.  However, there are still many types of caps that don't have a recyclable bottle to "carry" it through the system.  That's where Preserve's cap recycling program comes into play.  Students will be inspired to bring their saved caps to specially marked recycling bins in their schools.  Those caps will then be recycled through Preserve's network of Gimme 5 bins at Whole Foods Markets nationwide.  Preserve will then turn those caps into new products like the Preserve toothbrush. 
The long term vision is to have a caps recycling program established in schools nationwide.  "We believe a school recycling program, coupled with additional solutions to recycle America's caps through municipal programs, will result in significant steps to stop this problem at the source and greatly reduce the need to clean wayward caps from our waterways and keep them away from marine life," says Eric Hudson.  Anna Cummins, Executive Director of 5 Gyres agrees, "5 Gyres finds copious amounts of plastic bottle caps polluting our oceans while on global research expeditions.  With the Gimme 5 recycling initiative, Preserve continues to demonstrate leadership in advancing cradle-to-cradle initiatives- a key component of solving the global health crisis of plastic pollution."
For questions and more information, please email: savethecaps@preserveproducts.com 
*For a list of caps that can be recycled with carriers and which need to be saved, please visit Preserveproducts.com
About Preserve
Preserve is a leading sustainable consumer goods company and producer of stylish 100% recycled household products. Preserve turns yogurt cups into toothbrushes and take -out containers into tableware. Through innovations in recycled materials and sustainable design, Preserve has been creating more resourceful ways to make everyday products for the kitchen, table, and bathroom since 1996. The company is powered by the recycling efforts of individuals and companies via its Preserve Gimme 5 program. This program accepts #5 plastics such as yogurt cups and other common household containers and transforms them into new products. All of Preserve's recycling and manufacturing is done in the United States. Preserve pioneers partnerships with premier product design, manufacturing, and sales and marketing firms to bring together thought leaders and drive industry change. Preserve empowers people to make everyday choices that are better for the earth while offering real solutions without compromise. Preserve products can be found at retailers such as Whole Foods Market and a variety of grocery and natural food stores. Preserve is a Certified B Corporation. Visit us online at http://www.preserveproducts.com
About Our Partners 
ACURE is a family owned and operated company founded on sustainable principles to provide the highest quality natural, certified organic personal care products.  It's not enough to be natural.  It also has to work. ™ 
Brita® offers a variety of filtered water solutions.   By drinking Brita® filtered water, you are reducing the amount of plastic bottles that end up in our landfills and oceans.  One Brita® water filter used is the equivalent of 300 plastic bottles saved. Brita is simply better.  
Burt's Bees® has been offering distinctive earth-friendly, natural health and beauty care products for 30 years.  From a beekeeper's backyard in Maine to the leading edge of natural.  No parabens, phthalates, petrolatum or SLS and no animal testing. 
Plum Organics® offers a complete line of premium, nutritious organic baby food, toddler and kid snacks.  Plum dedicates its social mission to delivering nutrient rich, organic food into the hands of little ones in need across America. 
Stonyfield™ is the leading organic yogurt maker.  All of their products are made with certified organic ingredients, and without toxic persistent pesticides, artificial hormones or GMOs.  The company also supports family farms and takes care of the world around us. 
For more information on each of our partners, please visit their websites:  ACURE, Brita, Burt's Bees, Plum Organics and Stonyfield.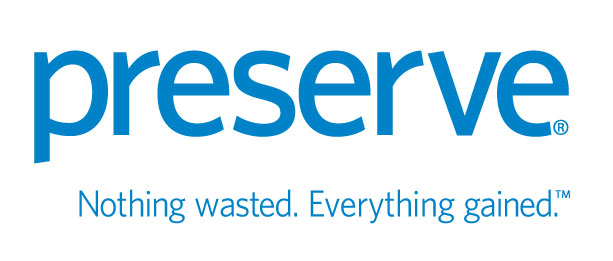 Preserve
Preserve
Preserve makes stylish, high performance, eco-friendly products for the home including a full line of personal care, kitchen, tableware and food storage products using 100% recycled plastics that are BPA free and Made in USA.
More from Preserve