Published 10-21-15
Submitted by Arrow Electronics, Inc.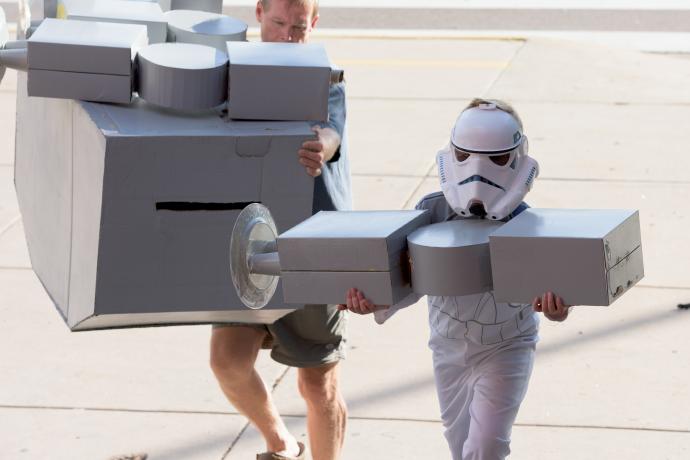 Battleships, life-sized chess boards, a functioning catapult, a spinning carousel—even a Roaring Twenties flapper dress— all made with cardboard and a little imagination. These were just a few examples of the innovation on display near Denver at the third Cardboard Engineering Challenge sponsored by Arrow Electronics, Inc.
A total of 850 students of all ages in the Cherry Creek School District participated in the free contest, which demands creativity and personal expression outside the confines of the classroom. For many, the challenge provides their first opportunity to turn an idea into a fun, practical solution.
Half a world away in Penang, Malaysia, Arrow supported a similar event at the Cool Mum Super Dad Academy where 20 student teams made cardboard versions of robots, aircraft and cars.
"Arrow guides innovation forward around the world, and the Cardboard Challenge inspires a new generation of innovators," said Joe Verrengia, global director of corporate social responsibility. "Now that the event is established in our headquarters city, we want to extend the experience to our communities on other continents."
The Cardboard Challenge was inspired by the 2012 documentary film "Caine's Arcade" directed by Nirvan Mullick. The film centers on a nine-year-old boy from Los Angeles who created an arcade made entirely out of cardboard. The project and the film caught the attention of an international audience of supporters; school districts across the country used the basic concept as a way to encourage creativity and better illustrate STEM-based curriculum for students.
The project also launched the Imagination Foundation, a nonprofit dedicated to fostering creativity and entrepreneurship for children. The foundation establishes the rules for the cardboard challenge and coordinates global events.
"I built a car last year, and I wanted to do something different," said Carson Conklin, a fifth-grader from Peakview Elementary in Centennial, Colo.  This year, Conklin built a gold mine out of cardboard and other materials, including spray-painted rocks, plastic bats and spiders and a hand-built mine cart. "I like gold mining. It's just fun."
To learn more about the Arrow-sponsored Cardboard Challenge at the Cherry Creek School district, please visit http://www.cherrycreekschools.org/News/Pages/cardboardchallenge15.aspx.
About Arrow Electronics
Arrow Electronics (www.arrow.com) is a global provider of products, services and solutions to industrial and commercial users of electronic components and enterprise computing solutions. Arrow serves as a supply channel partner for more than 100,000 original equipment manufacturers, contract manufacturers and commercial customers through a global network of more than 460 locations in 56 countries.

Arrow Electronics, Inc.
Arrow Electronics, Inc.
Arrow Electronics' Corporate Social Responsibility (CSR) program guides today's innovators to a better tomorrow. With our help, our partners will transform their ideas into real and influential achievements that will help people and the communities in which Arrow works.And just as technology touches all facets of our lives, we intend to foster new, cross-cutting collaborations between Arrow, CSR partners, customers and suppliers, so efforts yield astonishing and unforeseen results. Working together, we can make the world a better place — now and Five Years Out.
Learn more at www.fiveyearsout.com.
More from Arrow Electronics, Inc.