Published 10-16-15
Submitted by Spence-Chapin Services to Families and Children
Spence-Chapin, a New York City-based non-profit adoption and family services agency, announced today that they are now accepting applications for their international Primary Provider Program.
The Primary Provider Program supports Spence-Chapin's mission of providing adoption and adoption-related services of the highest quality. This program is open to prospective parents adopting a child who is related to one of the adoptive applicants; this typically includes grandparents, aunts, uncles, and cousins. "We have seen a tremendous need for kinship adoption. As a Hague-accredited agency, we decided that it was important to support these families, so we launched the program in order to meet the unique needs of a growing community," says Lauren Jiang, Program Manager of Adoption Services, Spence-Chapin.
New York and New Jersey residents living within 100 miles of New York City are welcome to apply to the program. The children being considered for adoption must meet the U.S. Citizenship and Immigration Services' definition of an orphan (non-Hague cases) or the definition of a convention adoptee (Hague cases) in order to be eligible for International adoption. The child must be under the age of 16 or under the age of 18 with a sibling under the age of 16. The sibling must have been or will be adopted by the same adoptive parents. International kinship adoption can be quite complex and each situation will need to be reviewed before being accepted into the program. To learn more about fees, timing, and eligibility for the program, call 646-539-2167. 
ABOUT SPENCE-CHAPIN SERVICES TO FAMILIES & CHILDREN
Spence-Chapin is an adoption and family service agency bringing over 100 years of experience in finding families for children.  Spence-Chapin's fundamental belief is that Every Child Deserves A Family. To underscore this commitment, Spence-Chapin has eliminated many financial barriers for families who are embarking on the adoption journey. Through their Modern Family Center, Spence-Chapin has broadened their impact and provides support, workshops, and counseling services for: birth parents, adoptive parents, families formed through adoption, teens, children with special needs, and adoptees at every life stage. Learn more about Spence-Chapin Services to Families and Children at www.spence-chapin.org and find us on Facebook at facebook.com/spencechapin.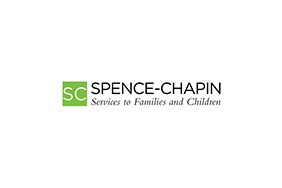 Spence-Chapin Services to Families and Children
Spence-Chapin Services to Families and Children
SPENCE-CHAPIN IS AN ACCREDITED NONPROFIT ORGANIZATION THAT HAS BEEN OFFERING QUALITY ADOPTION SERVICES FOR MORE THAN 100 YEARS. Our mission is to help find loving families for children whatever their needs or circumstances, and provide counseling and support for all children and the families to whom they have been born or entrusted. Our mission is driven by the simple belief that every child deserves a family.
Spence-Chapin focuses on finding adoptive homes for children who need families; promoting the understanding of adoption through counseling and public education; and improving adoption's image and practice. Through our Modern Family Center we are helping each family member navigate their individual adoption stories with clarity and confidence. Spence-Chapin's roots can be traced to the early 1900s and the pioneering work of Clara Spence, and Dr. and Mrs. Henry Chapin, who independently established nurseries out of concern for homeless infants abandoned in hospitals and shelters.
Today, Spence-Chapin is proud of our role as a prominent voice and leading advocate for adoption, and of our commitment to the wellbeing of all members of the adoption triad: birth parents, adoptive parents, and their children.