Published 09-24-15
Submitted by Green Mountain Energy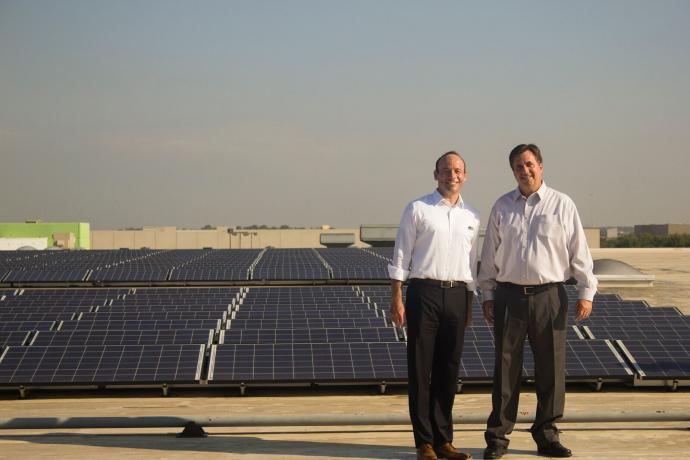 Green Mountain Energy representative Bucky Gardner and Houston Food Bank President and CEO Brian Greene check out 160 new solar panels donated by Green Mountain customers enrolled in its SolarSPARC™ electricity plan.
The Houston Food Bank increased its solar capacity by "flipping the switch" on 160 new solar panels donated by Green Mountain Energy Company, giving the site a total of 440 panels. The rooftop solar array at the food bank's warehouse will provide 154,000 kilowatt-hours of renewable energy annually, which the Food Bank estimates will generate enough savings to provide for nearly 30,000 additional meals every year.
Green Mountain residential customers made this new solar power donation possible by signing up for the company's SolarSPARC™  electricity plan, which helps support the adoption of solar energy by funding efforts intended to make solar more affordable, effective and available. Launched in 2013, Green Mountain's SolarSPARC (Smart People Accelerating Renewable Change) product was the first Texas residential electricity plan backed by 100 percent solar energy. The company also offers a SolarSPARC™ 10 product backed by 10 percent solar energy and 90 percent wind energy. SolarSPARC customers receive a bill credit for the facilities they help fund.
"We know our customers embrace renewable energy and solar in particular," said Mark McShane, vice president of Texas Retail, Green Mountain Energy Company. "SolarSPARC enables all customers to help us 'change the way power is made' by increasing demand for solar and leveraging our experience in renewable energy to offer Texans more clean electricity options."
The Houston Food Bank received its original 280 solar panels last year thanks in part to the Green Mountain Energy Sun Club®, an affiliated non-profit that funds solar power and sustainability projects for other non-profits via contributions from Green Mountain and its customers, employees and supporters across the U.S.  The Houston Food Bank and Green Mountain have also entered into a Sustainable Business Partnership, where Green Mountain will help evaluate their building efficiency and offer solutions toward sustainability. This partnership is intended to further both parties' understanding of emerging sustainability practices and solutions through technology pilot tests and research. 
SolarSPARC Product Details and Availability
Households in competitive electricity markets in Texas can choose SolarSPARC products to power their homes with solar energy.  
SolarSPARC 100 electricity is made from 100 percent solar energy and, as Green Mountain solar projects are built in Texas communities, will include a portion of the new Texas-based solar generation.

The SolarSPARC 10 electricity plan gives customers the option to power their home with 10 percent solar and 90 percent wind for a 100 percent renewable power option.

Green Mountain contributes $4 per month on behalf of each SolarSPARC customer to help accelerate the adoption of solar energy in Texas.

Customers receive an annual bill credit of $11 for each solar project they help fund. The credit increases each year as new facilities are funded and can total $121 per year for customers who participate in the program for 5 years.

Customers may gift their annual bill credit to the Sun Club.

Eligible customers can learn more and enroll at www.greenmountain.com/solarSPARC.
In addition to the new panels at the Houston Food Bank, Green Mountain's SolarSPARC plan has provided funding for a 10-kilowatt solar array at the Green Mountain Energy® Wind Farm—Elbow Creek near Big Spring in West Texas.
"We think Texas can be just as well known for solar as it is for wind, and with this product we're giving customers a new way to drive local development and tap into Texas' potential to be a solar power house," continues McShane. "The more customers that sign up for this plan, the more solar we'll be able to build."
Houston Food Bank
The Houston Food Bank is the largest source of food for hunger relief charities in 18 southeast Texas counties. Through a network of 600 food pantries, soup kitchens, senior centers and other agencies, 800,000 people are fed each year. 
Founded in 1982, the Houston Food Bank is a certified member of Feeding America, the nation's food bank network.
Website: HoustonFoodBank.org
Facebook: facebook.com/HoustonFoodBank
Twitter: @HoustonFoodBank
YouTube Channel: http://www.youtube.com/houstonfoodbank
Green Mountain Energy Company 
Green Mountain is the nation's longest serving renewable energy retailer and believes in using wind, sun and water for good. The company was founded in 1997 with the mission to "change the way power is made." Green Mountain offers consumers and businesses the choice of cleaner electricity products from renewable sources, as well as carbon offsets and sustainable solutions for businesses. One of Green Mountain's largest customers is the "world's most famous office building," the Empire State Building in New York City. Green Mountain customers have collectively helped avoid more than 37.7 billion pounds of carbon dioxide emissions.
Follow us at facebook.com/greenmountainenergycompany or twitter.com/greenmtnenergy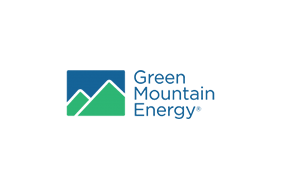 Green Mountain Energy
Green Mountain Energy
Green Mountain Energy Company was founded in 1997 with the mission to change the way power is made. Today, we remain 100% committed to this mission, which makes us the nation's longest serving renewable energy retailer and a clean energy pioneer. We provide customers with electricity products made from renewable resources like wind and solar and carbon offsets that help neutralize carbon emissions.
We live our commitment to sustainability inside and out: Every single product offered by our company has an environmental benefit, and our company operates with a zero-carbon footprint - distinctions that make us proud!
More from Green Mountain Energy