Published 09-09-15
Submitted by OLD Pure Strategies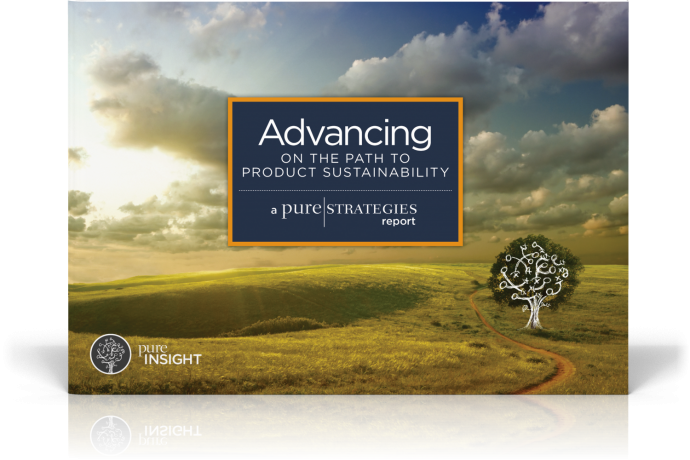 Advancing on the Path to Product Sustainability
 Pure Strategies, a leading sustainability consulting firm with expertise in helping businesses build and enhance sustainability initiatives, is pleased to announce the release of its 2015 product sustainability research report, Advancing on the Path to Product Sustainability. This second Pure Strategies report on product sustainability programs is based on surveys with more than 150 companies across the globe.  
Notably, there was a two-fold increase in the number of companies expecting budget growth in the next year for product sustainability programs.  The report outlines program best practices so that companies can make the most from their investments and stay competitive, with case studies from the Hewlett-Packard Company, The North Face, Anheuser-Busch InBev, Mars Inc., Johnson and Johnson, and The Clorox Company.  
The research also found that top-performing companies are measuring and achieving business benefits such as increased employee engagement, risk reduction, cost savings, and increasing sales.  These firms share common product sustainability program approaches that build corporate alignment and business integration. Executive leadership is engaged, accountable, and visibly participates in sustainability programs, and companies have established clear goals that address key issues. Top-performing companies have also embedded sustainability into core business processes and performance measures.  
This report identifies:
How to maximize business value to keep pace with competitors' rapid progress in product sustainability

Steps for building strong corporate alignment and bringing product sustainability into the core of the business
"This Pure Strategies report confirms that product sustainability drives important business benefits and outlines how any company can set themselves up for success.  Executives and leadership teams should use this insight to evaluate their programs and optimize their approaches." Robert Pasin, CEO, Radio Flyer Inc.
"Companies have an important opportunity to advance sustainability and the bottom line through their products and value chains. Pure Strategies' report provides terrific case studies and valuable insights into how product sustainability can deliver value, and the organizational practices that make it happen." Sheila Bonini, CEO, The Sustainability Consortium
To access the report, visit: http://www.purestrategies.com/downloads/advancing-on-the-path-to-product-sustainability
Learn more about the report results and real-world best practices in a webinar on September 30th, Product Sustainability: Advancing on the Path to Success. Tim Greiner, Managing Director at Pure Strategies, will be joined by Alexis Limberakis, Director of Environmental Sustainability at The Clorox Company, and John Rogers, Global Director of Agricultural Development at Anheuser-Busch InBev. Alexis and John will discuss specific approaches their companies have taken to build corporate alignment and business integration to advance their product sustainability programs, and realize meaningful benefits from these efforts.
To register for the webinar, visit: https://attendee.gotowebinar.com/register/2639195512474846721
About Pure Strategies
Pure Strategies is a leading sustainability consulting firm founded in 1998.  The company helps firms in the food, consumer products, retail, life sciences, and other sectors gain the business benefits of improved sustainability.  Areas of expertise include corporate sustainability strategy and CSR reporting, sustainable chemicals management, life cycle assessment, product sustainability and innovation, and supply chain sustainability assessment and engagement.  
Clients include Walmart, Annie's, Organic Valley, Ben & Jerry's, Seventh Generation, Colgate-Palmolive, EMD Millipore, Radio Flyer, and others.  For more information, visit www.purestrategies.com/

OLD Pure Strategies
OLD Pure Strategies
Pure Strategies, a leading U.S. sustainability consulting firm, helps organizations gain strategic and financial benefits by helping them improve the sustainability of their organizations, their products, and their supply chains. Our team includes experts in corporate sustainability strategy and reporting, life cycle assessment (LCA), chemicals and materials assessment, product sustainability, and supply chain sustainability assessment and engagement. Our clients include Stonyfield Farm, Seventh Generation, The North Face, Walmart, EMD Millipore, Biogen, and other leading consumer products and B2B companies.
Learn more about our services: http://www.purestrategies.com/services
More from OLD Pure Strategies