Published 08-26-15
Submitted by Bright Funds
Bright Funds, the company that enables employee-empowered workplace giving, in association with Devin Thorpe—noted author and champion of social good—today announced the creation of the Your Mark on the World fund that can be accessed exclusively at brightfunds.org. Bright Funds enables individual donors, as well as companies and their employees, to take a more strategic approach to giving through the option of giving to individual nonprofits or exclusively available "funds" comprised of multiple nonprofits selected by companies or individuals. Bright Funds has also developed a number of its own "Flagship Funds" targeting various broad cause areas.
Inspired by Thorpe's work focused on solving global problems before 2045, the Your Mark on the World fund addresses a variety of cause areas, ranging from environmental issues to human rights to disease research and prevention.
"We can choose the world we want to live in. We can cure cancer, end hunger, homelessness and extreme poverty not only for our children and grandchildren, but for ourselves," said Devin Thorpe, Founder of The Your Mark on the World Center. "We don't have to settle for caring for cancer patients, we can cure them. We don't have to settle for slowing global warming, we can end it. We don't have to settle for alleviating poverty, we can end extreme poverty altogether."
The Your Mark on the World Fund includes 16 nonprofits: Nuru Foundation, The Nature Conservancy, U.S. Fund for UNICEF, Juvenile Diabetes Research Foundation, Greenpeace Fund, Water.org, Lions Clubs International Foundation, Camfed, Foundation Fighting Blindness, United Nations Foundation, The Rotary Foundation, U.S. Fund for the Global Fund, ECPAT-USA, UNAIDS USA Inc., Free the Slaves and Prostate Cancer Foundation. Over 30,000 individuals and employees at over 25 leading companies using Bright Funds to manage their employee-giving program can donate to the multiple nonprofits supporting this fund through a single donation via Bright Funds. For more information about the fund, or to donate to the fund, click here: www.brightfunds.org/funds/your-mark-on-the-world-fund.
"Devin Thorpe's mission to solve some of the world's largest problems by 2045 has made him a recognized leader in the field of social good," said Ty Walrod, CEO of Bright Funds." Through Bright Funds, we offer Devin an additional avenue to expand the reach of his social impact by harnessing the power of a new generation of donor."
Individual donors and employees of companies using Bright Funds can build personalized portfolios of funds that focus on issues such as poverty, education and the environment. For example, an employee may allocate 60% of her portfolio to water and 40% to education, and in a single transaction of any amount, have her contribution evenly allocated among the carefully selected nonprofits in each respective fund. Currently, over 1.5 million nonprofits are accessible through Bright Funds. Individuals not working at companies offering Bright Funds to their employees can create their own Bright Funds account at https://www.brightfunds.org/personal-giving.
About Devin Thorpe and The Your Mark on the World Center
Devin Thorpe thinks he is the luckiest person alive. As an author, speaker and Forbes contributor, Devin is devoted full time to championing social good—writing about and advocating for those who do good. He travels extensively, sharing inspiring messages as a keynote speaker. The Your Mark on the World Center, led by Devin Thorpe, works to advise, advocate for and share the stories of people doing good. The Your Mark on the World Center, founded in 2012, publishes at YourMarkOnTheWorld.com, MySocialGoodNews.com and GoodCrowd.info.
About Bright Funds
San Francisco-based Bright Funds helps leading companies and their employees change the world through impactful social good programs, and in doing so, make their businesses more successful. Bright Funds enables employee donors to choose their cause and give to individual non-profits or exclusively available "Funds" comprised of multiple nonprofits. In one platform, Bright Funds brings together the power of research, the reliability of a trusted financial service, and the convenience of centralized contributions and company reporting. Employees, recruits, customers, and investors and worthy causes appreciate companies that use Bright Funds for employee-empowered giving.
For more information please visit www.brightfunds.org.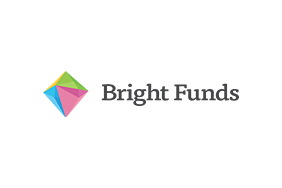 Bright Funds
Bright Funds
Bright Funds is built for a new generation of donors to bring delight and strategy to individual giving as well as workplace giving and matching programs.
More from Bright Funds