Published 08-10-15
Submitted by Circle of Blue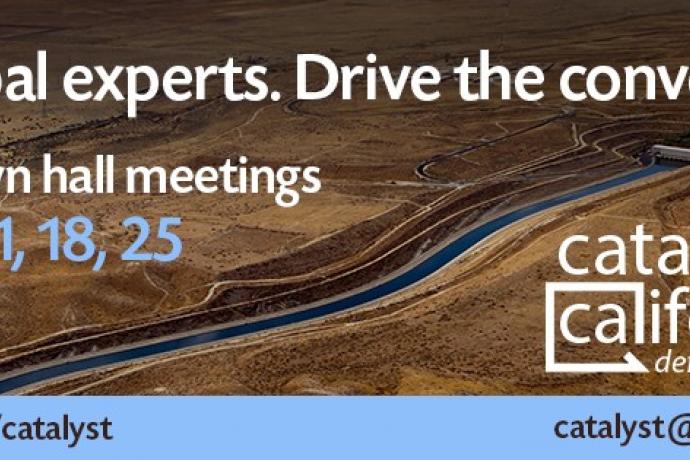 Circle of Blue presents Catalyst: Defining Water's Future
 Circle of Blue, the team of award-winning journalists and researchers reporting on water and worldwide resource issues, will host Catalyst: Defining Water's Future, a series of urgent, interactive town hall sessions beginning on three consecutive Tuesdays: August 11, 18, and 25. The immersive events connect California's drought emergency to global problems of water supply and demand. 
The series comes as California, the American West and the United States are facing an urgent test of civic and environmental resilience. Under stress, the state is developing blueprints for the nation and the world as it grapples with accelerating water crises.
Organized by Circle of Blue with the Stockholm International Water Institute, Milken Institute California Center, American Public Media, Southern California Public Radio, Columbia Water Center, Pacific Institute, and others, the events take place online, including a special broadcast on August 25, LIVE from World Water Week in Stockholm.
The first town hall begins Tuesday, August 11 at 1 p.m. EDT / 10 a.m. PDT; there is no charge to participate.
Specific times, details, and free registration: Catalyst:  
California's four-year drought — and a fickle El Niño —  is a 21st-century test for the state's 39 million residents, its economy, and its environment. The hottest, driest period in state history is forcing regulators, water managers, farmers, city officials, and ordinary people to take unprecedented measures to ensure an adequate water supply for all.
Participants in the events will take part and help sort out the seminal trends that are shaping water's future, from Los Angeles and Sacramento, to India and Brazil. Circle of Blue uses convening technology from MaestroConference to create an interactive, radio show-like experience.
"In these unprecedented, disruptive times, this is the moment to assemble the most innovative, diverse voices, and act with the tenacity necessary to respond to California and the world's most persistent water challenges," said J. Carl Ganter, managing director of Circle of Blue and member of the World Economic Forum Global Agenda Council on Water. 
"We face converging global choke points at the intersection of water, food and energy that are causing billions of dollars of disruptions, testing human and ecological resilience, and requiring us to be much more nimble and responsive," Ganter said. "It is only with systemic, creative, and collective thinking that we will find sustainable solutions."
During the August 11, 18, 25, and future events, participants will explore:
How is California, a state with the seventh largest gross GDP worldwide, responding to a rapidly transforming waterscape?

Friend or foe: How will El Niño affect the state's water supplies?

How will policy, technology, and investment drive solutions?

Who will be winners and losers as the state, region, and nation redesign water's future?

What can California learn from other parts of the world?

What can the world learn from California?

What is the role of business in using market power to leverage changes in how water is used to grow crops, produce computer chips, and generate electricity?
Water: The top global risk
The World Economic Forum Global Risks Report 2015 ranks "water crises" as the planet's most urgent issue of greatest potential impact. Water scarcity and supply are serious threats to people, business, the environment, and political stability across the world, including the United States.
This is the third in a series of virtual conference events on fast-unfolding situations, including the California drought, and part of Circle of Blue's ongoing coverage of the competition between water, food and energy worldwide. Circle of Blue has reported in-depth from Mongolia, China, the Middle East, South America, the United States and Europe, covering issues that range from water pricing to groundwater stress. Ongoing global coverage is online at Circle of Blue http://www.circleofblue.org/waternews/
Tuesday, August 11, 2015
California's Water: A State Rebalances
The nation's largest economy and most populous state crafts emergency responses in real time.
10:00a – 12:00p (PDT); 1:00p – 3:00p (EDT)
August 18, 2015
Adapting to New Normals
In a changing climate, will El Niño save the day?
10:00a – 12:00p (PDT); 1:00p – 3:00p (EDT)
August 25, 2015
Hosted live from World Water Week in Stockholm
It's a Dry, Dry, Dry, Dry World
What can the world learn from California as water challenges become the planet's greatest risk?
7:00a – 9:00a (PDT); 1:00p – 3:00p EDT; 4:00p-6:00p (CET) 
Discussion Leaders
(include)
Nadine Bailey
Chief Operations Officer, Family Water Alliance
Stephen Gregory
Environment Editor, KPCC, Southern California Public Radio
Kevin Klowden
Managing Director, Milken Institute California Center
Felicia Marcus
Chair, California State Water Resources Control Board
Robert Wilkinson
Director, Water Policy Program
University of California, Santa Barbara
Peter Gleick
President, Pacific Institute
Michael Anderson
Climatologist, California Department of Water Resources 
Richard Luthy
Director, Reinventing the Nation's Urban Water Infrastructure research group 
Molly Peterson
Environment Reporter, KPCC
Sandra Postel
Director, Global Water Policy Project
Upmanu Lall
Director, Columbia Water Center
Columbia University
J. Carl Ganter
Managing Director, Circle of Blue
Member, World Economic Forum Global Agenda Council on Water Security
Keith Schneider
Senior Editor
Circle of Blue
Brett Walton
Reporter
Circle of Blue 
From previous sessions
"What we learn here for drought stress – for nature and for people – are lessons for the world." 
— Brian Stranko, California Water Program Director, Nature Conservancy
"We're not only setting a new low, we're completely obliterating the old record."
— David Rizzardo, Chief of Snow Surveys, California Department of Water Resources
"We must develop an example here for the world. Will it take another Dustbowl for Americans to start paying attention to water issues?"
— Upmanu Lall, Professor and Director of the Columbia University Water Center
"This may be the most important moment for water in the last 50 years."
— Chuck Fishman, author, The Big Thirst
Collaborators
Stockholm International Water Institute, World Water Week, Wilson Center China Environment Forum, Columbia University Water Center, Earth System Science at the University of California Center for Hydrologic Modeling, MaestroConference, KPCC Radio-Southern California Public Radio, Pacific Institute, Milken Institute California Center, Qlik, Skoll Global Threats Fund, Interlochen Public Radio, and others.
About Circle of Blue
Circle of Blue deploys its teams of leading journalists, photographers, data experts, field researchers, and designers to report from the front lines of the world's resource crises, with a core focus on water. Circle of Blue received the Rockefeller Foundation Centennial Innovation Award for its breakthrough, feedback-loop model that combines on-the-ground reporting, data collection, analysis, design, and convening. Circle of Blue is a nonprofit affiliate of the Pacific Institute.
For more information, contact catalyst@circleofblue.org 
Tweet: #KnowWater | @circleofblue | Facebook | www.circleofblue.org

Circle of Blue
Circle of Blue
Founded by leading journalists and scholars, Circle of Blue covers the global freshwater crisis with original front-line reporting, dynamic data spaces and engaging social media, using pioneering communications and information technologies to inform decision-making. Circle of Blue is a nonprofit independent journalism project of the Pacific Institute. It was featured recently at the Aspen Ideas Festival and the Clinton Global Initiative, and received initial development funding from the Ford Foundation.

CSRwire did their first Member Spotlight on Circle of Blue. Click here to read the story!
More from Circle of Blue